WIP: LED overhaul - foot well interior lighting, glovebox light, storage tray light
I got tired of not having a storage tray light or glove box light so i decided to add some. Also thought of adding some foot well lights since I have to tear the interior dash apart anyways. I spliced the foot well LEDs into the dome/map light so they turn on when you open the door or turn the map lights on. As an added bonus they also fade in and out like the stock lights.
Updates:
July 7th
gif of the foot well lights in action + white LED map lights
for some reason you have to click on the above picture for it to work
July 6th, 3:30am
-Just finished installing foot well, storage cubby, and glovebox light.
-Time spent: 4-6 hours.
Most of the time spent was to run/crimp/insulate/foam all wires to insure they wouldn't wear down and short itself
-Total cost: under $50
-OEM cost for interior lighting kit: ~$250 (
and that doesn't include the cubby or glove box lights!)
Storage cubby lights:
It's a little bright so i need to find a way to tone it down by about 25%
Glovebox lights:
@rvoll: the pin switch you linked me doesn't ship to canada so i have to make do with constant light on when i power on the car
Note: I'm looking the trigger wire for night time mode where all the instrument lights turn on so I can wire the storage cubby and glove box light into so if anyone knows....that'd be great. (I'm looking at you rvoll)
Foot well lights:
right side light is warmer white because the mounting foam i used casts a warmer white tone. gotta fix that. also need to move the lights deeper in so rear passengers can't see the actual lights (you can sort of see it in this picture)
The foot well lights were wired directly into the dome lights so they fade in and out at the same rate as the rest of the lights! :001_tongue:
Just an idea of where and how the wiring was done
Guide will be posted when I get more sleep
Next:
-Add in led strips for trunk. That stupid stock one does nothing.
-Led DRL/Turn signal a la Mercedes-Benz/Audi cars.
-Waiting a little longer before I pop open the headlights/taillights to wire in some halo's and led strips to look like the GT model...don't want to void the warranty for that yet as my car's less than 6 months old...:shifty:
Bonus!
Cup holder insert pull tabs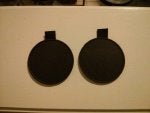 Makes pulling out your inserts to clean much easier. Regular black electrical tape was used.
Also blends in very well so you don't really notice the tabs when they're in the holders.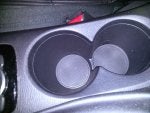 Now I need to make pull tabs for the rest of the inserts for all the door handles.
ps how do you use the mention tags?