So I'm left with a floor jack, the flying miata adapter, and two flat top jack stands. With the adapter, can I lift between the jacking points and not do damage to the pinch weld? To me, it appears that plastic is on the inside of the pinch weld. Plastic doesn't make a good jacking point.

If I can jack in the middle, can I put flat top jack stands under the lift points and not do damage to the pinch welds? Do I need 2 more flying miata adapters?

It shouldn't be this tough to perform routine maintenance. I can't believe I'm considering paying someone to change a tire.
So I solved the problem in this fashion:
1) On each side of the car, on the interior side of the pinch weld I had my shop weld a 6" length of 1" X 1" square steel tubing. That gives enough support for my floor jack to lift each side of the car. The shop assessed that the car's body is strong enough to support being lifted at these new jack points. The 1" X 1" steel tubing was placed such that using it as the single jack point on a side will lift both wheels at the same rate.
2) Using a floor jack at the new, more-centrally located jack point, I lift one side, placing flat-topped jack stands under the OEM jacking points, and then I do the same on the other side of the car. In two minutes, I've got the car up on four flat-topped jack stands, and it's completely stable sitting on them.
The shop noticed that the pinch welds are wider/thicker at the OEM jack points than they are in between the jack points. I would assume that, the issue of the plastic underpanel aside, your using the Miata adapter between the two OEM jacking points would work just fine, as you won't be asking anything of the pinch weld. My shop cut a 6"-long, 1"-wide strip out of the plastic underpanel to fit in the piece of steel stock they welded to the car.
In case you're wondering why I had the shop weld the steel pieces in instead of just using the Miata adapter, that was because I didn't want to have to fool with the adapter. I felt that it would be more stable with the floor jack's rubber pad pressing up against the car itself (albeit with a new piece welded to the car).
Photos
The Tools
Where the Floor Jack will be Positioned
Ready to Lift
Two Minutes Later...Lifted!
The 6"-Long 1" X 1" Piece of Square Steel Stock (outlined in red) Welded in Place Behind the Pinch Weld (the yellow line)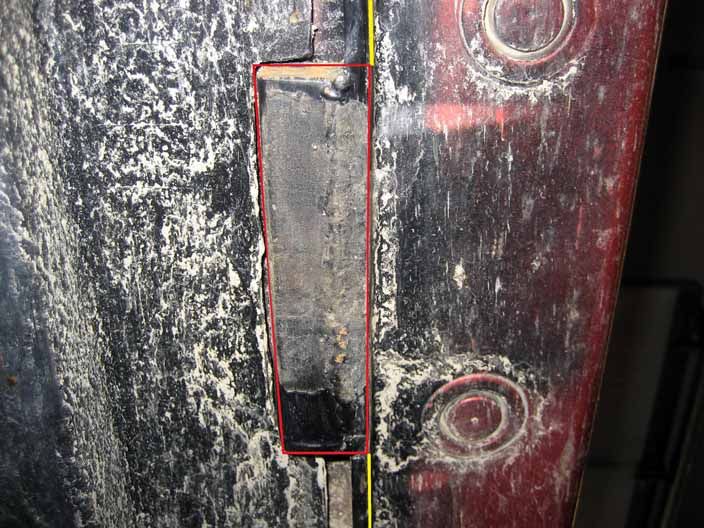 The Front OEM Jack Point (outlined w/yellow tape) and One of the New Jack Points (painted red)
The Distance Between the Front OEM Jack Point and the New Jack Point
Both New Floor Jack Points Shown from Underneath the Car (shown with strips of yellow tape)