Hey everyone! This is long overdue from when I said I would have it up. Took lots of pictures so it will be a lengthy post. I purchased the unit in the beginning of June after having my eye on one for a while. I'm a gadget guy, so this was right down my alley. Shipped it was ~$85 before the rebate and included the mount. Alot of people complain about it but I though it was easy and those who do complain are flat out LAZYYYYYY. Anyways, on to the good stuff!
http://www.ultra-gauge.com/ultragauge/index.htm
The box it ships in is small but the device is well packaged and the internals are custom for holding everything. Small enough to fit in my apartment complex's mailboxes which aren't very large. DO NOT THROW AWAY THE YELLOW PAPER if you want the rebate. It has the URL for the rebate that I couldn't find on their site except fora reference to this sheet of paper. So everything in the box includes: Ultragauge, flexible mount, rebate info, packing sheet.
The device itself is rather small but I feel is the perfect size for the car. Its big enough where the information you want to see is displayed yet small enough to remain unobtrusive to your vision when driving.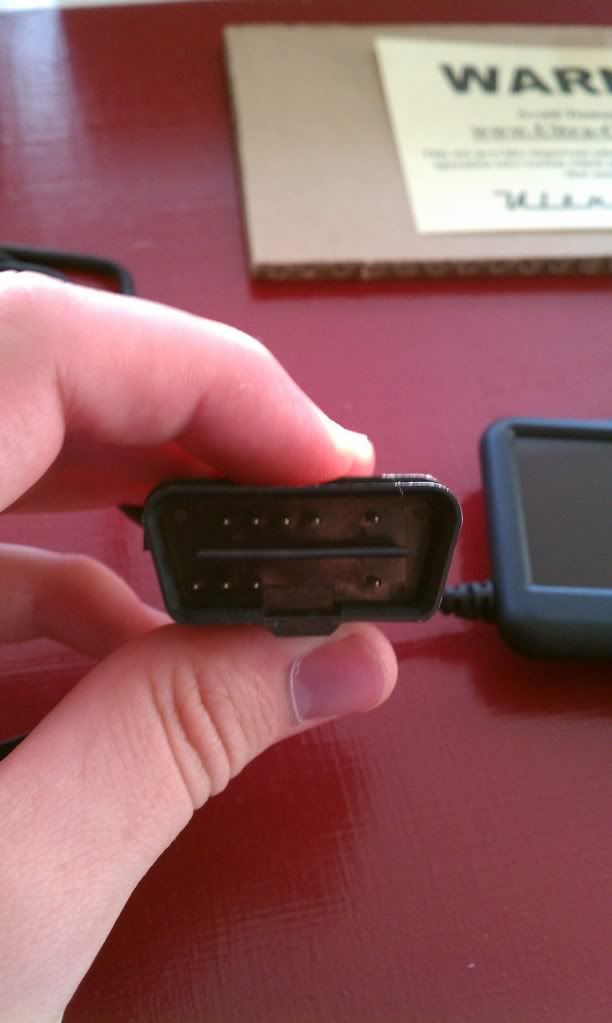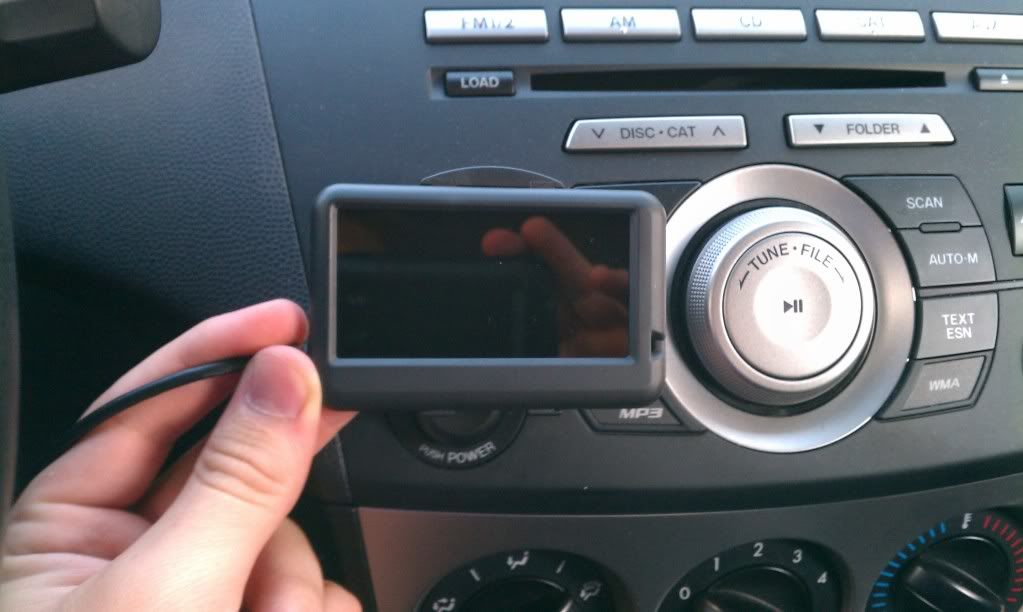 My mounting location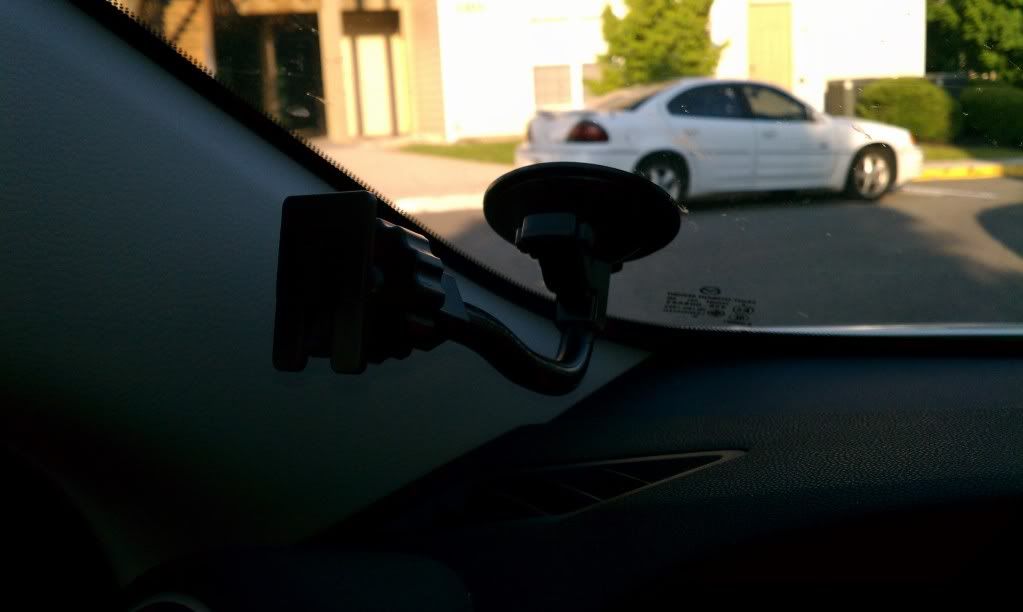 After finding my mounting point, I did some cable management since there is alot of slack. I ziptied the extra cable and tucked it behind the dash panel. It also kind of acts like a theft deterrent because you would either have to rip off the paneling, cut the wires, or spend a decent amount of time fishing the wires out. I always detach it from its mount and put in the little cuby hole where the OBDII port is when I exit the car and I made sure there was enough slack to do this. There are some velcro pads that come with the device. I mounted them on the back of the gauge and the inside of the mounting clip to secure it more and reduce vibrations. It comes in and out easily when unclipped.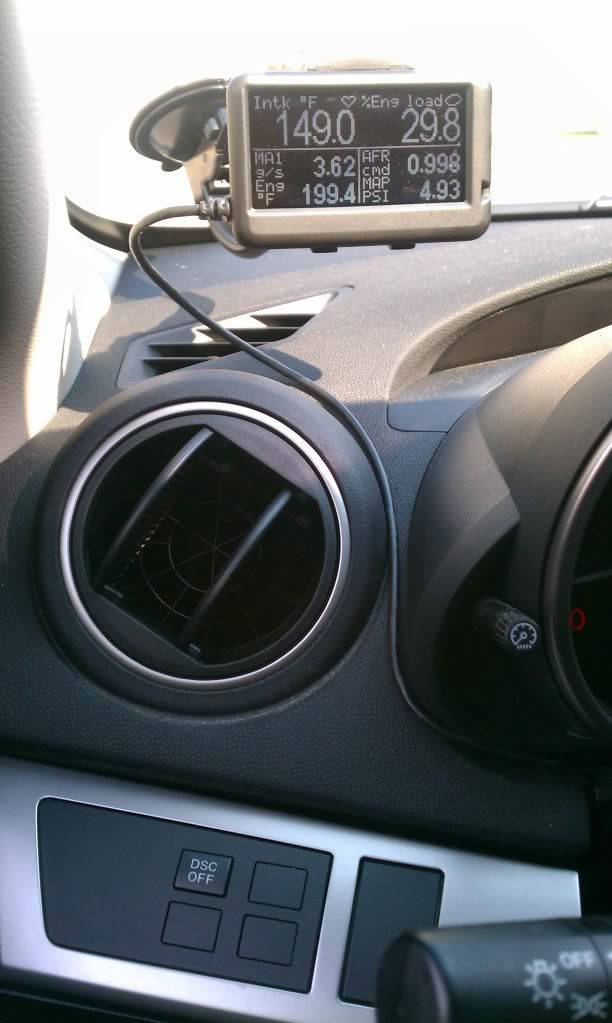 They say to read the manual first before doing anything, I said forget that(bad habit of mine, lol)! I took it downstairs to my car, plugged it right in, and started exploring the menus. This picture below has all of the main pages to select to modify it to your liking.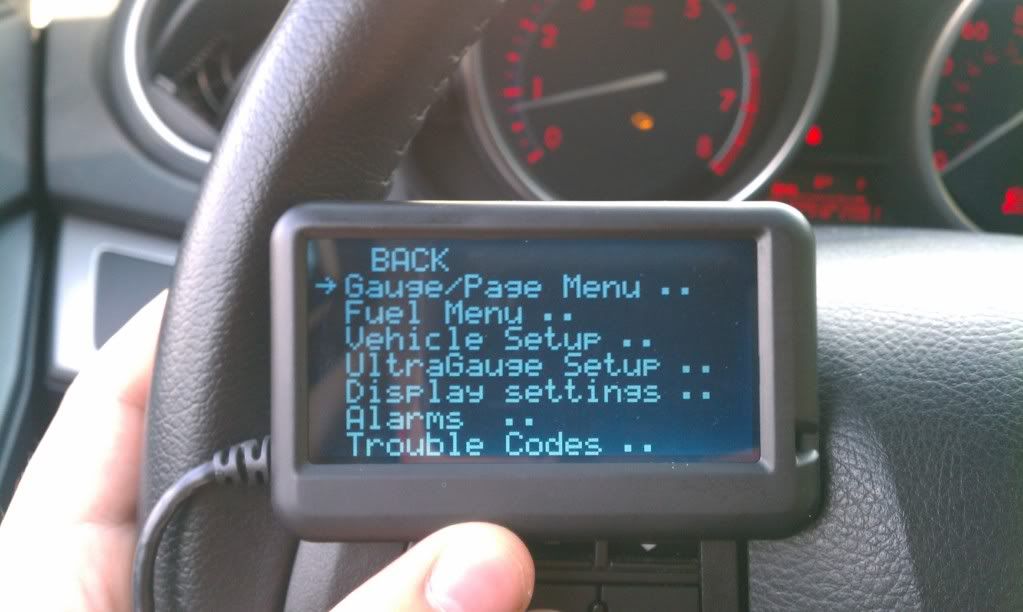 Starting off with the gauge menus, is this page. You can zero tracked stats from here, or continue further to setup what gauges are displayed where.
There are a total of 7 gauge pages you can have and cycle through manually or have them switch after a certain time. I left mine on manual switching. There are a ton of useful gauges. If you go to their website(linked in the first paragraph) and put in your make, model, and year, a list of gauges available will show up.
On each page, you can display up to 6 gauges at a time. The location on the page of each number is shown below.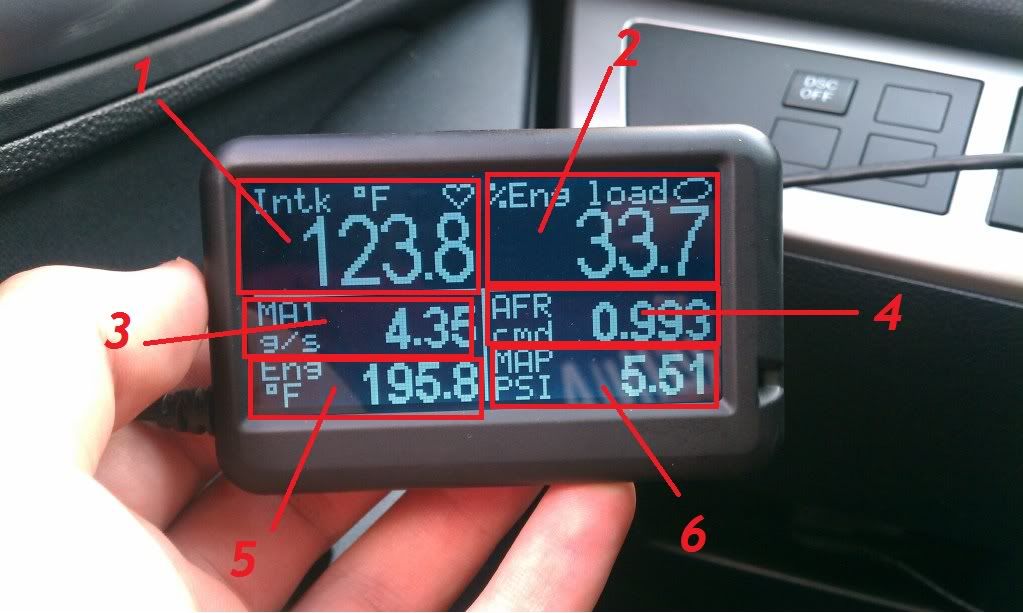 The next menu is the fuel menu. There are options here to set fuel tank size, monitor fuel usage, track fill ups, etc. Haven't fiddled much with this area except to estimate fuel level.
The next menu is the vehicle setup page. Here you can put in vehicle info such as engine displacement, fuel tank size, etc. Obviously I set my displacement to 2.5L and my fuel tank to 12.5 gallons since that corresponds with the digital meter in our cluster.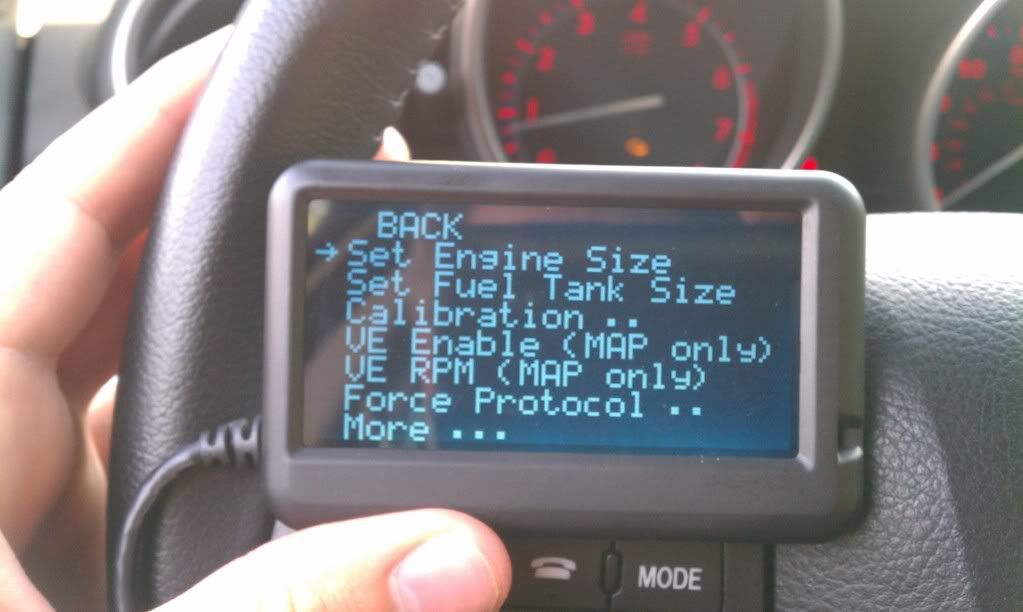 The menu below the vehicle setup is the Ultragauge Setup page. Here you can the version of ultragauge, restore defaults, and perform the factory test which is required for the rebate.
Next up is the Display Settings page. You can adjust contrast levels of the screen, backlight levels, ambient sensitivity. I have my contrast set to 50%, backlight to 100%, and I didn't touch the ambient sensitivity.
5% Contrast
50% Contrast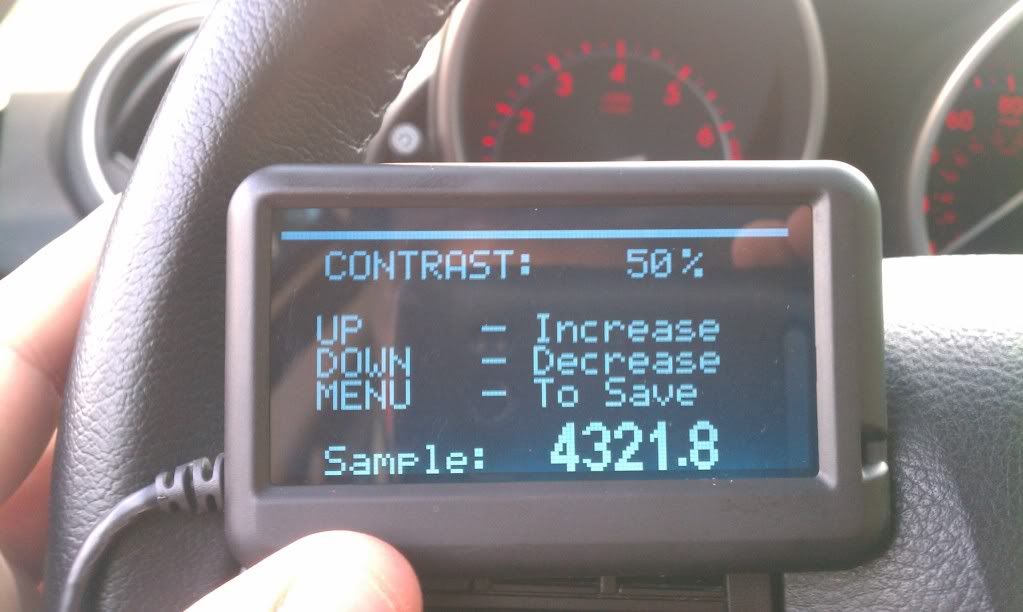 100% Contrast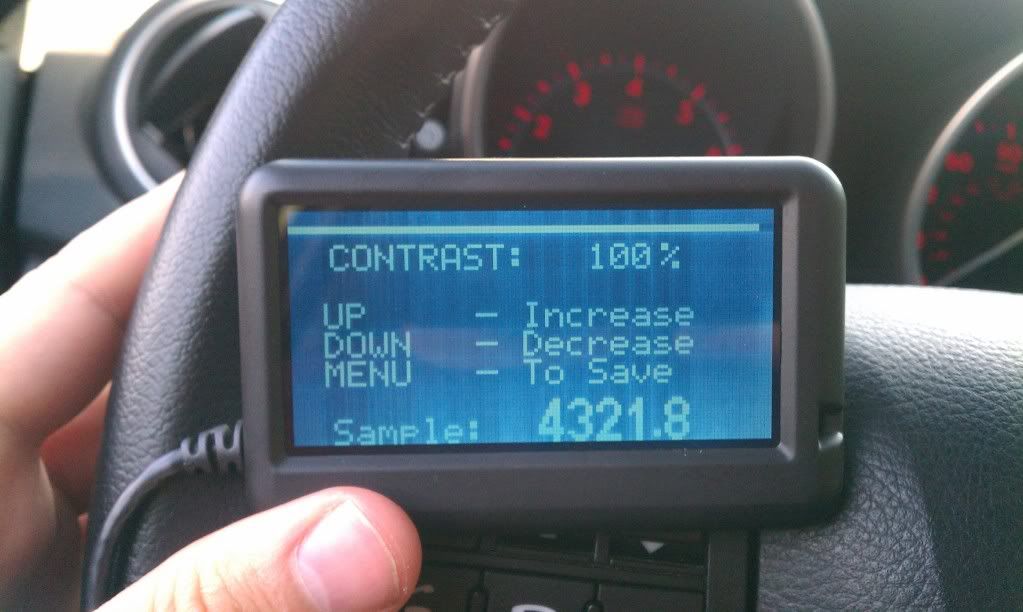 The 2nd to last page is the Alarms page. Here you can set the values for when alarms go off for certain gauges. For example, my engine coolant temp is set to give an alarm if it goes over 250F. You can set alarms for any gauge you can select. You can also determine whether a pending code or trouble code will give off an alarm. Mine are all set to off since I'm still dealing with a CEL(more on that later). Forgot to take a pic but this menu is pretty easy to navigate and understand.
The last menu to select from is the Trouble Code page. Here you can view pending codes, trouble codes, and clear them. It will give you a read out of the code, for example P0137.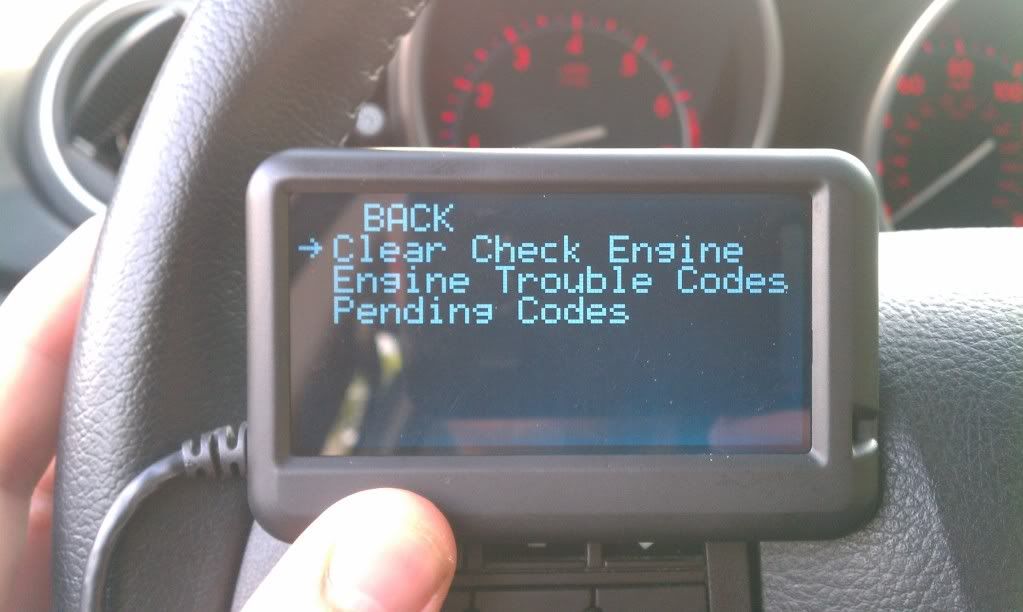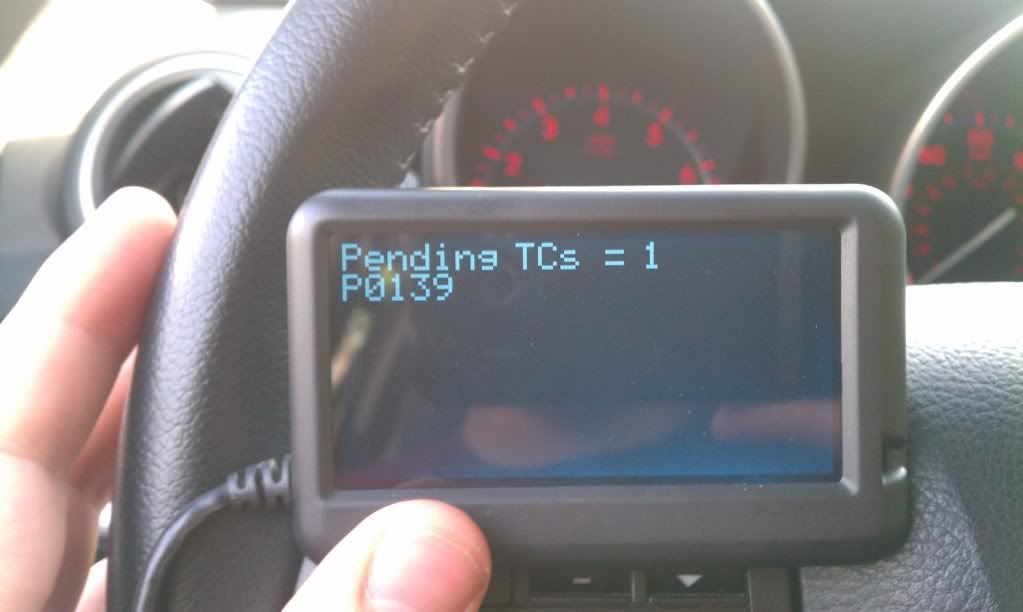 Note the CEL on in the background.
CEL is now off.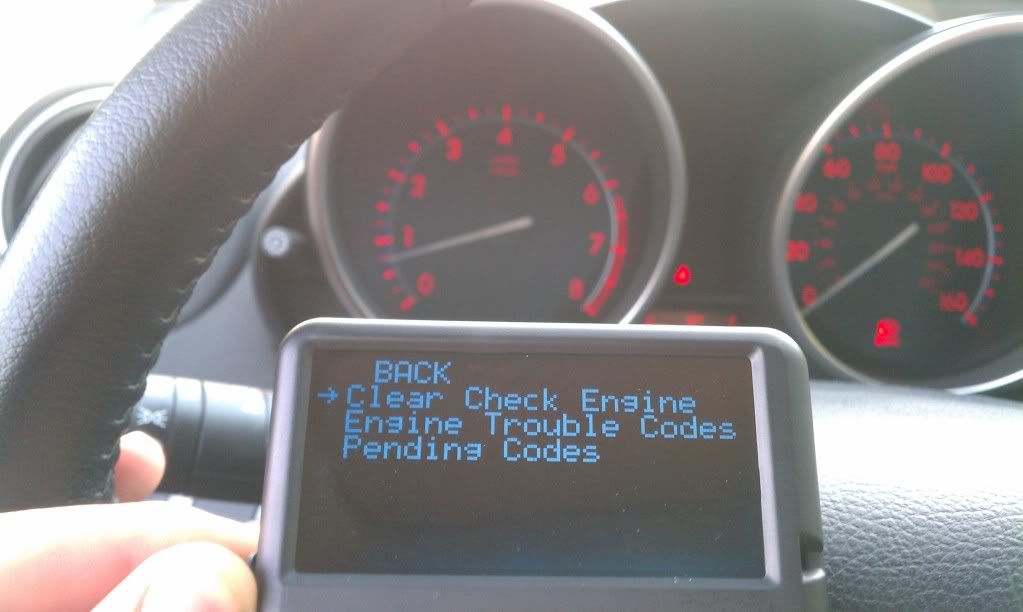 Navigating the device is weird at first but is easily learned. There is a menu button on the top left when looking at the display. On the other half are up and down buttons. The menu acts as an enter button once a gauge/parameter is selected. It also can suspend alarms by holding it down when the alarm shows. The arrow keys are then used to increase/decrease or change the value of the parameter. Again, very simple to learn.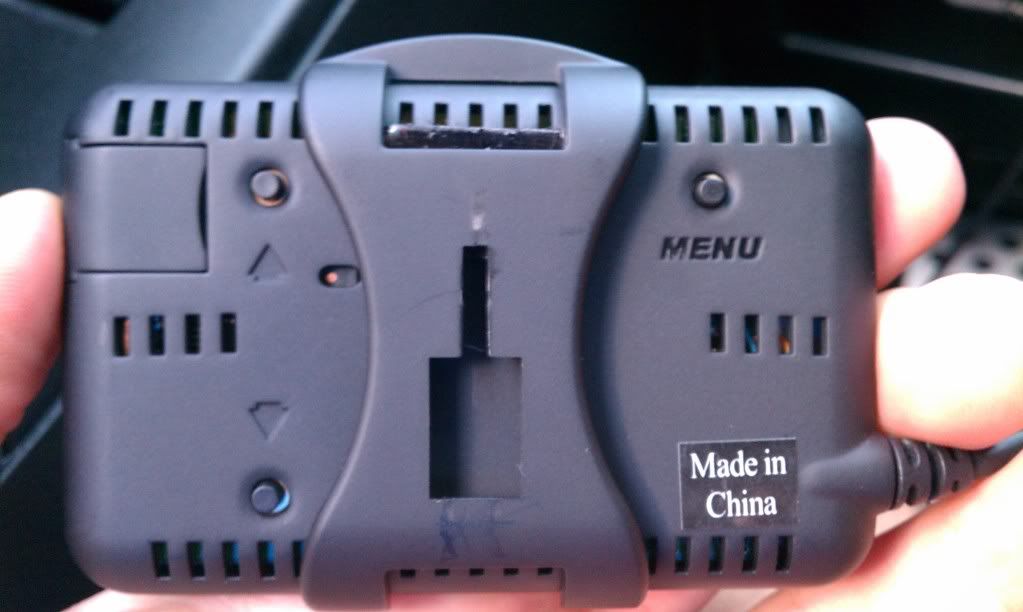 My final impressions
I absolutely love the Ultragauge for what it is! Its a nice OBDII reader/scanner with a great display and lots of information. It can clear codes, monitor things you couldn't before(engine temp for us MZ3 owners :argh 1
, is small and compact, easy to use, and not expensive compared to the other options on the market. I'd recommend one if you have some spare cash or are a gadget guy like me. Feel free to ask any questions if you have any in this thread!
-Crespo