SoCal local sale only for now. I live in the South Bay (Torrance, Carson, San Pedro) area. Willing to meet up.
Selling my 17x8 (+40 offset) TSW Zolder wheels and 245/40/17 BFG Sport Comp-2 with TPMS sensors (OEM).
Wheels have ONLY been driven with PD applied. I mainly got these cause of the cheaper prices on tires and knew I was gonna PD them (I personally don't like chrome lip)... IF you don't like chrome lip either; PD them the color of your choice. I did 2 bronze and 2 black.
Wheel condition- never curbed, straight wheels and balances fine. There might very minor nics here and there (I really don't see any). PD a did good protecting the wheels. *The pics that seem to have nics are really just PD peeling.
Tires condition- Would estimate less then 10k miles on them. I really don't drive much. As you can see in the pics, they have plenty of meat left on them.
$440 picked up
All tires. Evenly worn
Closer look-tires
Closer look-wheels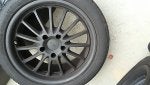 Peeled off some PD on one wheel ... Anatomical look lol
Might be hard to tell but the spokes are silver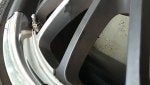 On the car