Today I had my steering wheel replaced.
Before: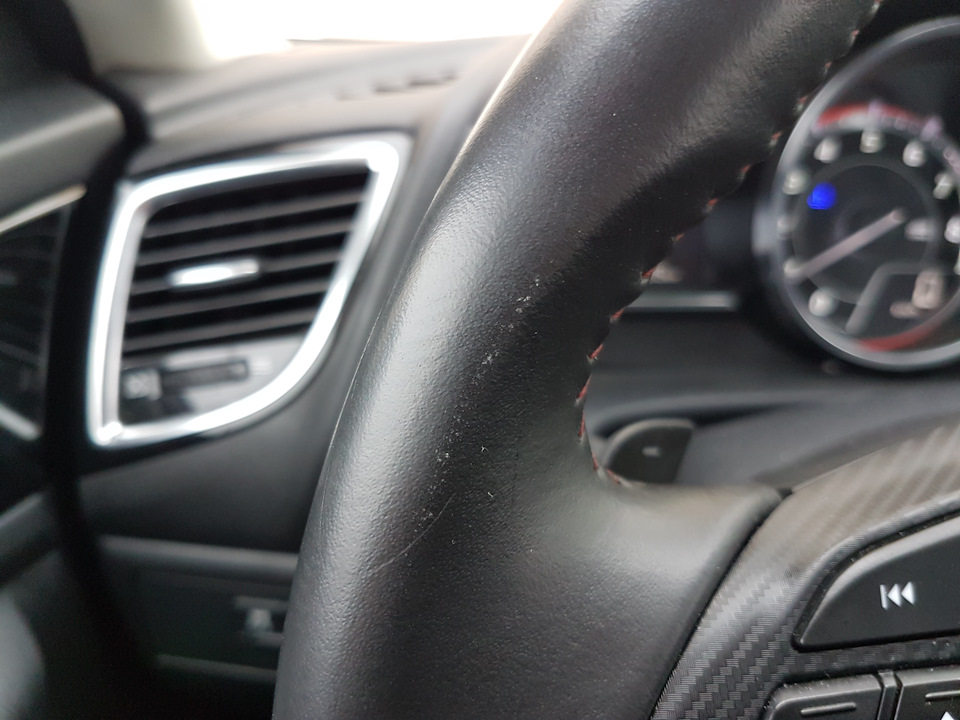 After:
And that's after ~15000-18000 km only. At first, dealer said that it's not a warranty issue, and importer declined the replacement.
Then I sent an email to Mazda Europe and wrote a post on Facebook, tagging Mazda dealer, Mazda Japan, etc.
After that dealer called me and asked for a High Res photos of the steering wheel to send to Mazda to decide.
Then they called again after some time, saying that steering wheel was ordered and waiting for shipment.
Few days ago they called and said that steering wheel has arrived.
But the day before that, one guy from Russia found a Technical Bulletin, describing this particular issue with steering wheels and how it should be handled - Replaced with a new, modified and improved steering wheel.
I asked dealer what Part # is the new wheel and it was NOT the one that is described in the Bulletin.
After some emails, and Facebook messages with managers of the dealer and importer, they told me that this Bulletin is not for Ukraine, and that Ukraine does not have Bulletins describing this issue for Mazda 3 BM. Until Mazda Europe sends them such Bulletin - they can't order new improved wheels.
So I decided to go and replace it with the one that they already got for me.
It still has some minor changes, as I understand, because its Part # has different ending BHP2-32-982
A02
.