Got my wheels finally back to me, picked up these bad boys, so in the meant time I sent them off to my powder coater, and rolled my fenders. The fronts there is a slight pull to them but I don't think that was really needed to be honest. I can't remember one of our member's screen name but she had 350z wheels powder coated laser crystal and it looked seeeexy so I used the same color so props to her for it!! :yes:
Close up on the color
Far shot old vs new (rears is old, fronts are new)
Fitment pics:
Clears CS calipers no problem.
What do you guys think, 235/40 or 245/40? Rather not do any type of stretch tire.
**EDITED BELOW***
Had my car on 4 jacks lol, I came in at the last hour so they were wanting to leave so I had like 5 guys working on my car.
I went with 235/40 simply for the ease of fitment. I test fitted 245/40 and it came close, i'd say about 2-3mm clearance between the fender liner at full lock and you would need an aggressive roll and pull in the rear fenders or really crazy camber.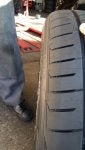 Side shots (keep in mind I've done a roll and pull on all 4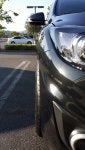 Before and after pics.
Some close pics of the wheel and color of the power coat, really neat upclose!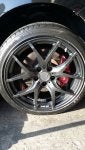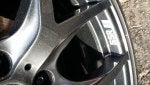 Some action shots:
ENJOY!!!