This is meant to be a thread where we can keep track of all springs and coilovers available for our cars. I'm sure with this initial post I will have missed a couple but the whole point is for all of us to contribute to this thread so we have a one-stop location for lowering our cars.
Springs
CorkSport
CorkSport 2014 Mazda 3 Lowering Spring Set
Price: $209.99
Lowers car approx. 1.75" Front and 2.00" Rear
Average increase of 7% spring rate
OEM finished for durability
2-year limited warranty
Installation instructions can be found
HERE

Eibach PRO-KIT
2014 MAZDA 3 - PRO-KIT | eibach.com/america
Price: $208.00 on Tirerack.com
Lowers car approx. 1.0" Front and 1.3" Rear
Spring Rates: 166-280 lbs/in Front and 137-194 lbs/in Rear
Million Mile Warranty
Advertised better MPG
Road Magnet
https://www.roadmagnet.com/
Price: ???
Lowers car approx. 1.3" Front and 1.7" Rear
Spring Rates: ???
RS-R
http://rs-r.myshopify.com/products/rs-r-down-sus-springs-for-2014-mazda-3
Price: $219.00
Lowers car approx. 1.2"-1.4" Front and Rear
Spring Rates: 3.31 kg/mm Front and 3.47 kg/mm Rear
The example vehicle shown above belongs to
@dennisheffner
.
Tire Size Specs: +42, Factory size stretched. Wheels are 18" x 8.5".
Settled ride height was 1.2" after 200 miles in comparison to the estimated 1.2"-1.4".
AutoExe
AutoExe:???????
Specs: Mostly unknown (about 20mm drop)
Price: ???
H&R
http://www.ath-hinsberger.de/tuning_mazda_kia_hyundai_zubehoer.php/sid/d4e645de68aa87bc2dd5ebf9501997f0/cl/details/cnid/33b528c7cc4061622.37928194/anid/5e9528d7ff0e835d8.25198646/H&R-Sportfedern/
Specs: 30mm Front and 45mm Back
Price: $246.66 (Converted from Euros)
Mazda OEM (UK) Lowering Springs
Unconfirmed
http://www.mazda.co.uk/buying-owning/accessories/mazda3/2013-05/wheels-suspension/410077974/
Specs: ???
Price: $278.00 (Converted from British pounds)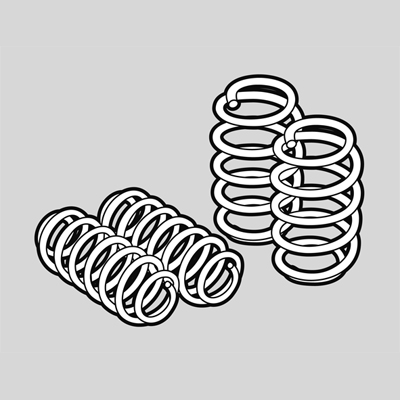 Confirmed Coilovers
BC Racing BR Coilovers
http://www.jscspeed.com/catalog/BC_Racing_Coilovers_for_07_13_Mazdaspeed3-25308-1.html
NOTE: These are designed to fit the 04-13 models which means that you will need to pick up extended bolts (M12-1.25x90mm), you can pick them up at your local dealer for about $5 each. This will ensure proper fitment.
NOTE: Official part number for the 3rd gen is N-29 (confirmed by BC NA) and they should be in stock at online retailers in July
Price: $995.00
1 Year limited warranty
Spring Rates: 7k front and 4.3k Rear
Front and Rear Camber Plates
30 levels of damping force adjustment
DGR Coilovers
http://www.dgrsuspension.com/MAZDA_Mazda3_COILOVER_SUSPENSION_p/ma-26.htm
Price: $1099.00
Lifetime warranty
Spring Rates: 7k Front - 8k Rear
30 Way Adjustable Shock, Monotube Construction, Full height adjustable threaded body, Alluminum alloy top mounts/ lock collars, steel lower mount.
Unconfirmed Coilovers
not yet tested by anyone on the forum
KSport
THESE HAVE BEEN TESTED AND DO NOT FIT!!!
Ksport Kontrol Pro Damper System Coilovers (CMZ250-KP) 10-14 Mazda3 (Includes Mazdaspeed 3) « Free Shipping
Price: $966.00
36 way adjustable dampening
18 month limited warranty
Spring Rates: (KG/LBS) Front: 9/504 - Rear: 4.7/263
:crybaby 1: Sorry, No Pics :crybaby 1:
AMR Engineering
2010 to 2014 Mazdaspeed 3 AMR Engineering Coilovers | AMR Engineering
Product description contains no information about spring rates.
Price tag... $1425.00
RS-R Coilovers
RS-R Coilovers Mazda 3 Hatchback (2009-2014) XBIM130M
OR
RS-R 2014 Mazda 3 Five Door Sports-i Series Coilovers XBIM140M RSRXBIM140M | STILLEN
Spring rates: 5kg Front / 3.5kg Rear
36 Way Adjustable
Designed for allow for an aggressive stance (Advertised)
Price: $1699.00
This is what I've put together so far. PM me or just comment on the thread if you need more info. This is just what I was able to put together while idling at work. I will add more information when I get home such as prices and reviews. If you have one of these setups that I wasn't able to get "on the car" pictures of please feel free to add them yourself or pm me with them and I will add them later. Hope this helps.