I am on a quest...
To transform a great car into my dream car.
to supercharge the Skyactiv 2.5L. I want the peak power of the 2.5T with the broad power band of the 2.5L.
Goal:
To be on par with e46 M3 or Civic Type R. (and way faster than the Skyactiv 2.5T: less torque, more horsepower).
I initially thought I would pursue cobbling together my own kit (
Considering Supercharger on Skyactiv
)
But am now pursuing
VT-Racing
, Chinese company, twin-screw supercharger for 2.5L skyactiv engines (launched in early 2019 in China).
I've been in regular contact with the company for a few weeks and I am putting down a deposit for a supercharger kit. They are calling it a "press kit" since I will be the first supercharged Skyactiv in North America, I'll be a pioneer
(both scary and cool)
The twin-screw supercharger Kit:
Primary unit takes the place of the stock intake manifold.
Integrated air-water intercooler, with extra radiator that will be added in front of existing one.
Low boost - Peak <6psi -Twin screw characteristic builds reliablie linear rise in pressure starting at very low rpm
Power: Claimed 241hp at the wheels from completely stock CX5

Expect lower 0-60 by at least 2 seconds (that would be 5.6s 0-60 and 13.6 1/4 mi)
They said customers with aftermarket intake/exhaust have felt more power but they have no specific metrics.
Fantastic torque boost even at very low rpm
boost psi slips down a little in higher RPM, but it stays up enough that HP increases all the way to red-line

Tuning - included as part of the package VT-Racing remote tunes for the super (very much like OVTune/DRTune, but slightly different software)
Cost: figure after shipping and everything about $5,000 for -2 seconds from 0-60, 1/4 mi
__
UPDATE 4/25 - SUPERCHARGER IS INSTALLED AND RUNNING!
It feels great on the road, with a lovely "zingy" sound when on the throttle, but when idling or cruising it almost sounds stock (250-300HP crank). Power just builds and builds as the RPM goes up with peak HP at red-line.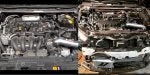 __
Complimentary PARTS
1.
Spark Plugs
(reqired) - need to run colder heat range, found NGKs that are slightly smaller gap (.31" vs .44") and one step colder heat range (8 vs 7)
These are actually OE on Nissan GTR
2.
Oil Cooler
(recommended) - adding 30% more power means more heat, adding thermostatic oil cooler should help longevity. This kit is made for an ND Miata so the oil filter plate will fit fine, and was able to use one of the brackets to leverage intercooler mounting point.
3.
Oil Catch Can
- adding forced induction will likely increase blow by and I want to keep the twin screws clean for a long life.
4.
Liquid Chill
- coolant additive proven to modify surface tension/conductivity characteristics of liquid to increase cooling capacity, drop temps by 25f
5.
Boost gauge and Oil Pressure/temp gauges
- To have better visibility of what's happening when I'm pushing the car on track or any time. I found a two in one gauge for oil pressure and temperature, plus matching boost gauge. Both are digital so even though the boost will only go up to 6psi I can see exactly where it's at.
Oil Pressure/Temperature Gauge Kit
Digital Boost Gauge Kit
6.
Antigravity ATX30-RS 5.5lb, 880CA Battery
- to help compensate for the additional weight of the supercharger kit (40-80lbs) switching to ultra light battery can drop 30lbs to help offset. Antigravity also has a bluetooth battery tracker that I was going to install to keep tabs on the health of the battery.
____
*Note: VT-Racing has not installed their kit on any Skyactiv with manual transmissions (mostly CX5s and some 6s), and are not sure how it would handle it. They did seem open to using a softer spring on the bypass valve to lower the peak psi to potentially be livable for manuals.
The good news is they claim the automatic has no problem at all with it, same transmission used with the 2.5T and this will be less torque than that (more horsepower)