Discussion Starter
·
#1
·
Posted this up on the other forum and though I would do the same here.
-Input accepted and greatly appreciated. If you have one of the exhausts below and have more information please fill me in. I'll be adding header information to this list as well once I have that information compiled
Mazda3 Aftermarket Exhaust Products
_________________________________________________
Cat-back Exhausts
Note: Unless specifically for the sedan, these exhausts' tips will need to be extended to fit.
Also, most pictures aren't representative of Mazda3 version of each exhaust.
Ark Performance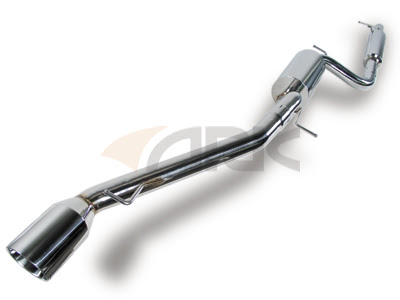 DT-S Exhaust System
$599
at arkspeedracing
-Applications: 04-ON Mazda 3 (Sedan & Hatch)
-Engine: 2.0, 2.3L 4Cyl. / FWD / AT/MT
-Size: 4" Tip / 2.5" Pipe
-Material: T-304 SUS Stainless Steel
video
===============================================
AutoExe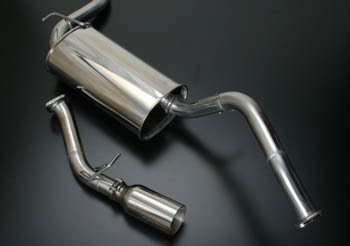 $689
at CorkSport
-Applications: 04-ON Mazda 3 (Sedan & Hatch)
-Engine: 2.0, 2.3L 4Cyl. / FWD / AT/MT
-Size: 2" pipe
-Material: T-304 SUS / Mirror Polished
video
===============================================
Borla
T-304 S-S
$529
at LMPerformance
-Applications: 04-ON Mazda 3 (Sedan & Hatch)
-Engine: 2.0, 2.3L 4Cyl. / FWD / AT/MT
-Size: 4" tip /2.5" pipe
-Material: T-304 stainless steel
video
===============================================
Corksport
Power Series 3
$389
at CorkSport
-Applications: 04-ON Mazda 3 (Sedan & Hatch)
-Engine: 2.0, 2.3L 4Cyl. / FWD / AT/MT
-Size: 3.5" tip / 2.4" pipe
-Material: T-304 stainless steel
-Notes: deletes second cat; dyno, videos, and more available
here
video
===============================================
DC Sports
$515
at New Level
-Applications: 04-ON Mazda3 (sedan SCS8018 & hatch SCS8019)
-Engine: 2.0, 2.3L 4Cyl. / FWD / AT/MT
-Size: 3.5" tip / 2.25" pipe
-Material: T-304 stainless steel
-Note: Rebadged Mazdaspeed Accessory exhaust
===============================================
F2
$300
at F2
-Applications: 04-ON Mazda 3 (Sedan & Hatch)
-Engine: 2.0, 2.3L 4Cyl. / FWD / AT/MT
-Size: 4" tip / 2.5" pipe
-Material: T-304 stainless steel
-Notes: comes with race pipe, model: F2M3-Exhaust
video
===============================================
HKS
Hi Power
$455
at 2K Racing
-Applications: 04-ON Mazda 3 (Hatch)
-Engine: 2.3L 4Cyl. / FWD / AT/MT
-Size: 3.78" tip / 2.55" pipe
-Material: SUS304 stainless steel
-Notes: 2nd Cat-Delete
video
===============================================
Magnaflow
$448
at Automotive Concepts
-Applications: 04-ON Mazda 3 (Sedan & Hatch)
-Engine: 2.0 2.3L 4Cyl. / FWD / AT/MT
-Size: 4" tip / 2.25" pipe
-Material: T-304 stainless steel
video
===============================================
Mazdaspeed
Sport Exhaust
$565
Mazdaspeed authorized dealers
-Size: 3.5" Tip / 2.25" Pipe
-Material: T-304 stainless steel
-Note: Mazdaspeed embossed lettering on muffler, mazdaspeed etched in tip
===============================================
Mazdaspeed3
around $200
on the forums, used
-Applications: 07-ON Mazda3 (Sedan & Hatch)
-Engine: 2.0 2.3 4Cyl. / FWD / AT/MT
-Size: 4" Tip / 2.75" Pipe
-Note: This is the stock exhaust off the speed3, many mazda3 owners buy this used then put on a Magnaflow muffler to get rid of highway drone they experience
video
by our own laraw
video
===============================================
Protege Garage
Catback Stainless Steel Exhaust
$350
at Protege Garage
-Applications: 04-ON Mazda 3 (Sedan & Hatch)
-Engine: 2.0 2.3L 4Cyl. / FWD / AT/MT
-Size: 2.5" pipe
-Material: T-304 stainless steel
SRM Stainless Steel Full Exhaust
$750
at Protege Garage
-Applications: 04-ON Mazda 3 (Sedan & Hatch)
-Engine: 2.0 2.3L 4Cyl. / FWD / AT/MT
-Size: 3.25" tip / 2.3" pipe
-Material: T-304 stainless steel
===============================================
Racing Beat
$499
at Good-Win-Racing
-Applications: 04-06 Mazda 3 (Sedan 71202 & Hatch 71201)
-Engine: 2.0 2.3L 4Cyl. / FWD / AT/MT
-Size: 3.5" double-walled tip / 2.375" pipe
-Material: T-304 stainless steel
-Note: statement from Racing Beat says that their exhaust won't fit on 07-On because of significant differences between 06 and 07
video
===============================================
Trubendz
from $255
at Trubendz Ebay Store
-Applications: 04-06 Mazda 3 (Sedan & Hatch)
-Engine: 2.0 2.3L 4Cyl. / FWD / AT/MT
-Size: 3" double-walled tip / 2.25", 2.5", or 3.0" pipe
-Material: stainless steel or aluminized steel
-Note: This system uses a Magnaflow muffler
video
===============================================
Tsudo
$230
at Speed Element
-Applications: 04-06 Mazda 3 (Sedan & Hatch)
-Engine: 2.0 2.3L 4Cyl. / FWD / AT/MT
-Size: 4.5" tip / 2.5" pipe
-Material: T-304 stainless steel
===============================================
Vibrant
Street Power
$525
at Speed Demon Performance
-Applications: 04-06 Mazda 3 (Sedan 1696S & Hatch 1696)
-Engine: 2.0 2.3L 4Cyl. / FWD / AT/MT
-Size: 4" tip / 2.375" pipe
-Material: T304-stainless steel
video
===============================================
5Zigen
ProRacer ZZ
$629
at Advance Speed Shop
-Applications: 04-06 Mazda 3 (Sedan & Hatch)
-Engine: 2.0 2.3L 4Cyl. / FWD / AT/MT
-Size: 3.5" tip / 2.375" pipe
-Material: SUS304 tip / SUS436-stainless steel pipe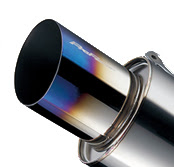 ProRacer A-Spec
$807
at Advance Speed Shop
-Applications: 04-06 Mazda 3 (Sedan & Hatch)
-Engine: 2.0 2.3L 4Cyl. / FWD / AT/MT
-Size: 3.5" tip / 2.375" pipe
-Material: SUS304 + INCONEL 600 tip / SUS436-stainless steel pipe
video
_________________________________________________
pictures of installed exhausts:
http://www.mazda3forums.com/index.php?topic=72118.0
video clips:
http://www.mazda3forums.com/index.php?topic=76568.0