Hey guys, I decided I finally had enough parts that I should probably]ly make a build thread so here it goes. I purchased my car in October 2013 and I haven't stopped modding it yet. I add about one new part each weekend. I purchased my baby with 27,000 on it and drives like it is brand new. It currently has 30,000 and is still going strong. I was kinda trying to head for a rally look.....
Mod List:
Power
1. CS Intake
2. Mazdaspeed3 catback with resonator delete
3. Advanced Timing Mod
Suspension
1. Eibach Pro kit
2. Rx-8 rims with some falken 18"s on them (not sure what the numbers are)
3. CS adjustable camber arms
Interior
1. Ultragauge
2. Blue Footwell led strips
3. Ugly plasti dipped trim pieces :no:
4. CS Interior LED kit
Exterior
1. Plasti-dipped: rear valence, fog bezels, emblems,
2. Speed style front lip
3. Tinted Tails
4. Rally Armor mudflaps (red logo)
5. Lamin-x yellow overlays
6. 3000k fogs
7. 3000k lows
8. Noyka Yellow highs
9. Muteki Neochrome Lugs
10. Assorted stickers
11. Painted Headlights
12. Yakima Roof Rack
13. CS Eyelids
14. Rear Wiper Delete
Bought her in October 2013, couldnt be more excited the day I drove her home.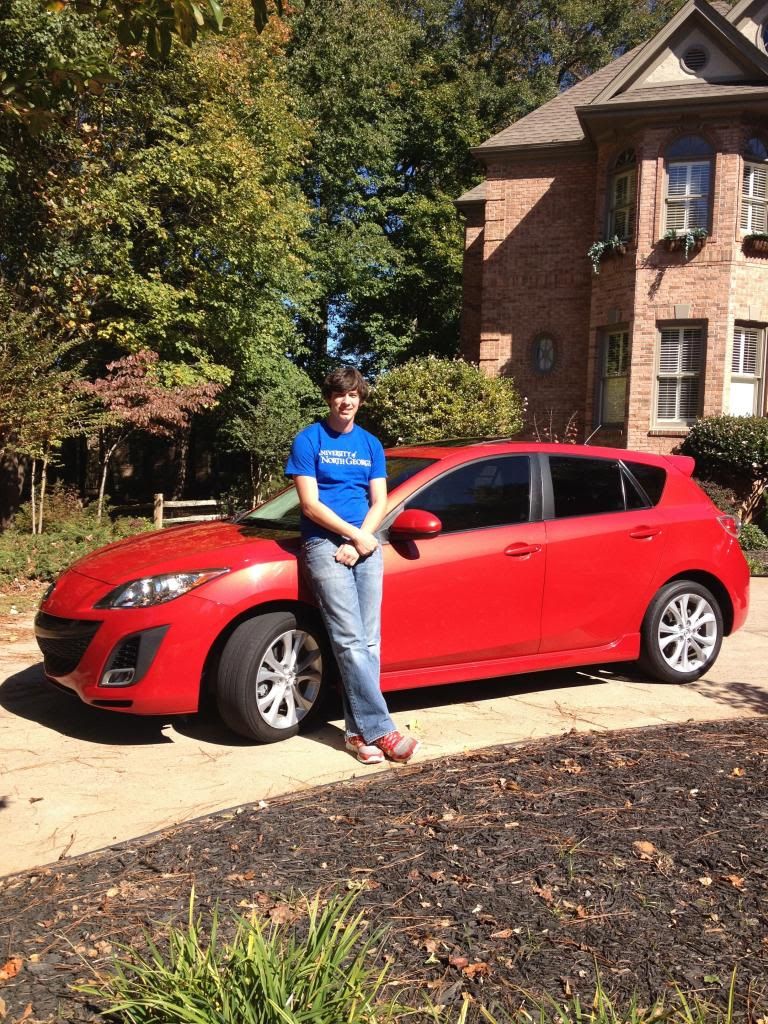 First things first, I had to get rid of that nasty chrome all over everything haha. I absolutely couldn't stand the wheels, and once you go black well you know......
So I dipped my rims and decided I had to black out the emblems as well
I placed index cards in the gap between the rim and tire to prevent plasti dipping the tires. It works out really wells as long as you remember to run a razor between the rim and index cards to avoid and tearing.
Oh and also don't forget to cover your rotors and calipers with trash bags!!!!!
The finished product turned out really well for only a few hours of work and leaving the wheels on. If i had to go back though I would definitely take the wheels off first. But here are the snapshots of it.....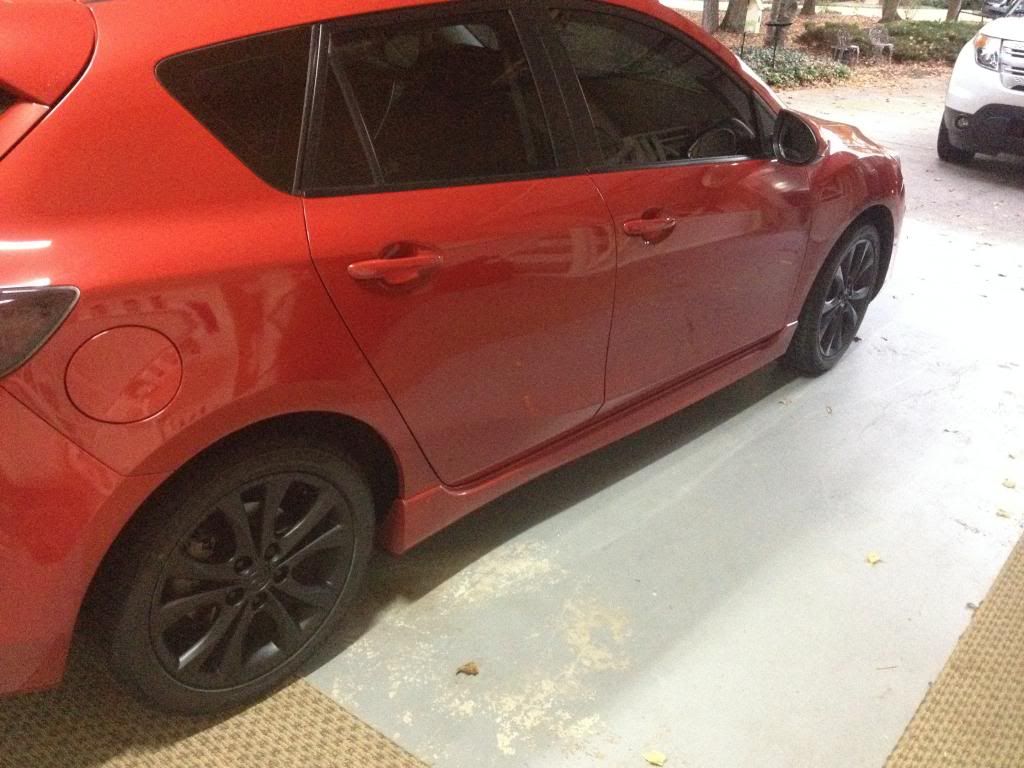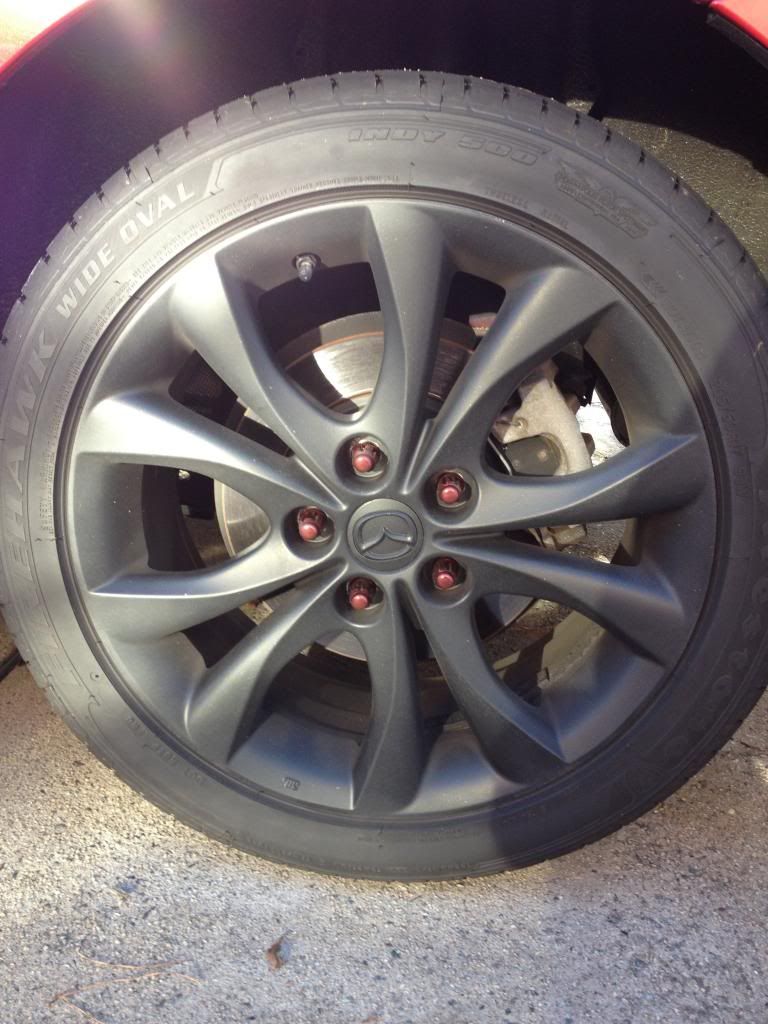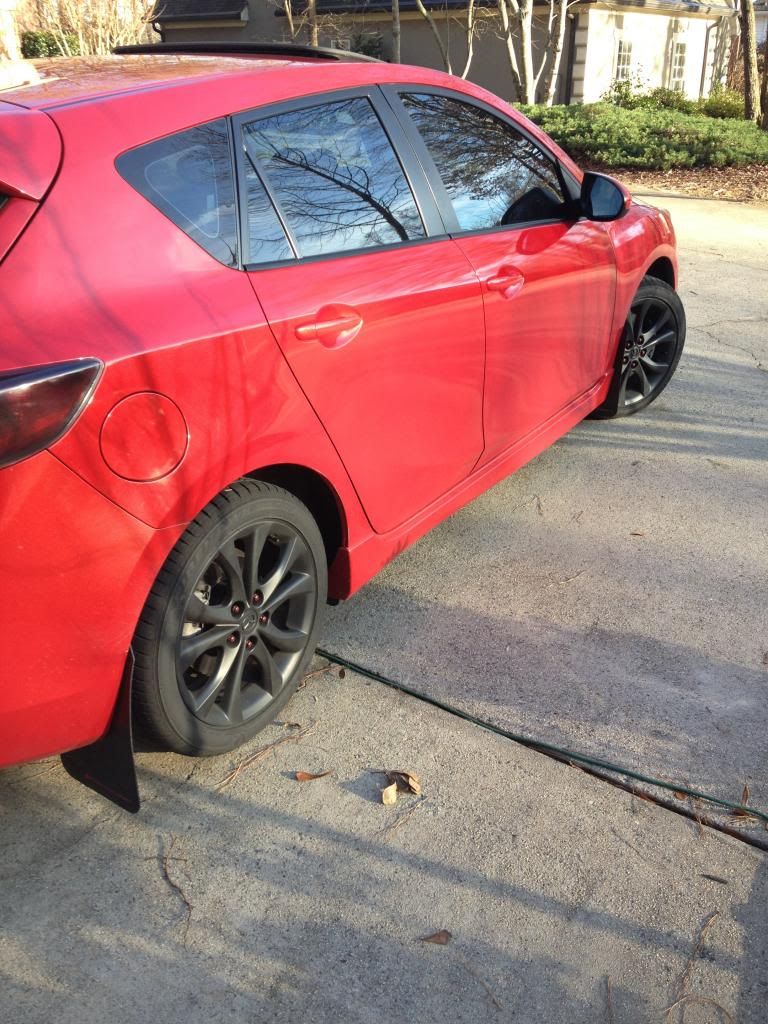 First Performance mod was a CS intake. I went with blue because.......it gets hidden in the engine bay lol
Here are the pics of the blacked out emblems. Sorry I don't have any pictures of the prep for this but it is pretty straight forward. I just used index cards for the front emblem and inserted them into the slot between the chrome and the bumper.
Just remember to use a razor between the emblem and the index cards!!!
The back is really simple, just spray at a straight on angle to the chrome and using a toothpick slowly peel off the excess worked great for me. Here are those pics.....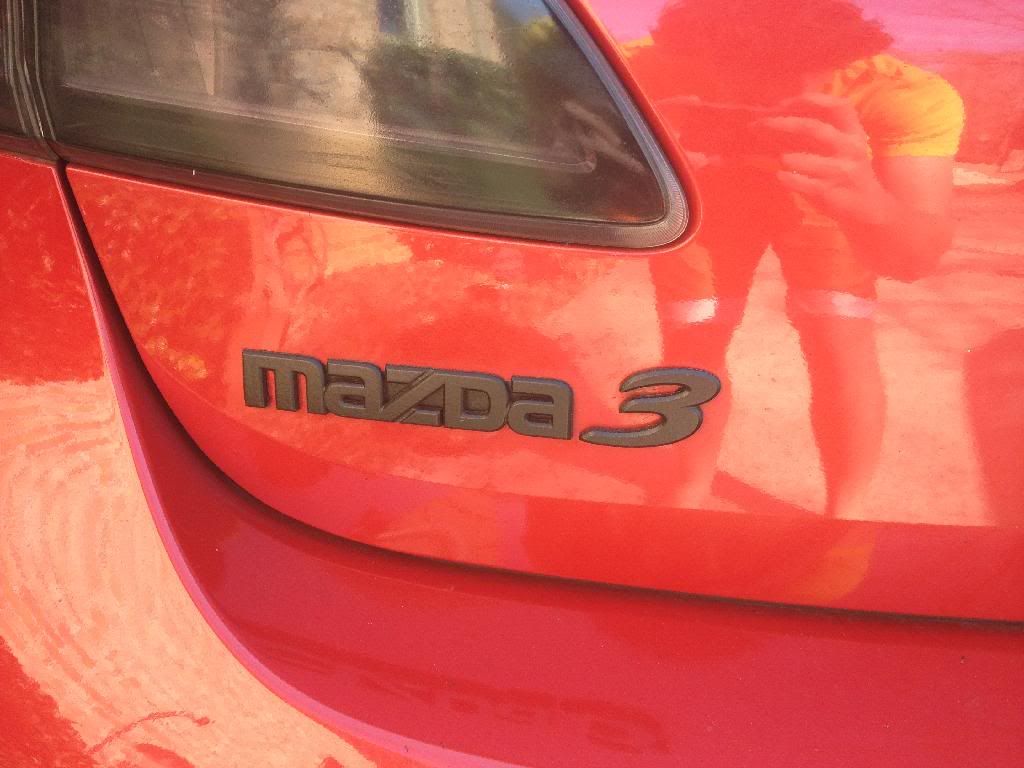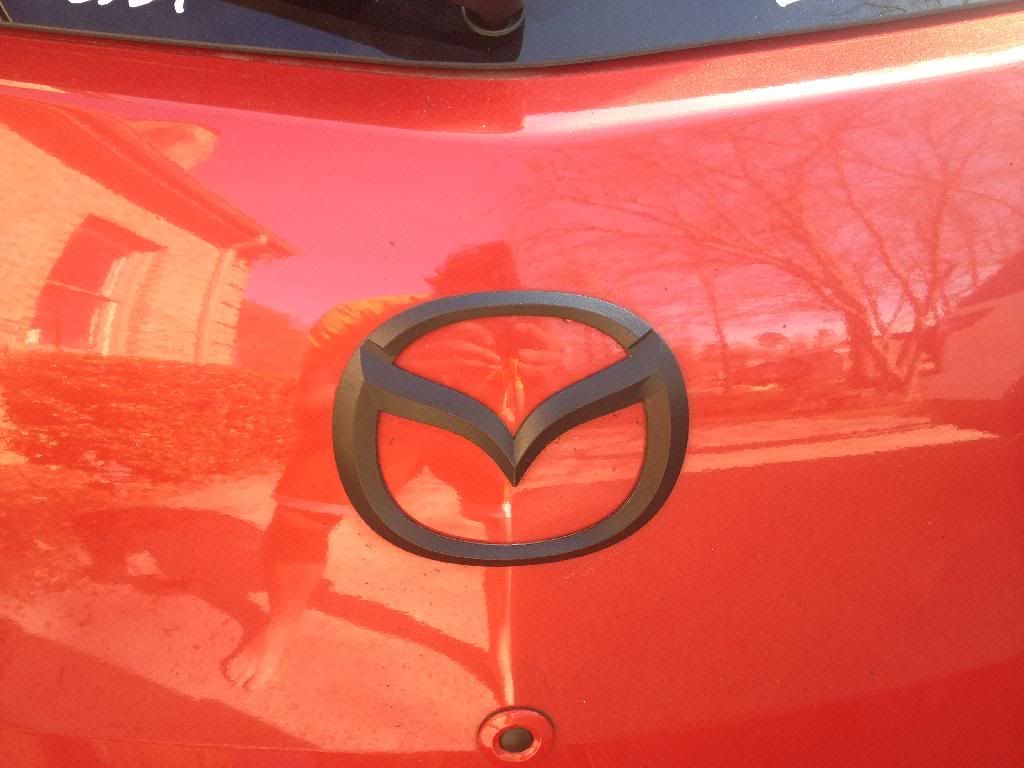 The next thing I did was tint my tail lights. I figured if I was going black out everything I might as well make those black.
IMO make sure that you use vinyl instead of spray on!!! It is much easier to remove and looks WAY better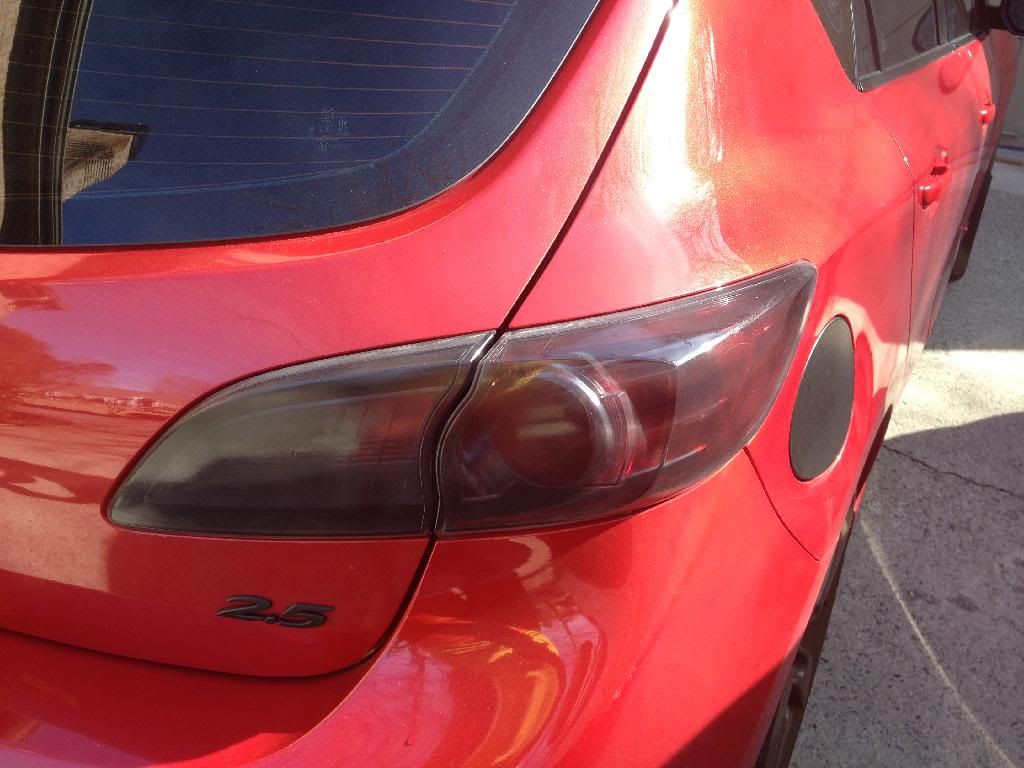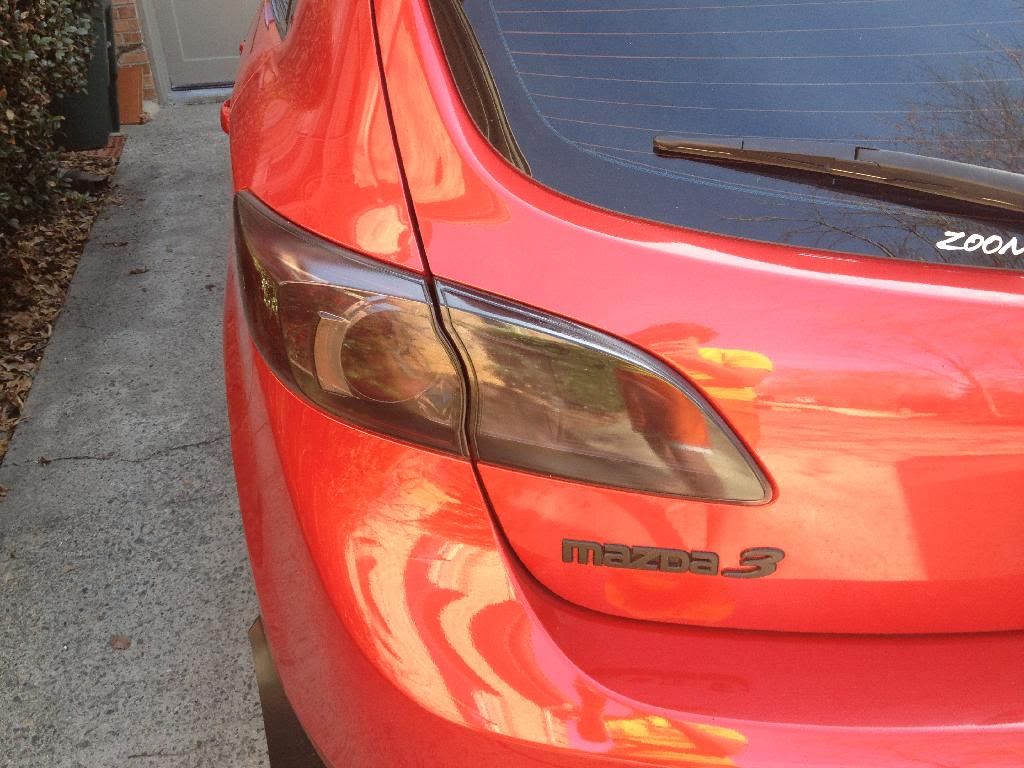 Next stop was some mudlfaps, and personally nothing looks better the Rally Armor black flaps with red writing. Picked them up straight from Rally Armor, best 115 bucks I have ever spent.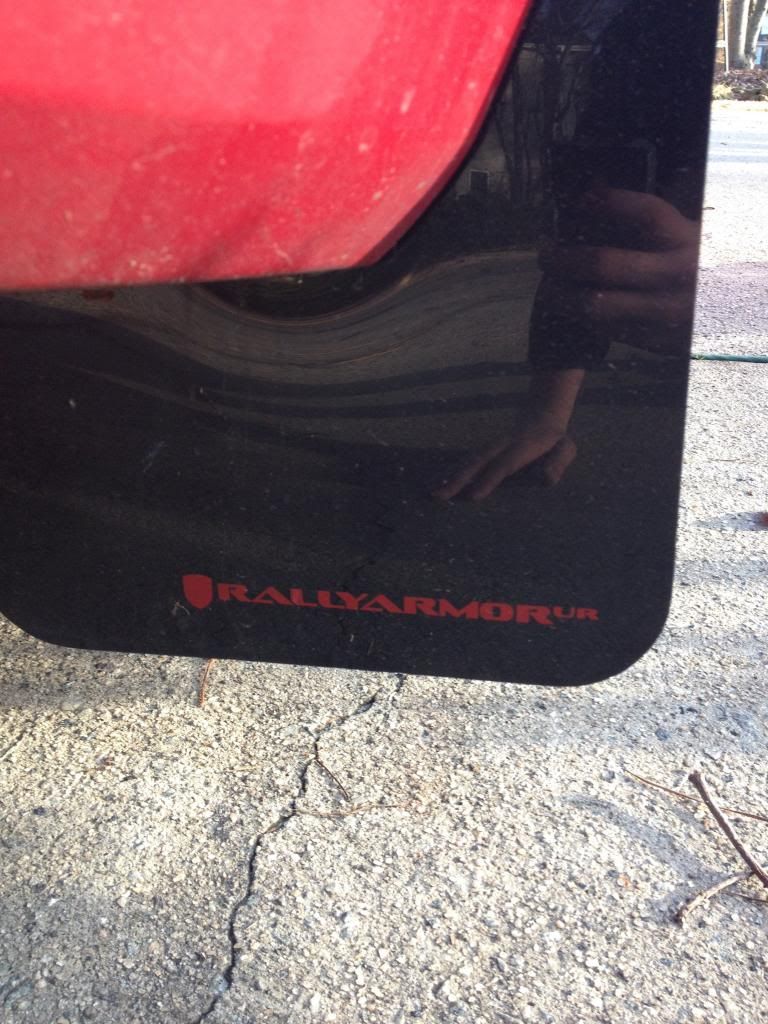 The next thing was to plasti dip the front to get rid of some of that smile.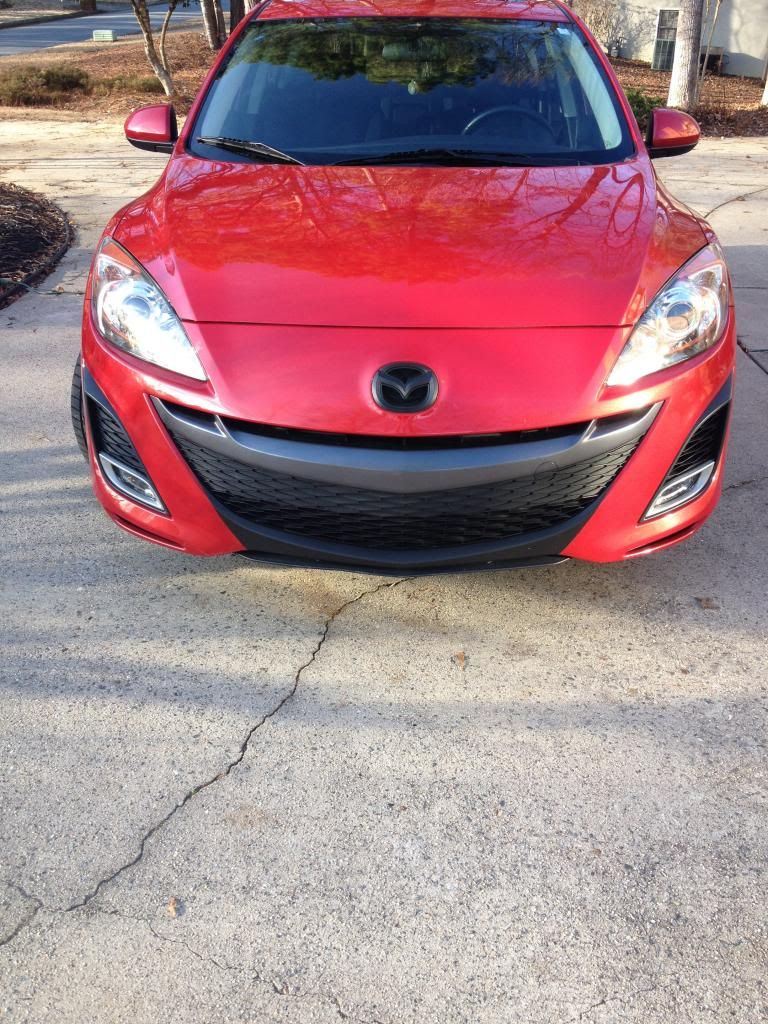 I also went ahead and dipped my rear valence to give it a sportier look.....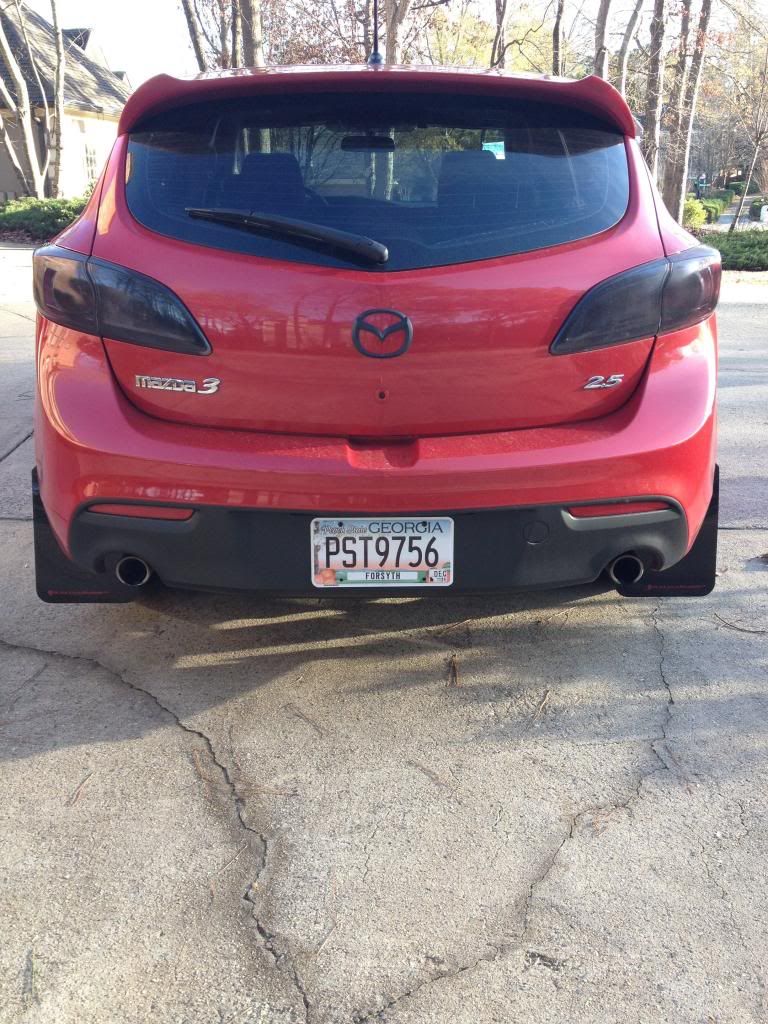 Sorry crappy pic
I installed Lamin-x tint over my fog lights along with 3000k HIDs from DDM
(pics will arrive shortly)
I also plasti dipped my fuel door, not really sure how I feel about it
After a few months of staring at the dipped wheels i got kinda tired of it and decided to pick up a set of bronze RX-8 rims that a friend was selling. It felt like Christmas time picking them up :biggrin: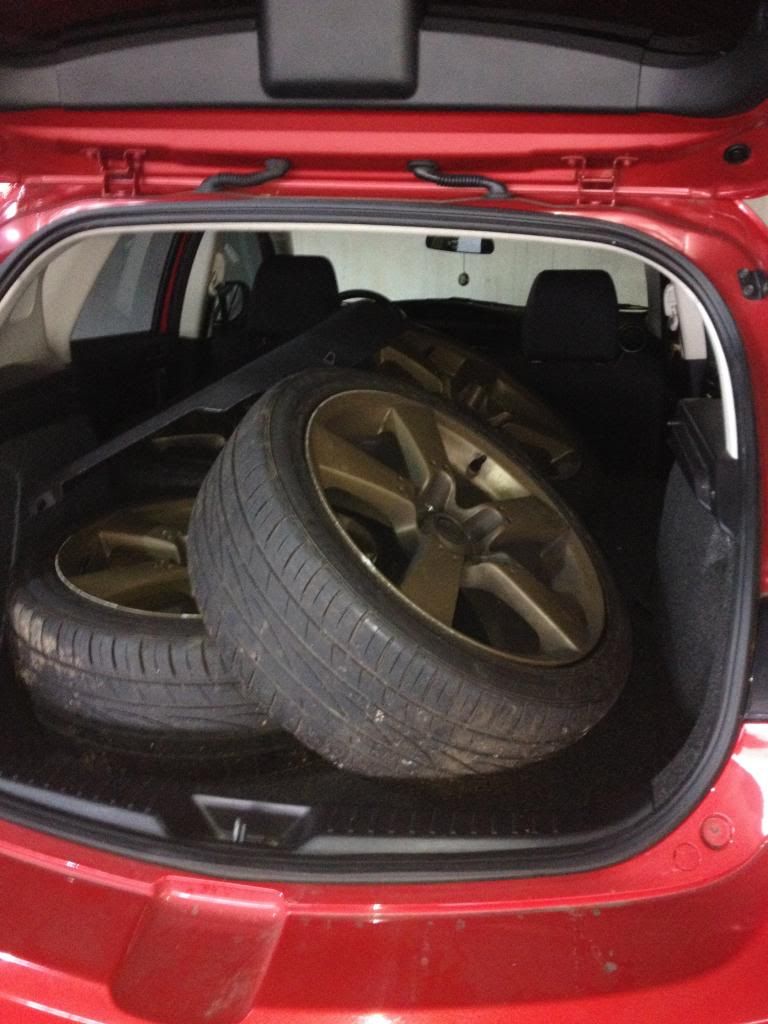 First day I tried to install them in a garage at school and ending up shredding my gorilla lug key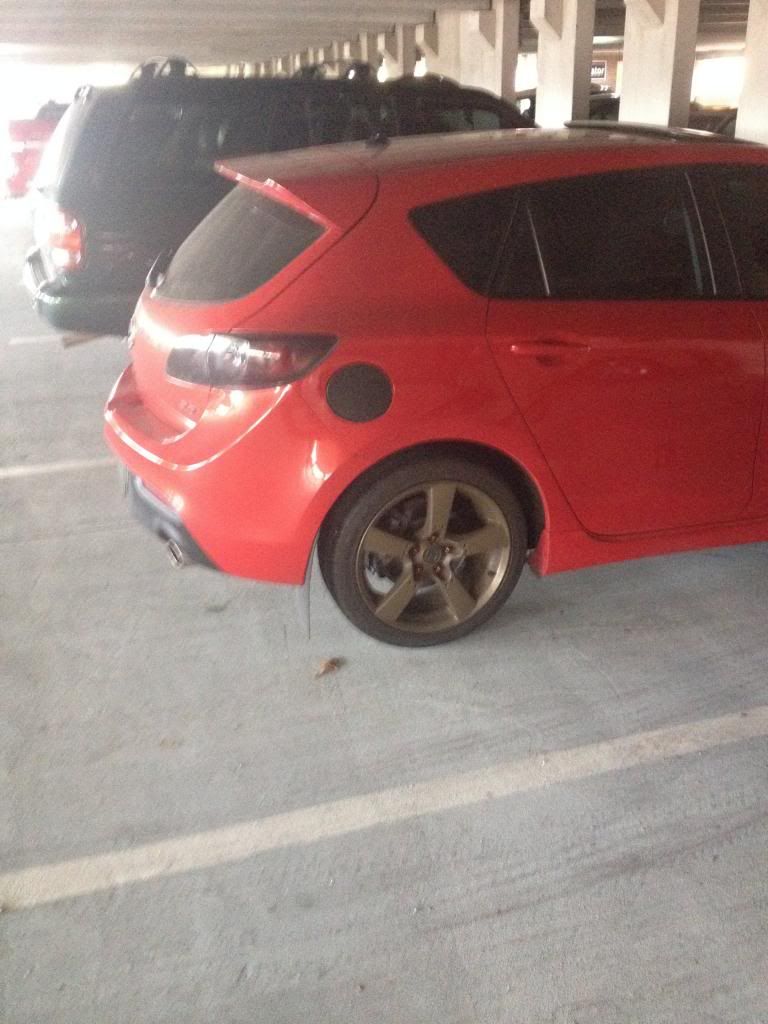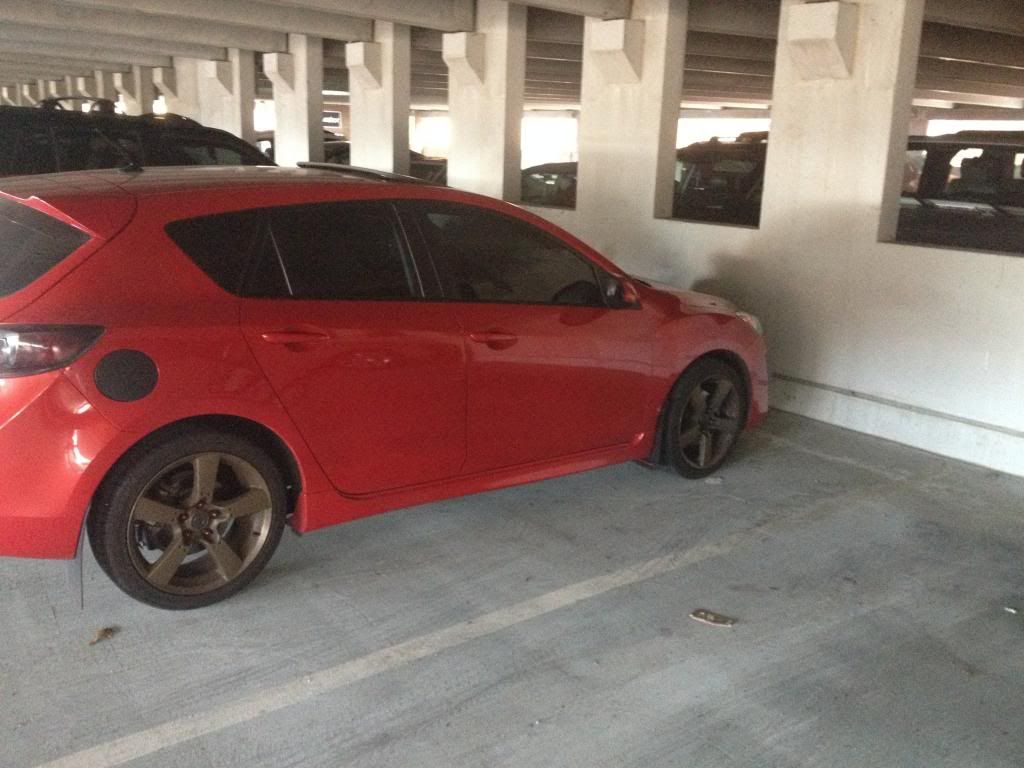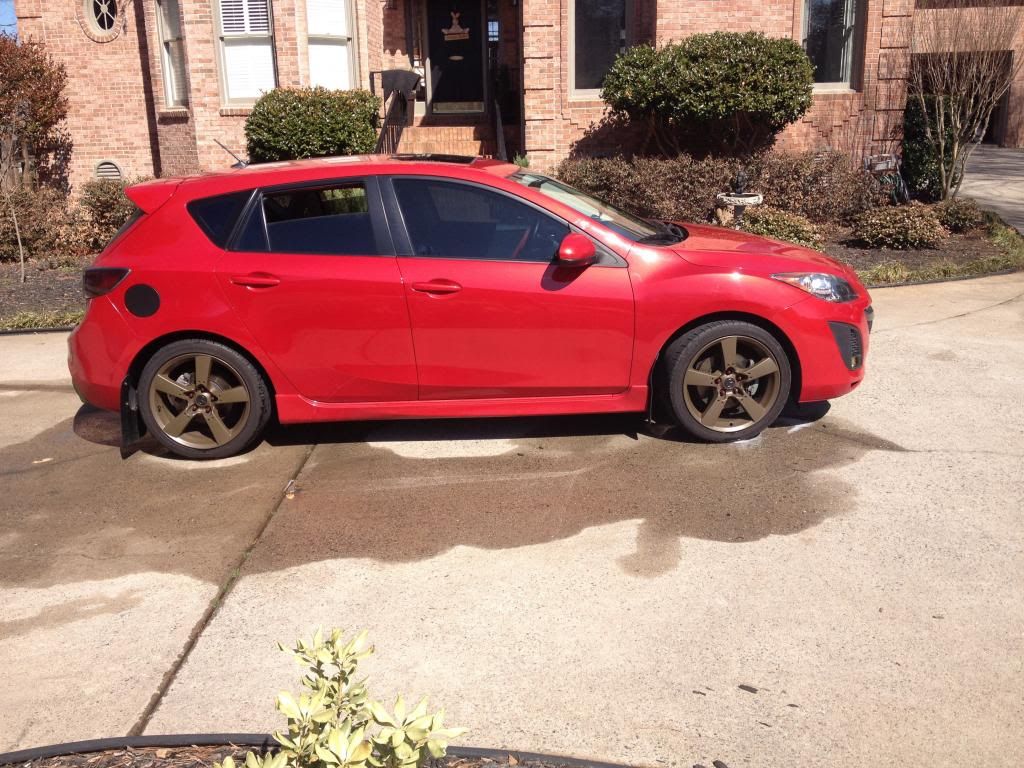 Front Lip installed......
DROPPED!!!!!!!!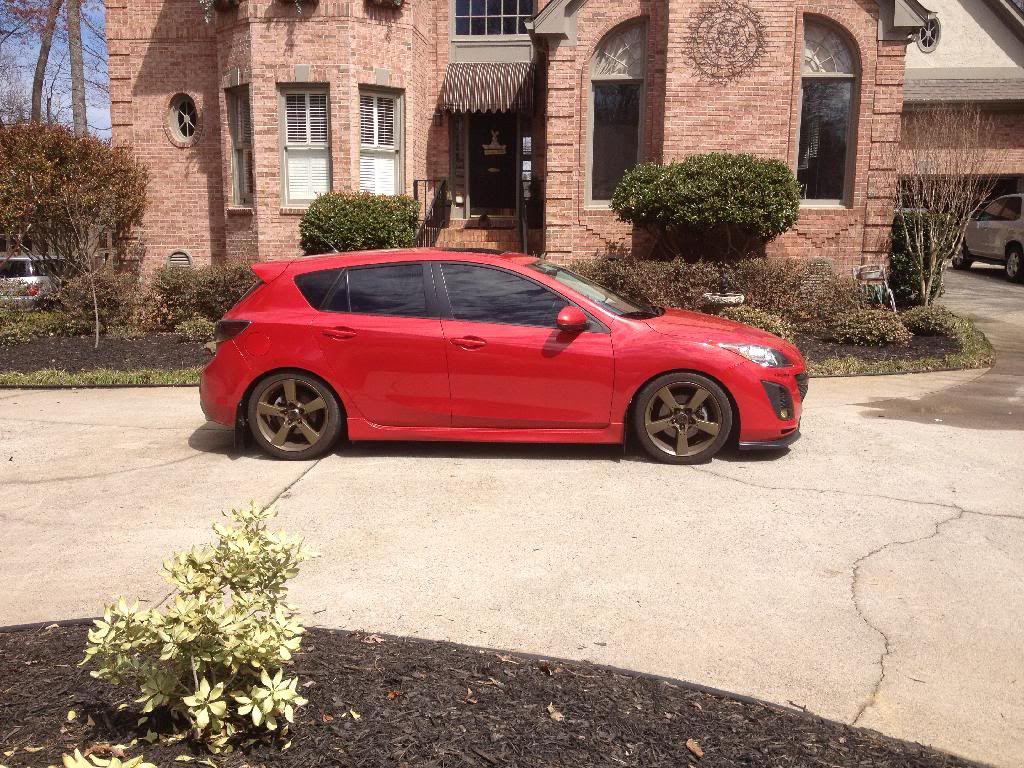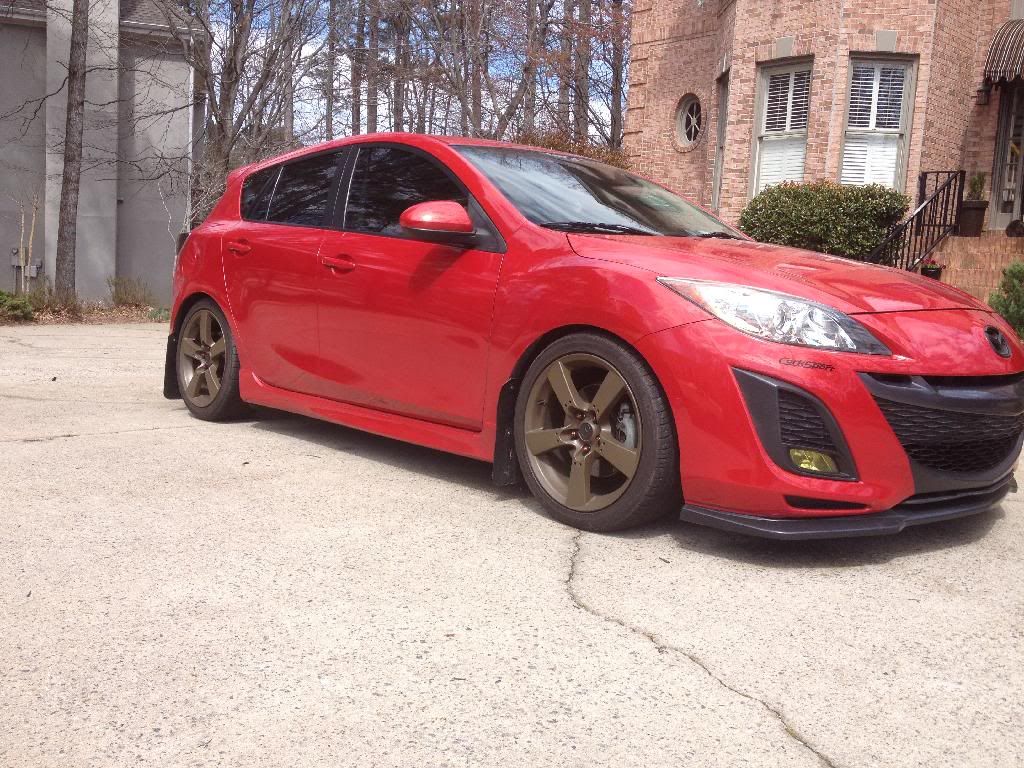 Front...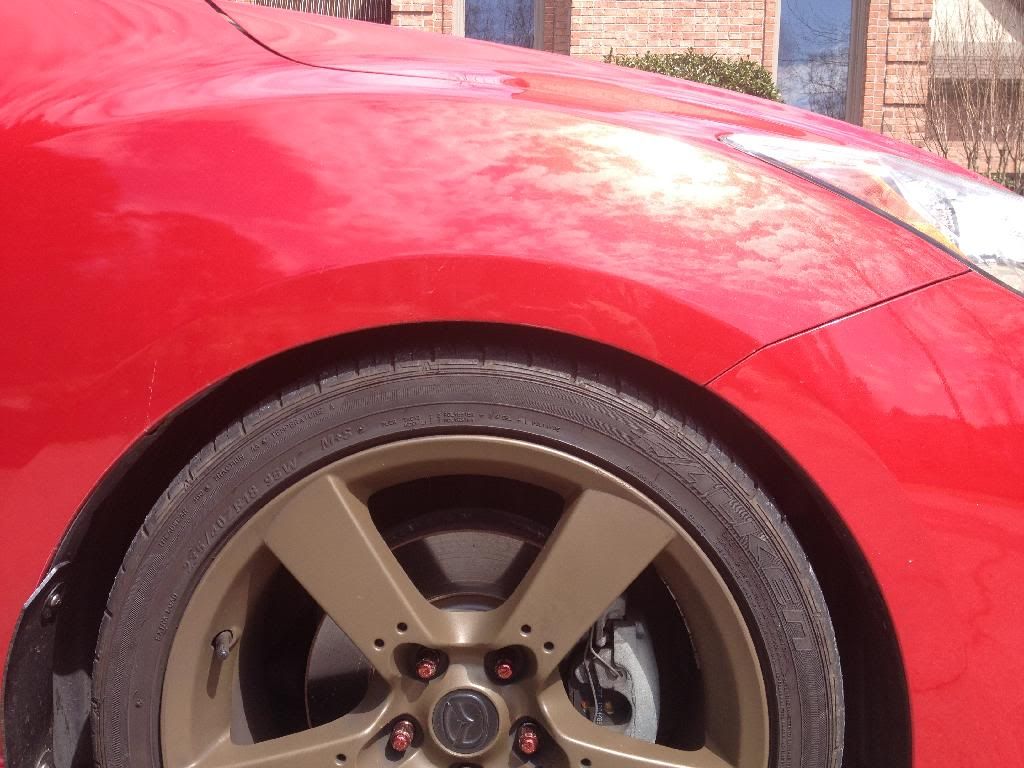 Rear (adjusted camber since this pic)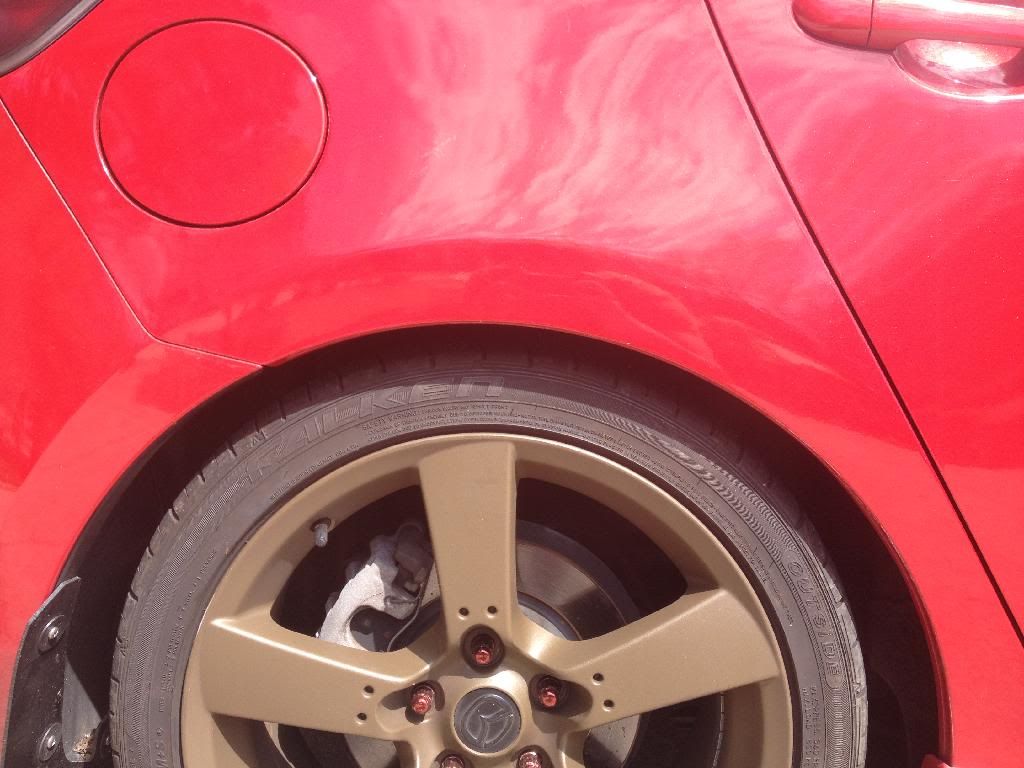 Better rear shot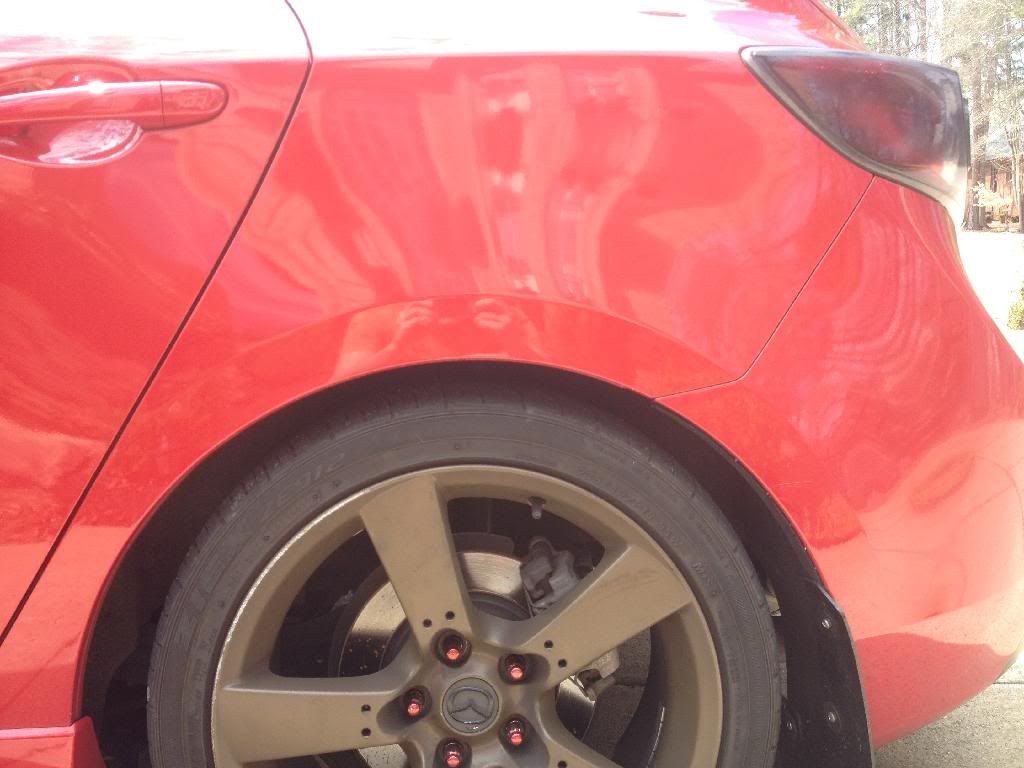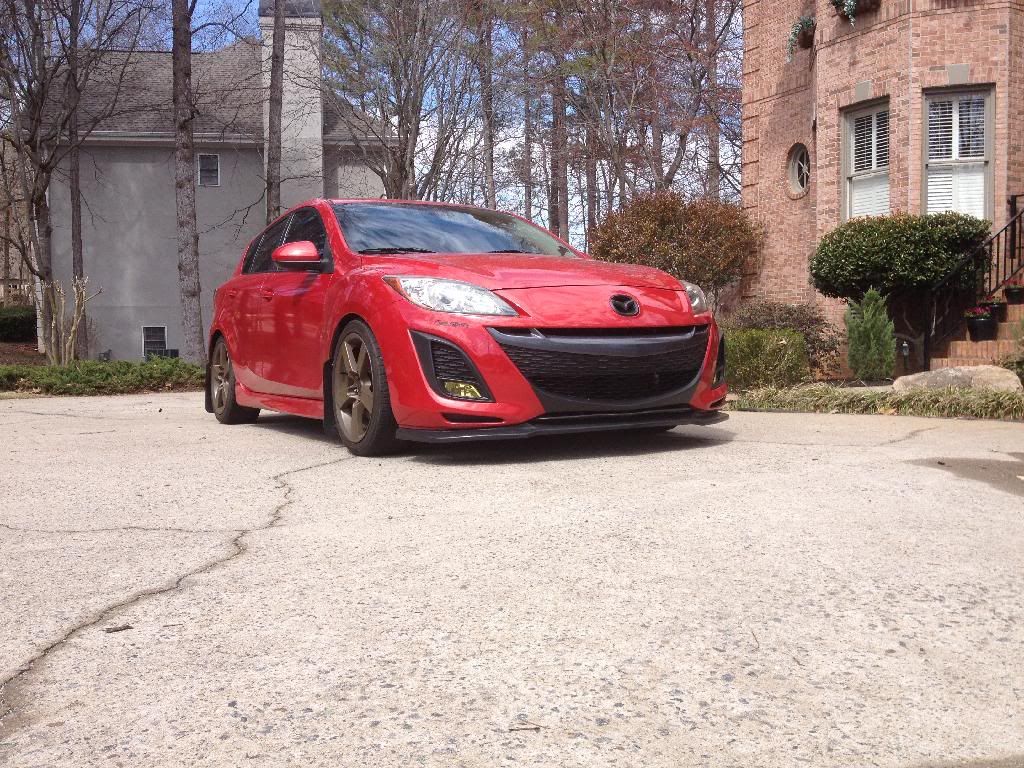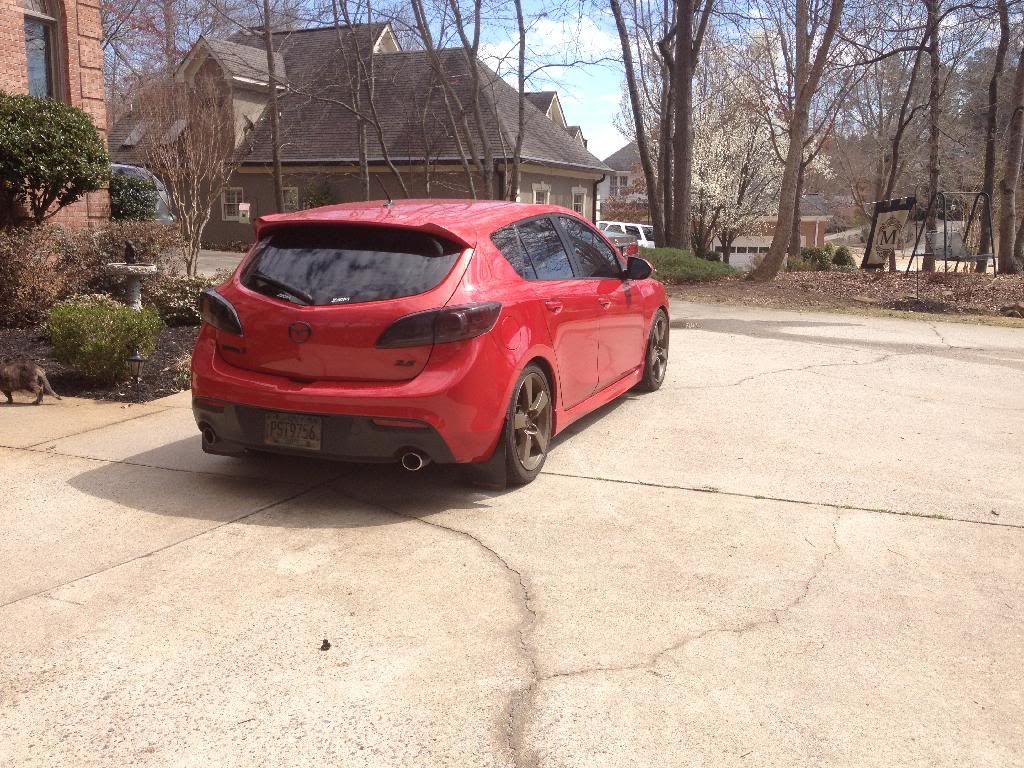 Her first snow :crying: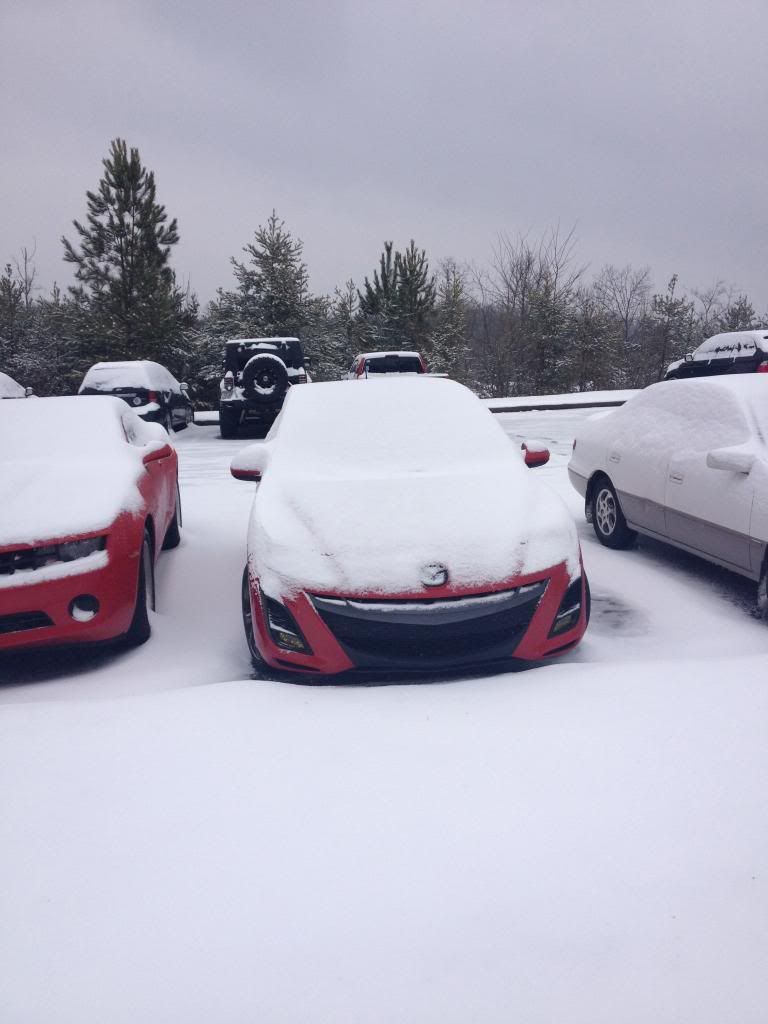 First car show pic :cool 1: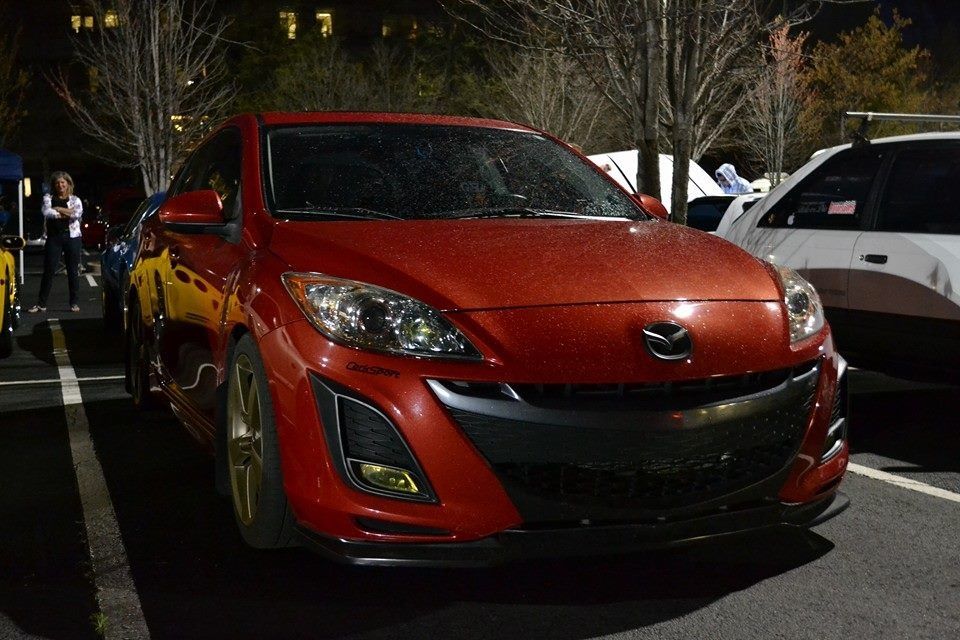 Had Help painting my headlights with
@XCNuse
. The photos are from him as well. We painted the cutoff inside the projector with red engine enamel to give the eye that red glow.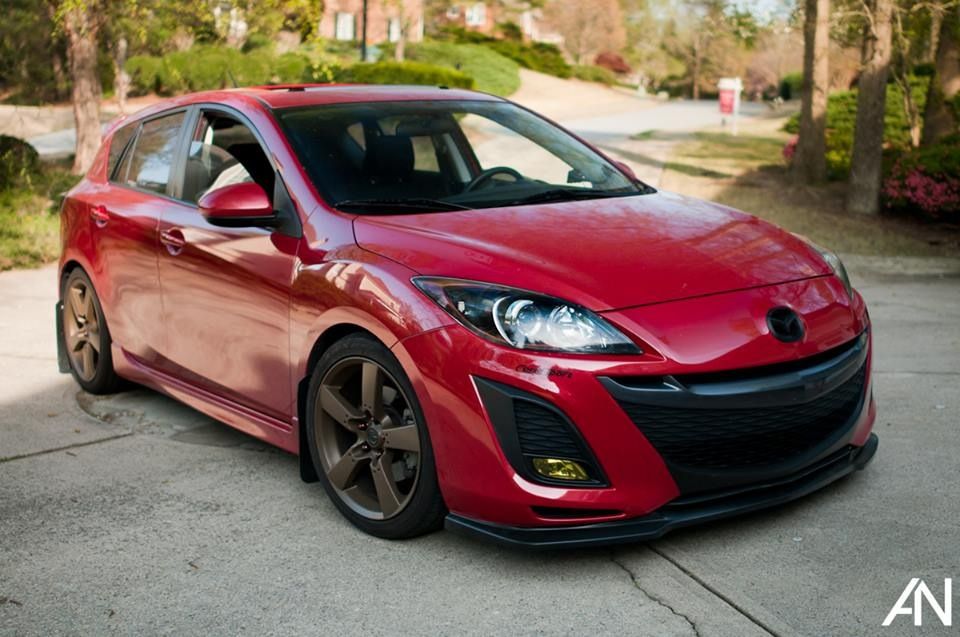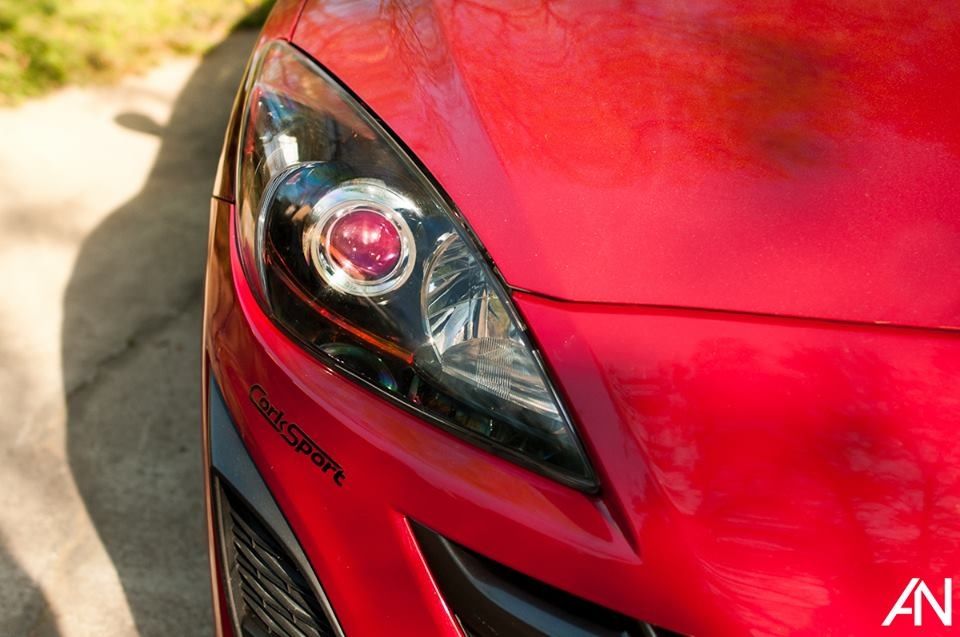 Write-up available @ M3F also by
@XCNuse
--------->
HowTo: Gen2 headlight housing teardown and painting - Mazda3 Forums : The #1 Mazda 3 Forum
Installed Yakima Roof Rack
Rear Wiper Delete Kit (Corksport)