Kryptik's Build Thread +sexy STANCE!!
Finally got around to doing one of these!
My name is Juan Ortega
Located in West Texas,
Fort Stockton to be exact
Car:
-2011 CBM Mazda 3s 2.5
Engine/Exhaust Mods:
-Advanced Timing Mod
-SURE Balance Shaft Delete
-Speed Daddy Mazdaspeed3 3" catback exhaust
-(more to come as budget allows)
Suspension Mods:
1st setup:
-cut stock coils down 3"
Recent setup:
-Raceland Coilovers
-SPC camber arms
-(10/2012) Corksport Camber Plates
-(more to come as budget & saving allows)
Appearance/Exterior Mods:
-Blacked out headlights with blue halos
(Only one of em works so gotta replace one :/)
-Painted rotors and brake calipers red
Interior/Audio Mods:
-Pioneer AVH-2300DVD HU
-Power Acoustik 2000watt mono amp
-Pyramid Lowpass Crossover
-2 10" Kicker Comp VR subs in ghetto fab box
Wheels:
-18x7.5 Katana GF-7 with Black Lion 225/40 rubber
Pics!
The day I picked it up from Mazda of Midland!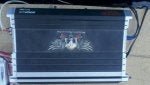 Installed HU and audio system the first weeki had it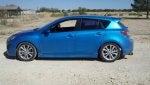 When I cut the springs and installed a fart cannon! Sounds kinda decent IMO
Hit a doe on my way to work at about 5am! The bumper actually fell fell off the tabs but i managed to pop it back on.
Got my wheels and bodywork fixed with insurance check
Got black eyes! And passenger side halo burned out a week later...
Slammed on Raceland Coilovers! No perches in the back.
SURE balance shaft delete installation
Comments & questions welcome thanks for lookin peoples!
How she stands now!!
http://imgur.com/adQA2
Update 2/24/13
Did some digital camo vinyl wrap to interior pieces!!
love how it looks!!
http://i.imgur.com/HOiFruM.jpg