Discussion Starter
•
#1
•
Okay another silly little issue that should not be have been there in the first place.
Go to contacts - favourites (contact_1.jpg)
And the photos (where there are photos) are shown.
Then select a contact (contact_2.jpg)
Photo still there.
Now make a call (contact_3.jpg)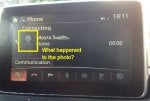 And the photo has disappeared.
Weird and stupid issue.