Hey, I'm brand new to this forum and I wanted to contribute a little bit so I made sure to take pictures while doing this so I can share it with you guys.
So yea, the controversial advanced timing mod. This is a pretty easy mod that should only take you 15-20 minutes. If you've changed a tire before and know how to use a socket wrench you should be able to pull this off assuming you can also use your common sense. Of course, do not try this if you're not completely comfortable working on your car. It's not worth breaking anything!
***These are directions for the 2010-2013 2.5L Mazda 3. I'm sorry but you cannot preform this mod on a SkyActiv engine 3.***
You'll need a jack, a lug wrench, socket wrench and socket set, phillips head screwdriver.
What you're going to be doing is removing your tire and moving a small sensor down a little bit. You can also just turn your tires to the right in order to access the sensor but I like to have a lot of room and light so I just removed it. Supposedly, moving the sensor down advances the timing of the spark resulting in a little more pep when you accelerate.
Step 1: Disconnect your negative battery terminal
Step 2: Use your lug wrench to slightly loosen the lug nuts on the front passenger side tire.
Step 3: Jack up your car on the front passenger side using the appropriate jack point. If you're not sure where the jack point is, look in your owners manual. If you're still not sure after that, re-tighten your lug nuts, go back inside and leave your poor car alone.
Step 4: Remove the lug nuts and take your tire off. This is what you will see after removing the tire
That thin plastic flap behind the rotor is where you will working.
Step 5: There are 2 bolts and a screw holding that splash guard on from the top. Remove them so you can get it out of your way.
I don't remember what size socket it was. I'm pretty sure it was 10mm
After removing the splash guard you will be able to see the sensor. It will look something like this before you preform the mod.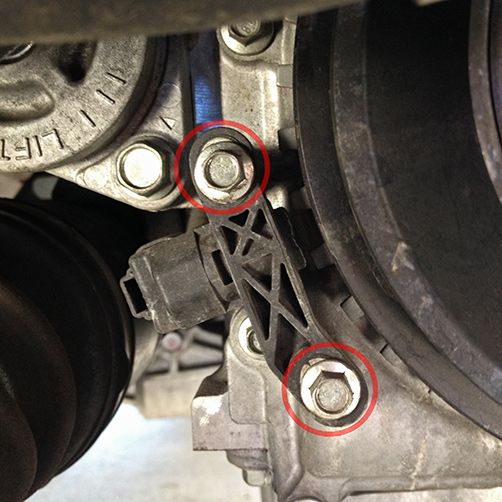 Those two bolts are securing the sensor in it's position. if you loosen them you'll be able to move the sensor up or down. As you can see, mine is kind of in the middle, maybe even up a little bit.
Step 6: Carefully loosen the two bolts enough so that the sensor can slide freely. Do not remove them.
I think they were 10mm as well
Step 7: If gravity hasn't already done it for you, slide the sensor all the way down (towards the ground) so that the bolts are at the top of the holes. It should look like this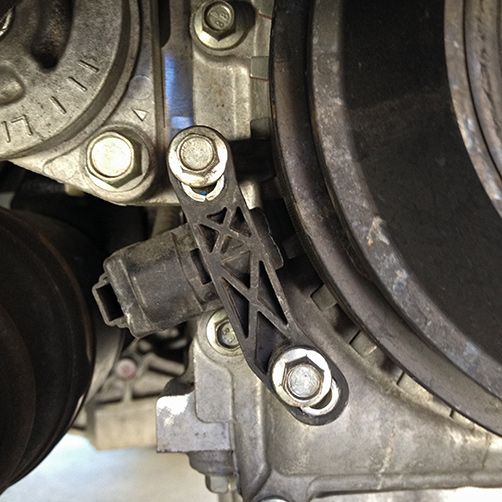 Step 8: While holding the sensor in the down position,
very carefully
tighten the two bolts back up. Think happy thoughts when doing this. If you go incredible hulk on these things you can damage the sensor. So just get it snug with your hands and then tighten a little more with your socket wrench. You do want it to be tight so it won't come loose when you drive but the sensor is plastic so it can crack easily. Just use your best judgement on how tight it should be.
Step 9: Put your tire back on *IMPORTANT*
Step 10: Reconnect your battery and drive your car around giving the ECU time to re-learn everything.
You're done. Do you feel the difference? I do. I felt a bigger boost in acceleration after performing this mod than after I put in my SRI. I can really feel more urgency in the 0-3000 rpm range. The car just feels more responsive overall. Just make sure you use higher octane gas after you do this. I accidentally put in 87 one time and the car drove like shit.
I hope this helped. Have fun :rock 1: