I am a lighting enthusiast and I love HID's and LED's
But for now, LED's can't touch HID's when it comes to road visibility/output as well as price...
On most car forums I've seen people retrofit HID projectors to fog lights
Surprisingly, I haven't seen anyone on this forum do this..
Most people just stuck HID's in the stock housings like I did, which worked fine
Or bought the (IMHO Overpriced) Morimoto LED fog light replacements which only produce 1200 lumens per side... when high quality HID's give you 3300+ Lumens
Although I can't blame them, it's the only plug and play aftermarket replacement available, and they are projected so they will light better compared to stock despite having similar lumen rating to the halogen. Plus the lights look aesthetically better than stock and you get the signature white light.
Anyway I decided to retrofit and bought some sealed H11 Projector Housings
I figured since our cars use plastic fog light brackets I could just buy another set and modify those to make it work instead of hacking the stock ones
Rock Auto has them for $5 a side
Part #'s
BHR151694A
BHR151684A
Since they are plastic they were so easy to modify with my Dremel and a grinding attachment
trying them out on my test bench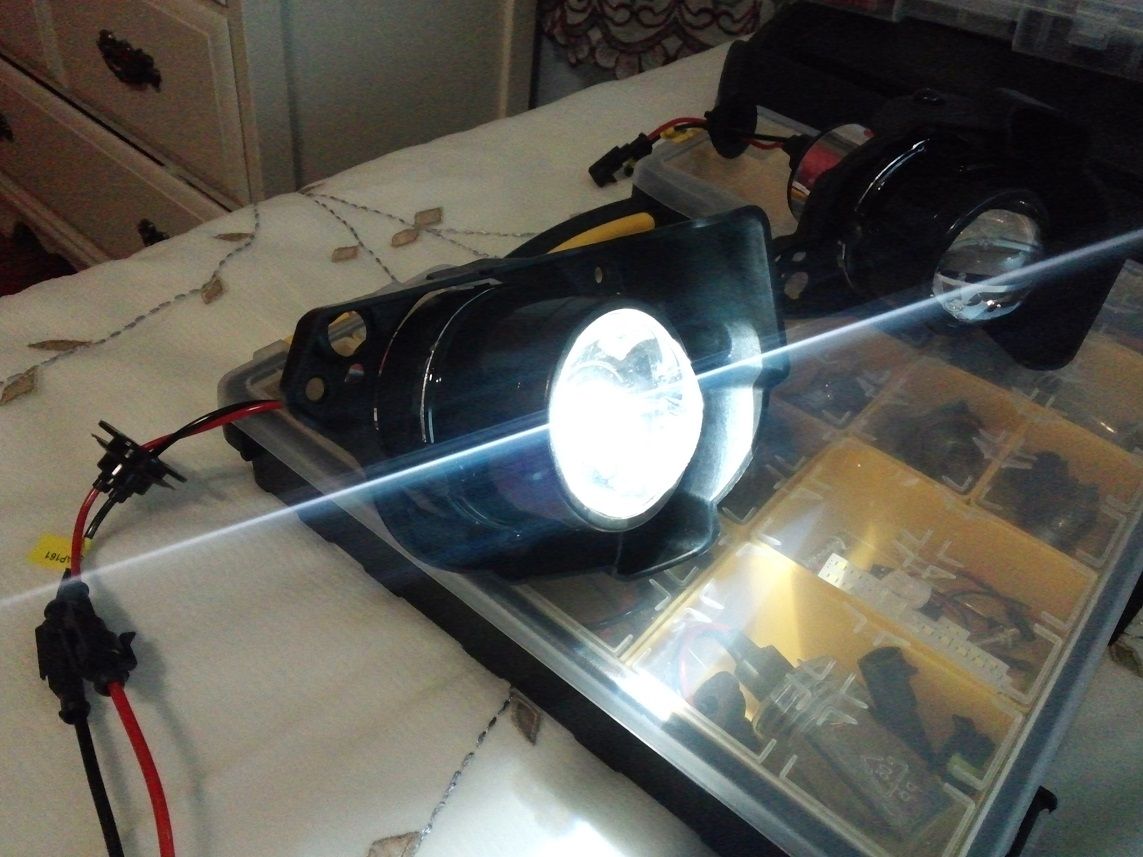 Also, I have replacement HID bulbs so I essentially have 2 sets of fog lights ready to bolt in if I ever want to go back to stock in about 5 minutes
Here are stock units compared to my new modified units side by side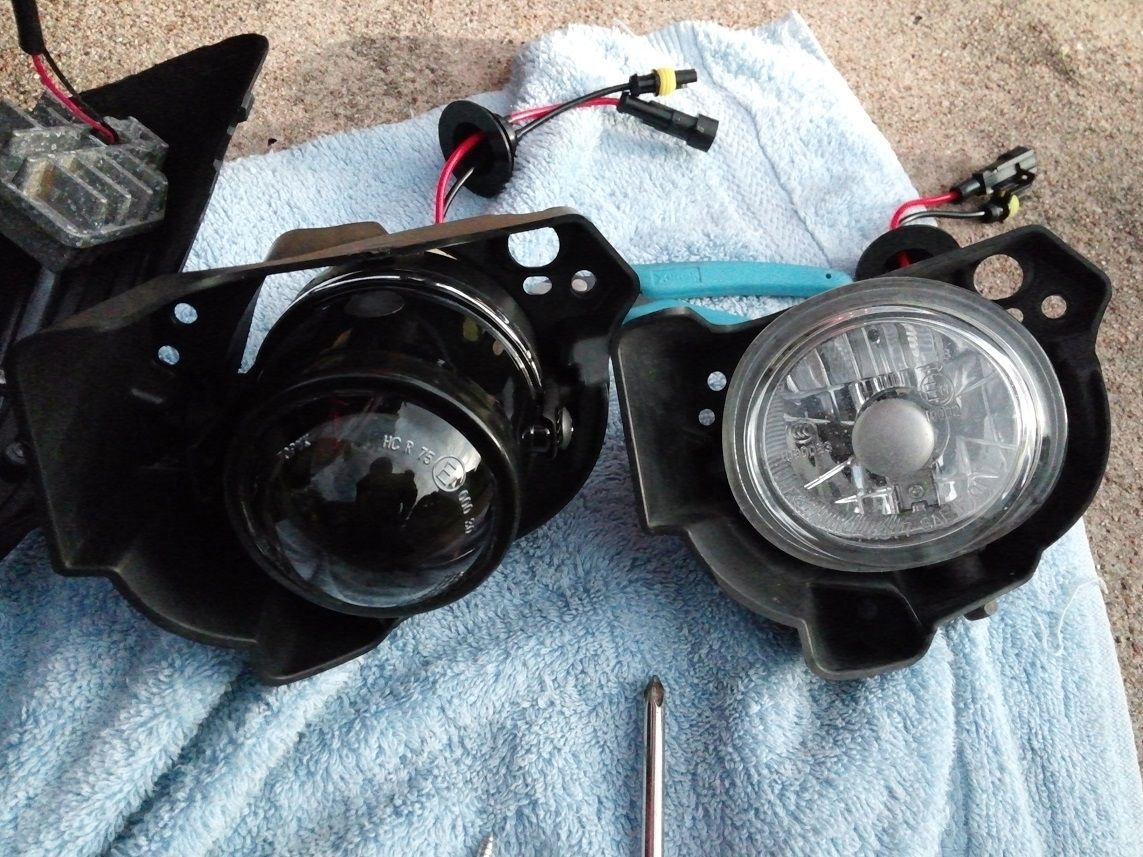 It just looks so right.. =]
(and that wire sticking out of the left side is just the DRL power wire for my aftermarket LED fog light covers)
The stock fog lights were already recessed with the stock cover and had a gap, the gap was even bigger with these aftermarket housings
However, these projector housings fight PERFECTLY with these aftermarket covers - it lined up perfectly and the projector sits flush with the cover
(some slight grinding was needed towards the bottom for the opening, but otherwise worked perfect)
Here are some pictures in front of a wall
I turned the exposure all the way down because it was too bright, but this way you can see the cut off
The fog light brackets come with a fixed adjustment hole at the bottom, I just grinded off the plastic so I could freely aim them.
With some playing around I got them almost perfect, the driver side is slightly higher than the passenger side but is no big deal. I can always go back and make a slight adjustment.
They are pretty much aimed straight like the headlights, and they light up all the area where the headlights dont
This is about 4ft away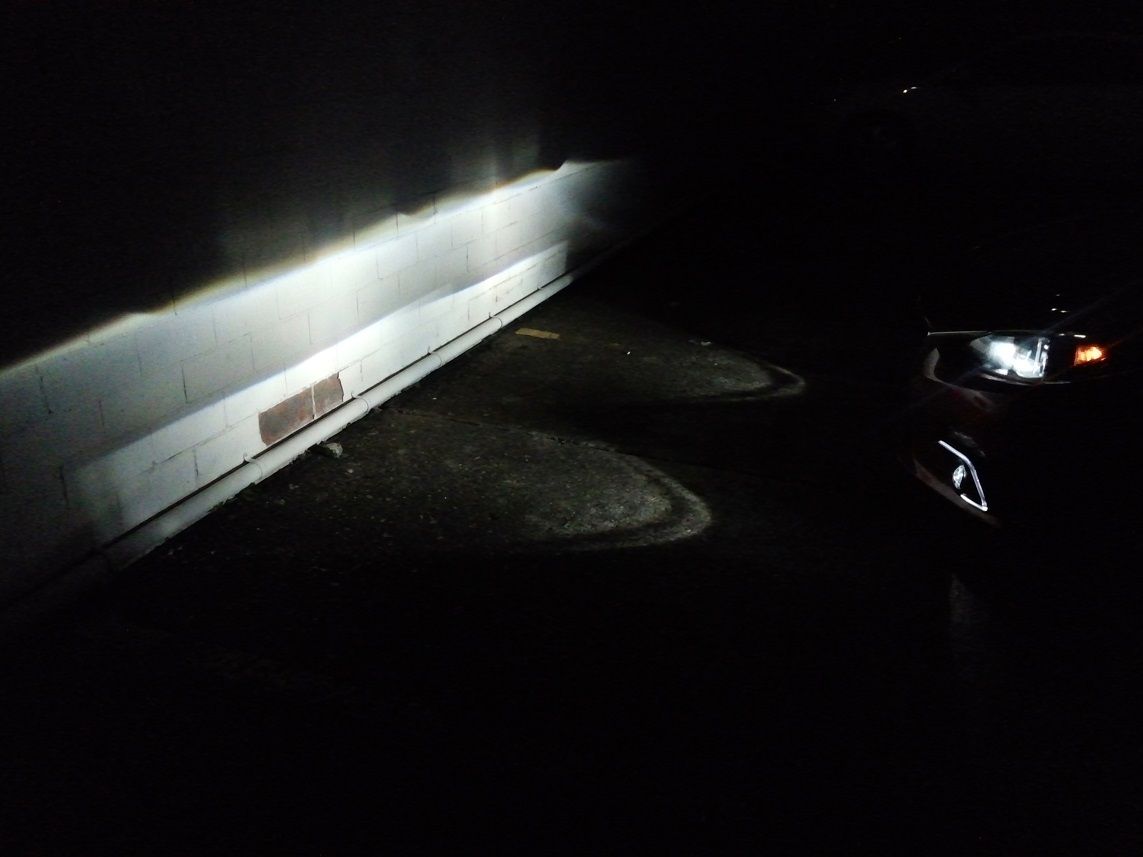 The beam widens significantly the farther away you go, but the headlights still have a slightly wider beam
I just wanted to show how the cut offs look and how I adjusted them compared to the headlights
This is barely about 1-2ft away from my house (exposure turned all the way down here too)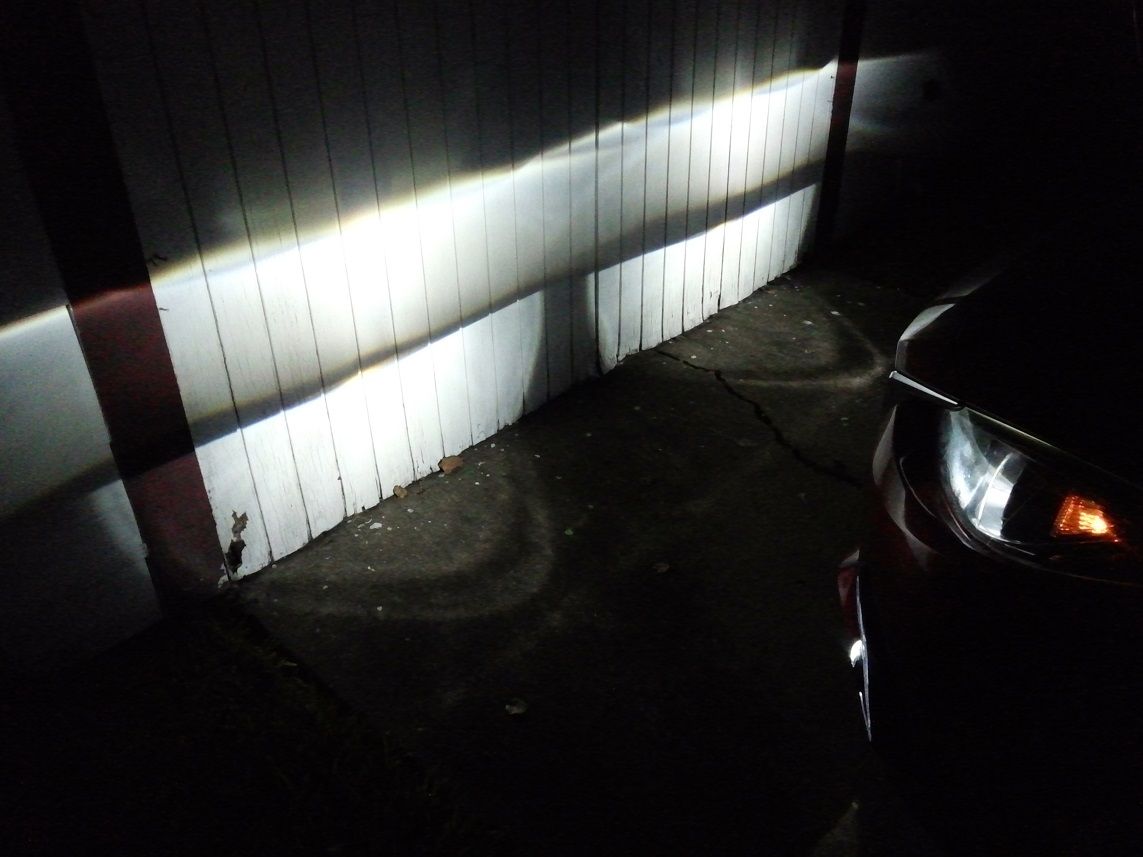 These aren't even fog lights anymore, they are a second set of driving lights (which is exactly what I wanted)
The amount of light I get now is ridiculous compared to stock housings w/HID
They light up all of the lower area that my headlights don't
Sadly I didn't take any pics like this showing the output of stock housings with HID compared to these projected ones, but they are night and day difference