2012 Mazda 3 Skyactiv i-Touring 5dr Hatchback
Build date 11/11 Purchase date 08/13
Dolphin Gray Mica 39T
So after being on this forum and seeing awesome builds and mods from everyone, I decided to finally create my own thread. This is the first car I've ever purchased and I must say I'm really happy I went with this instead of the truck I wanted.
Exterior Mods
* Rear valence painted black
* Rally Armor Mudflaps w/ white logo
- Drilled holes 1" higher to decrease dragging with passengers & bumps
* Painted white 'Mazda 3' emblem
* Painted white 'Skyactiv' emblem
* 3M tinted windows 15% F/5% R
* Headlight chrome painted with Krylon Fusion gloss black
- Paint matched amber reflector
- Paint matched blue projector ring
* OEM Fog light upgrade
* Drag DR-49 Black 18" Wheels
* Bridgestone Potenza RE760 225/40/18 -45
* Switch from single to dual exit bumper
* TRS D2S HID projector retrofit
Interior Mods
* 3M Scotchprint personalized vehicle graphics white vinyl wrapped trim
* Alpine INE-S920HD stereo
* Front JBL 6.5" Component speakers
* Rear Kenwood 5.7" 3-way
* 12" Polk Audio subwoofer
* Polk Audio 5-channel amplifier
* Unused functional big dash trim button
* G1W-C dash cam hardwired
Electrical Mods
* Morimoto D2S XB35 4500k
* DDM Tuning 35w H11 Fogs 3k
* Permanently deleted parking light
* 31mm Festoon white LED map/dome lights
* Blue LED footwell light wired to fogs
* DVD parking bypass security switch
* Smoked LED bumper reflectors
Suspension Mods
* Eibach Sportline springs 4.5355 2.0" F/R
* Corksport Rear Swaybar
* SPC camber arms
Performance Mods
* Corksport SRI
* Tuned by OVTUNE on 91 octane
* CS airbox inlet tube mod
* CS power series dual exhaust w/ racepipe
Future Mods
* Koni STR struts
* BaysonR side skirts
* High beam to H11 projector retrofit
* Morimoto clear lense
* MZ3 Polyurethane lip
* Replace bumper insert to get rid of drilled holes
08/03/13
Tinted windows 3rd day after purchase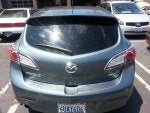 10/27/13
Rear valence painted
01/04/14
lowered on eibach sports!!!
01/09/14
Rally armor mud flaps installed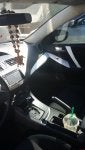 Turtle power!!!! slow as F*ck right?
02/20/14
Painted headlights
Before:
After: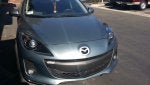 Thanks for looking!!