Edit: FREE shipping (see details below)
Update/refresh your 2014-2018 3 sedan or hatch with this nearly flawless set of factory takeoffs: 18x7ET50 wheels, and Dunlop SP Sport 5000 215/45R18 M+S tires.
One wheel has minor curb rash, ~2" long, as shown in the attached photo -- and that's the only flaw that I can find. All tires have date codes ending in 2618 (26th week of 2018 manufacture), and even 7/32" remaining tread depth. Wheels & tires were rotated every 5000 miles. No repairs, no deformities, no stories, and no excuses. $800 for the complete set + FREE ground shipping (in US contiguous 48 states only).
Complete set: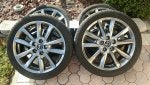 Close up of curb rash: