New in box. $200 Brand new ($100 off sale list price)
11.8" Slotted and Dimpled 3GD Zinc Coated Rotors, Item #GD1313
2011-2011: GT; 4 Cyl 2.5L;
2011-2011: S; 4 Cyl 2.5L;
2011-2011: Sport GT; 4 Cyl 2.5L;
2008-2010: i; All Engines;
2007-2010: S; All Engines;
2007-2009: Mazdaspeed; All Engines;
2006-2007: i; 4 Cyl 2.0L;
2004-2006: S; 4 Cyl 2.3L;
2005-2005: SP23; 4 Cyl 2.3L;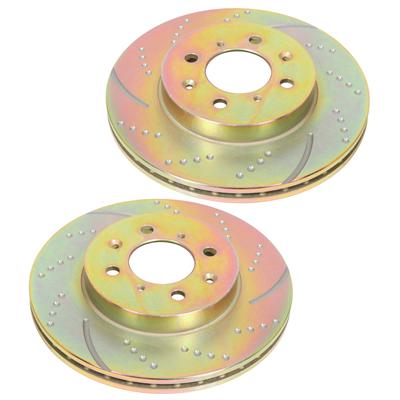 EBC 3GD Series dimpled and slotted Sport rotors are precision-machined using premium-quality castings. Designed with wide-aperture scraper slots and blind-drilled holes, these 3GD rotors draw cooler air in and reduce temperatures for no brake fade under load. Plus, their dimpling helps them to avoid stress cracks. Able to expel dirt, dust, and gases, EBC Sport rotors also maintain flat and parallel pad wear for better pad contact and better braking. These high performance rotors are available in sporty black anodized or gold anodized finishes that not only look great, but also prevent corrosion. Enhance the performance and looks of your car with EBC 3GD Series Sport rotors.
These need to go, please PM me or email me at
[email protected]
Accept Paypal, Cash. Can ship at your expense.