·
That Guy From That Place
Discussion Starter
•
#1
•
Hey guys i was just starring at my car and my friends (bmw) he has a euro plate. and im like man thats awesome too bad i cant get one because our car is Japanese.....well what do you guys think about getting a japan license plate?
i tried searching on these forums but i couldn't find anything, i have seen a few threads on other mazda 3 forums...but yea so anyway also heres a link of some website who sells them
Japanese License Plate, authentic japanese plate, custom japanese license plate,
i dont know i kind of want it lol especially with the RHO kit...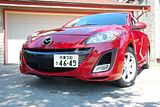 opinions???