Fog lights on w/ DRL mod
This tutorial is base on the
great write up
of
@mad2clam
. The differences are:
- this is easier(takes 30 mins), no need to wire through firewall, no need to take off steering wheel column cover, less wiring work and it's all done at the fuse box under the hood.
- this is NOT an independent fog mod. The fog will turn on and stay on when the DRL leds are on. You can't turn it off manually when headlights are off. That applies to daytime driving and driving with parking lights. Only when headlights are on, the fogs can be controlled by the fog switch on the steering wheel.
- check out this demo video to make sure this is what you wanted before you decide to proceed.
Daytime Running Fog Lights Guide(2014 Mazda3):
After going through the service manual and looking at how FBCM works I noticed we can actually locate the necessary wires needed for daytime running fogs. See graphs below.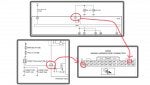 Looks like all we need to do is to have DRL turn on the fogs and we will use a relay to achieve that:
What you'll need
- some wires, spade connectors and a wire stripper/cutter/crimper tool
- electrical tape and scissors
- 1 x standard relay (4 or 5 prong)
- 3 x quick splice wire taps and pliers
Now let's get to work.
Pop the hood, disconnect the battery negative, take off the cover for the fuse box, pop the FBCM off and get to the connectors: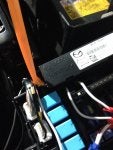 Locate the two wires we will need (brown is DRL, pink is fog relay ground):
Use your own wires to tap into these wires(I used 16 gauge stranded):
Put the FBCM back in the slot and wire up the relay according to the drawing: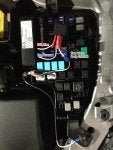 I used the same kind of wire taps to connect the two ground wires together(87 and 85) and tied it down to the closest bolt on the body. Put the cover back on and tape the loose wire.
That's it you're done!