Discussion Starter
·
#1
·
Since I'm incredibly happy with the results of this BBK, I figured that I'd post about it! Also, I'd like to give a big shout-out to Brian at Fastbrakes, who was great to work with on this project.
The Front:
FastBrakes-sourced Wilwood BBK kit with custom brackets
Wilwood Forged Narrow Superlite 6-piston Radial Mount (FNSL6R) Calipers
Wilwood 13" 2-piece slotted rotors
Stainless steel brake lines
Cable clamps with M6 bolt/lock nut to hold brake line off the remote reservoir
The Rear:
StopTech slotted rotors
Goodridge Stainless Steel lines
OEM calipers.
The Pads and Fluid:
G-Loc R6 compound
Motul RBF600

The installation:
Installation was relatively straightforward following the Wilwood and Fastbrakes instructions. Words of caution: use a
very good set of flare nut sockets or wrenches
or you will round off the flare nuts, and
re-flaring the lines on the 3 is a PITA
. Bleeding the system was initially trouble-free, but a stubborn bubble was introduced after replacing a weeping fitting. After giving the ABS a workout, power bleeding while tapping the calipers solved the issue.
Since I have BC Racing ER-series coilovers, I used a pair of rubber-lined cable clamps around the remote reservoir and brake line strut mount to secure the line from rubbing.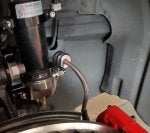 Performance:
Winter night and Summer day difference. Brake feel is better than most dedicated track/race cars I've been in and have received the same feedback from others. Braking force directly proportional to pedal pressure with zero dead-pedal travel. Unfortunately, I've been unable to track/autocross test the brakes as of yet, but I've only experienced minor fade during initial bed-in. The only downsides of the setup are the extra dust and a little pad/rotor noise.
Questions, comments, etc?