Hey everyone! This thread will specifically talk about the tune for the Genpu Mazda 3's, in my case the 2.5L model. Some people have been skeptical about the tune and since it can now be done via remote tuning, this is a perfect opportunity to put any questions, claims, etc. to rest. The goal of my documentation is to be as transparent about the process as possible to show others what is involved with the tuning process and the gains you may or may not see. Feel free to post comments or questions about the thread, but keep it relevant. As more happens, I will update the thread. Enjoy the read and don't forget to thank me at the bottom of this post!
*Note: Even though I am getting this for free as well as Grizzo, I just want to instill in everyone that I will be very honest about the process and results.
Intro
Dynotronics has offered to tune two cars for free to show the new process is much better and that gains can be had from his tuning. Another forum user,
@Grizzo
, lives relatively local to Dynotronics and will be going to the shop for the tune. As for myself, I live half the country away and will be doing the remote method and dyno tests to show the gains. To get the process started, I put a deposit down on the logging and flashing cable. The cable can be purchased or can be rented for the process. In my case, the deposit was $185 plus $5 in shipping. If I decide to keep the cable, I've already paid for it. If not, I will return the cable back to Dynotronics. I received my cable today, 12/14/2013, after sending the deposit a few days ago. The next step is to begin the process! Photos used in this post can be found
here in an album.
Equipment
- What equipment was required and used by myself
Since the tuning was done remotely, any software and logging would be done using my laptop. I will install the software on my school laptop(coincidentally, my only laptop, lol). In addition to the laptop, a Tactrix Openport 2.0 cable assembly is used. It interfaces via the OBD-II port and has a mini USB to USB cable to connect to the laptop. The laptop is an HP Pavilion dv7 from 2009. Nothing special, but has served me well for five years. Runs on Windows 7 with 4GB of DDR2 memory, nVidia 9600M GT, and a Blu-ray player. Below are pics of both the laptop and cable stuff.
Software
- The use of the software and how to work it will be discussed here
So after I received my cable, I email Dyno and received an email back with a link for a software download as well as instructions to install the software from the CD in the Tactrix box. Inside of the Tactrix Openport 2.0 box was a card directing me online to download their software. I downloaded
EcuFlash 1.44 for Windows XP/Vista/7/8
along with mazdaEdit. Included from Dynotronics are two PDFs of instructions for how to get up and running for their system. The first thing you need to do is send in your VIN # and name and a VIN key for mazdaEdit is sent to you. Next, you plug the Tactrix into a laptop USB(must use the same one each time, so pick wisely) and install the drivers via the EcuFlash 1.44 program. Once the drivers are installed for the cable, you open mazdaEdit and find the device info. This information is also sent back to Dynotronics and a device key is returned, also input into mazdaEdit. After these two keys are generated and input, you are ready to use the software.
Once the software is setup with the correct keys, an ECU scan for information as well as a dump file is generated. The ECU scan snags some vehicle specific info as well as ECU info for Dynotronics to reference. A screenshot of this information was taken and will be sent to Dynotronics. The dump file, or your stock ROM image, is created next. After a few button clicks, the dump process begins. Mine took several minutes and when it was complete, I saved the information as a .DUMP file. Both the screenshot and dump file were sent to Dynotronics tonight. I am awaiting further instructions on logging/flashing at this time.
The software is simple and minimalistic in UI, which I like. It is easy to navigate, runs quickly, and is without fault. It also opens in a toolbar shaped window, so you can still read the instructions while the program is up without alt-tab'ing between windows. The instructions sent are also very good, except for a few vague parts that I figured out. One of those points is saving the dump file. Once it was done, I was trying to find the .dump file in my C drive since I assumed it saved it automatically. Instead, I had to manually save it. So no major confusion, just a few more lines or so in the instructions would help out those who are brand new to the process. I won't post the instruction PDFs on here as attachments unless I get the ok from Dynotronics since I am unsure if it is a trade secret or not for their process. I will add some screenshots of the software over the next few days for everyone to see.
Logging
- The logging process will be discussed here
After a small hiccup with my software, I was able to flash and start logging. Before you can do any logging, they recommend you go and drive for 22 miles or so around town or wherever before you record logs to send to them. For my 22 mile "break-in period", I did a good mix of city and highway miles.
Logging with the software is very easy. Inside of mazdaEdit, there are two logging buttons to choose from, an OBII universal or the Mazda specific. We of course will use the Mazda specific logging tool. With the car on and the cable hooked up, you connect to the ECU and are able to select what you want to monitor/log inside of the logging window. There are a several tabs for displaying parameters, options, and view modes. The parameters range from ambient air temperatures all the way to timing and anything inbetween. Dynotronics has provided a list of the specific parameters to log for them, which is about 20 or so specific items. To start a log, all you do is hit the 'Insert' key on your computer or you can start a log using the 'Logging' drop down menu. The program will log the data until you end it and will store it in the mazdaEdit directory.
There are three logs they want when you are at this step. The first is a log of driving around town for about 20 minutes or so. I did a couple of 10-15 minute logs today(Jan 2, 2014) just to get a feel of the process and how to do it. The remaining two logs are 3rd gear WOT pulls from 1500RPM to 6000RPM. For the 6MT transmission in my car, that meant starting in 3rd gear around 20mph.
Once these logs are completed, they are sent to Dynotronics for evaluation to further tweak the tune. Below are some pictures a quick video about the logging process
Base logging screen
Opening a log in MazdaEdit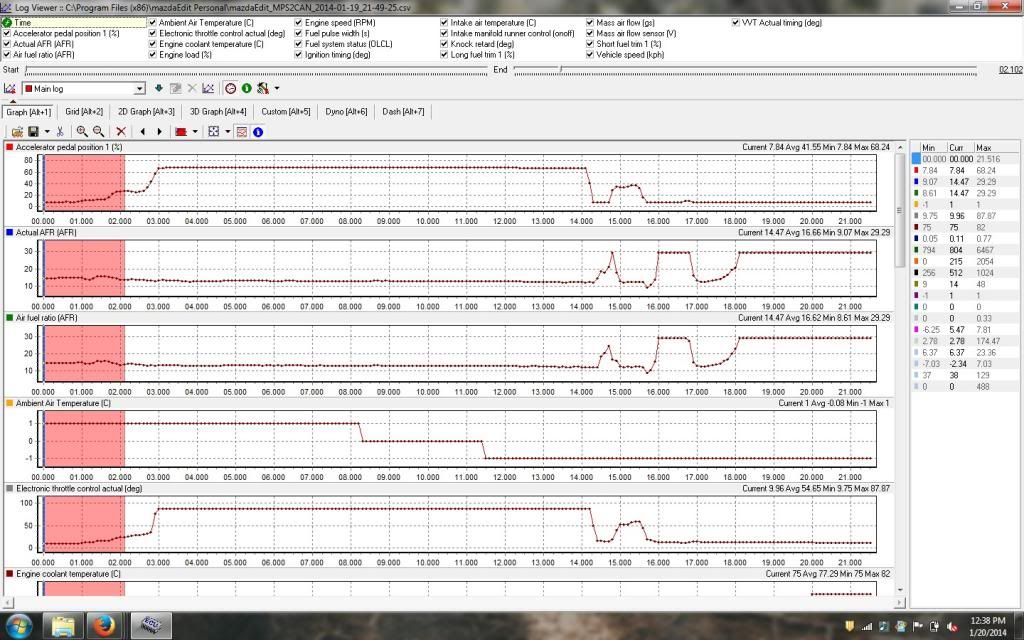 Quick video(sorry about the shitty audio, I used my cellphone rather than my nice camera. Exhaust sounds terrible in it too due to clipping
)
https://www.youtube.com/watch?v=K16o3ntgUGc&feature=youtu.be
Tunes and Flashing
- The sending of tune files and flashing them will be discussed here
I received my base map file on 12/23/13 from Joe. I will flash it and continue with the process once I get back from my vacation. I'm back from my vacation and had a slight error with loading my base map but Dynotronics fixed the issue. It was a software issue that he fixed remotely for me after I tried his suggestions.
To flash a ROM, the flash utility in mazdaEdit is used. You select the HEX file sent from Dynotronics and it loads the file in the utility. Once here, I turned the key to the on position with the Tactrix cable plugged in to the car and computer.
One additional step I took was regarding accessories. The instructions say to have as little as possible on during the flash which includes anything form the cigarette lighters or anything else drawing from the battery. I pulled my cigarette lighter fuse since my footwells are wired to it and would be on if I didn't pull the fuse. Not everyone needs to do this, just those with anything extra wired. If you have any chargers in the lighter sockets, remove them prior to the flash.
Next you run the flash utility and the new tune is then loaded. When it was done, I followed the rest of the instructions and turned the car on. On average, my flashes take about 2 minutes and it remind me of the Matrix code scrolling in the window because alot of text flies by as it flashes the ECU.
I've been told you can't brick the ECUs in our cars, which is a good thing for us. I did run into a problem flashing my 3rd file where it failed near the end and wouldn't let me start my car. If this happens, which I believe to be rare, contact Dynotronics and he will help remedy the situation. Just another thing to note for the custom tune process in case you might need your car running always and can't afford it to be down for a little bit. The response time to remedy was about a couple hours.
Impressions
- This will be somewhat subjective. I will be discussing the change in drive-ability, butt dynos, etc. that I notice.
Basemap: Start-up was just fine, not issues except a low idle and some stuttering. Pretty sure this can be attributed to the fuel trims and such being reset(goes abck to the 22-mile "break-in period" above). One difference I noticed right away was the throttle. It was much more sensitive but in a good way. The pedal felt more linear and required less input than before. It will take some getting used to and probably more tweaking of the tables. Another quirk I noticed once I was driving was when I was maintaining speed(cruise control) or accelerating slowly was a bucking effect. Again, I'm sure this has to do with the throttle maps and should be adjust further. There is a good amount more response under 2000RPMs when you mash the throttle. Previously, the car felt like it would lag until the 2000RPM point then it would accelerate much quicker. Under normal driving in traffic, a mild input to the throttle would feel like VTEC when I would get to 2000RPMs as well. I will state this again, I'm sure this is with the new throttle mapping and for sure requires tweaking. I haven't done any real WOT pulls yet so I can't comment on that aspect, but I'm going to try to see if I can go do my WOT log pulls tonight and send my files in to Dynotronics in the morning. (01/02/14)
1st Adjustment File: After sending logs to Dyno, he tweaked the hex file and sent an updated version to reflash. After the re-flash, it's recommended to drive at least 20 or so miles before doing logs. For the first adjustment file I did about 25 miles or so. The throttle issue was fixed with this file after some calibration. Pedal feel is much better and it feels faster in the lower rpms. I drove back to school with this file and noticed some poor mpgs, but that may have been due to my car being loaded down as well as the install of my roof rack with a bike on it. Ran this file from 01/02/14 to 01/10/14.
2nd Adjustment File: Same process as before, except I've driven well over 100 miles this time to really let the trims and such settle in. Not much noticeable difference than before, but I was told some timing and other changes were done. MPGs are still not what they used to be and this was tested when I drove about an hour both ways to an event for my senior design project. My highway mpg average was around 27 with an empty roofrack which has a fairing. I doubt it's causing that much drag as I used to get 30-31 highway, depending on the terrain and traffic. So far I've done my around town log and still need to do my 2 WOT pulls. Currently on this adjustment.
3rd Adjustment File: Had a slight issue with the flash. It failed just at the end of the sequence and wouldn't let me start my car. After a call to Joe, he sent me an unlocked file to remedy the issue until the next flash. My fuel economy should go back up some with this file, per word from Dynotronics1. I also learned from the 2nd adjustment file that the rev limiter was raised to 7200 hard cut, 7000 soft cut. Car sounds awesome above the factory redline and still pulls so I will say for now that the butt dyno approves. The speed limiter is still at 117 though as far as I know. Here's a little video I did last night. There were three people and a miata block in the vehicle for this video.
Exhaust Pulls - YouTube
>> Watch in HD
4th Adjustment File: Just received this from Joe this morning, 3/13/14. My car is back in action after a slight hiatus from having too much fun in the snow and messing up some of my suspension,
. I will flash later and start the drive-in period. My gas mileage was better with the 3rd adjustment, but not where it was pre-tune. Joe said he cleaned up the closed loop fuel so we will see if my mileage goes up more.
After driving it around for a bit, the car feels like it has more low end than before. In the email with the file, Joe said he upped the timing advance in a few areas so that may be the cause of this. Gas mileage is a bit better but its hard to gauge for city at school. I'll know next time I take a highway trip for more than 5 miles. Also, since I have the rev limiter raised, I log to 7000RPMs now for the WOT pulls.
5th Adjustment File: Received this file from Joe on 4/08/14. He adjusted some cam tables and so far it feels great. I get a surge at 2000 RPMs when giving the car some spirited throttle. Car has regained more some of its low end that I feel has been missing from factory and it is still noticeable after several files. I'll be taking the car on a weekend trip on Thursday or Friday and will post my highway mpgs for the trip to see if they have improved. I have also since swapped from my winter wheels to my summer setup(lighter weight but wider contact patch) if that matters much. Below is a link to a quick video to show you what a 3rd gear WOT log should look like.
https://www.youtube.com/watch?v=vFcIbCN12xA
>>> Watch in HD
6th Adjustment File: Received this file from Joe on 4/17/14. More adjustments to the tune and I've started getting a P2096 CEL. It isn't tune related since logs show AFRs where they should be. I think it is an exhaust leak or my second O2 is going bad. As for the tune, it still feels fantastic and drives well. I did some 1/4 mile times on this tune and ran 15.3 seconds in the low 90s. Soft launches and shifting at 7k were done.
7th Adjustment File: Received this file from Joe on 4/23/14. This tune was said to fix an issue, unsure what it was. CEL still on and AFRs are still right where they should be. I've driven about 30 miles on it now so I should be able to do my logs within the next few days. The surge from the 5th file has been smoothed out significantly and still retains the low end torque. Logs sent on 4/29/14. At this point in the process, I feel as if the new files from here on out will be harder to detect changes and that it is due to the small fine tuning by Joe. Just an observation though...
8th Adjustment File: Received this file from Joe on 5/1/14. This tune was said to brighten up the top end some more and I helped Joe solve a transition table issue he's been chasing for a while. CEL still on but not affecting the car.
9th Adjustment File: Received this file from Joe on 5/10/14 and flashed it on 5/14/14 due to a small software glitch. This tune is said to improve on cruising mpgs so I'm excited to test this out next time I take a trip somewhere.
10th Adjustment File and onward: At this point, the changes are small things so I won't keep updating on each one as it is repetitive. Once I get the go ahead from Joe, I'll head to a dyno.
Scientific Data
- This is the real meat and bones of the process. My plan is to have a dyno session of about 4 or 6 runs, 2-3 for the stock tune and 2-3 for the finished tune. And to ensure accurate results, I want to flash the stock tune first, do the runs, then flash the finished tune right afterwards. This shows the results on the same day, same dyno, with the same conditions.