Dual Lighted Cup Holders
To expand on someone else's excellent idea's…(drewzilla1981 and a few others for sure)
I set about to do the cup holder mod and what I found was that from the passengers point of view the leds are a bit glaring to the eye and being a bit older than probably most of you, I am looking for a more subtle effect on this project.
I decided to go with only one led of each color, Red and Blue, and placed them in the center under the point that creates the cup divider to help minimize glaring. I also had a small plastic "mirror", 1.5 in sq, that came from one of my wife's cosmetic thingy's that I cut out to a triangle and glued it to the matching point on the flip door so when in the lower position it is above the leds, helps just a little to make up for single led's.
I wanted to be able to switch between red/blue and no light. Where I mounted the switch would have been sufficed right there but I also wanted to have the cup holder cover opening and closing to turn the lighting on or off. So I came up with a dual switch system with a 3 position toggle switch which becomes the "mode" switch Red/Off/Blue and a magnetic reed switch for the cover.
The leds pos leads were soldered together to one side of a 1K Ohm ¼ w resistor, and the other side of the resistor a length of wire, this is your positive lead for the project.
The neg leads were then soldered to each end pin of the switch. The middle pin wires up to one side of the reed switch and the other side of the reed switch becomes the ground lead for the project.
I put the reed switch's activating magnet on the corner of the cover and mounted the reed switch where the magnet meets the wall when the cover is in the open position. As soon as you close the door it moves the magnet away from the switch and it opens the circuit.
If you pull out the rubber cup holder bottom and look at the bottom, the little center divider is hollow. I made a hole right under this and mounted the toggle switch from the bottom of the cup holder. You toggle the switch using the rubber divider just like a switch jacket. Center is off, up blue, down is red.
Here are some pics taken along the way…
Magnetic Reed Switch w/o wires and magnet
Reed Switch with wires attached and shrink tubed, mounted to cup holder
Mounted magnet on cup holder flip lid.
Magnet meets reed switch
A hot glue mess! Leads running to the left go to the reed switch the leads going to the right in the "loom" are the pos/neg leads
All Soldered up and ready for install
Cup bottom w/ toggle switch ready to go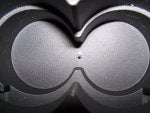 Rubber Base
Bottom showing void where toggle lever goes
Toggle Switch used
Outcome
You can also put a hole, or remove the rubber stub, in the rubber base and use a lighted toggle switch like this one, or remove the rubber base altogher and use any type of lighted switch you can think of! Found these at Radio Shack