Discussion Starter
·
#1
·
Hello, I thought I would share this hacky weekend bodge I did to get direct low level audio output from my factory 2010 Mazda 3 non-Bose receiver. This isn't really a tutorial or anything but hopefully someone will find it cool and nice.
I wanted to upgrade the stereo in my car for maximum enjoyment, but didn't want to replace the factory receiver since I'm paranoid about getting my stuff stolen and don't want to attract attention when parked. Besides--it already had bluetooth and most of the features I needed anyway. Not satisfied with a speaker to line converter, I googled around and didn't seem to find anyone else who had attempted to add low-level outputs to a factory unit, but I figured it shouldn't be too different from most typical amplifier designs so I went ahead anyway. Sure enough hijacking the pixies early between the pre-amp stage and the big 4-channel amp IC did just the trick.
If you're going to attempt this, please note that you will need to have a very solid grasp on both soldering and desoldering, and able to solder on to tiny SMD resistors. Experienced pixie wranglers need only apply. Obligatory disclaimer: I am NOT liable for you breaking anything; that means either your car, yourself, or anything else. Also, this will almost certainly void your warranty.
First thing you'll need to do is remove and disassemble the receiver. You should be able to figure this out. If not, put down the sledgehammer--this project is likely out of your scope. No offense.
Once you have the main PCB out, the first thing you'll need to do is desolder and lift the power pins for the amplifier IC (Toshiba TB2932HQ) so you don't short the IC and don't have the additional power draw. These are pins 6 and 20. Desolder and lift them out with tweezers--or just snip them if you really don't care about the factory amp IC being functional again (or don't mind replacing the IC eventually).
Locate the two dual op-amps. Get some thin flexible hookup wire, tin the ends and solder to these SMD resistors:
R323 - front left
R330 - rear left
R331 - front right
R332 - rear right
(they're the 100ohm resistors, NOT the 4.7k ones next to them!)
Next drill some holes into the back plate of the receiver and install 2 pairs of phono jacks. Connect all the negative tabs together and run a wire from that to any ground on the main PCB. I used a stabiizing tab on the amplifier heatsink.
NOTE: Ignore the red wire mess. I wired a switch to the stock amplifier IC so I could re-enable it, but it wasn't worth the hassle. It's better to just put the pins back in their holes and solder them in place when you're ready to take your upgraded stereo out if you're selling the car or something.
The factory amp IC internally removes DC bias from the signal, so you'll need to add a simple circuit to do this so there's no possible speaker damage from DC current. I used some spare 10uF 30v caps as couplers with an 100kOhm resistor tied to ground after the cap. I mounted this all on a spare piece of perfboard and screwed it into the case using some standoffs. Solder all your signal wires to the appropriate jacks.
Check your connections with a meter then hook it up and test it. Test with a 12v bench PSU first, use some aligator clips and follow the pinout that's available online. Outside of the car, only the FM and AM radios will work (and just be noise since there's no antenna). Use some phono to 3.5mm adapters and some throwaway headphones to listen and makes sure it's all working. If it seems like it works, try it in your car. Use pan and fade to test and make sure you didn't hook up left and right backwards and to test the individual channels.
If everything is working, open it back up and use hot glue to tack the wires down. I prefer the heat gun + glue stick + smudge technique. She may be ugly, but she chooches. Gotta be real secure in case of any offroad volcanic adventures. Reassemble and install those triple 15" woofers or what have ye.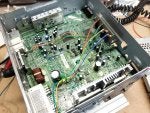 The only downside to this is that when the receiver is booting up, you will hear a short burst of FM radio at about half volume before the welcome chime plays. To solve this, I used a cheapo adjustable time-delay relay module from the fleabay on the remote wire going to my amps so they turn on just after the FM radio burst. I put it in a spare project box zip tied to the Alpine Power Pack that's hidden away.
The output is really clean and very low noise with some nice new JBL speakers.
Thinking back on it, you could probably use some diodes in line with the phonos if you want both the internal amp IC and phono jacks but I didn't test it so YMMV. Drunken weekend project over.