Well I figured I may as well start my build thread now! As of now I only have done cosmetic changes to personalize it. That and performance upgrades are generally decently expensive sadly.. Here we go though!
My car on point: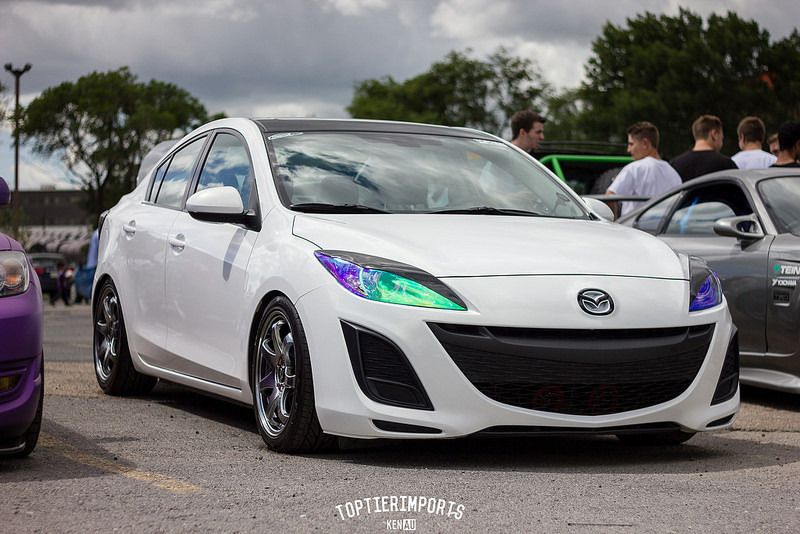 Exterior
:
-Chameleon Headlight Wrap
-Carbon Fibre Eyelids
-Corksport Mudflaps (Off when low)
-Gloss Black Vinyl Tinted Taillights
-Gloss Black Vinyl Roof
-Hella Supertones
-Gloss Black Emblems
Interior
:
-6000K White LED Interior Lighting
-Multi-Colour Footwell Lighting
-Sickspeed Neo-Chrome Ball Shift Knob
-NRG Neo-Chrome "Stealth" Style Shift Knob
-'3' Emblem Plasti-Dipped White on Dash
Lighting
:
-6000k License Plate LED's
-Red LED rear turn signals (Sedans have yellow ones unlike hatchbacks... I think...)
-DDM Tuning LED plug in resistor
Power and Stuff
:
-Corksport Exhaust Racepipe without Catalyst
-Corksport Polyurethane Exhaust Hangers
-Corksport Short Ram Intake
-Corksport Rear Motor Mount Inserts (Removed after coilovers)
Suspenion
:
-Corksport Mid-Chassis Brace
-Corksport Rear Sway Bar
-MOOG rear endlinks
-BC Racing BR Type EDK coilovers
Transmission
:
-Corksport Short Shift Plate
-James Barone Solid Shifter Bushings
Wheels
:
Summer:
Brand: XXR
Name: 522
Colour: Chromium Black
Specs: 17 x 8 +48
Wrapped In: Hankook Ventus V12 Evo K110 225/45-17
Winter:
Brand: OEM...
Name:Stockers...
Colour: Plasti-dip Black...
Specs: You don't care...
Wrapped In: Yokohama iceGuard iG52c 205/55-16
Day 1
And soon after, my hood, roof, wheels and trunk (saw a 1 series BMW with the look and I fell in love with the look!)
I also installed some HID's in my low beams. I got 6000k but I wouldn't even mind going bluer with 8000k when I have to replace the bulbs
Replaced my old neo-chrome shift knob with my new one:
Installed footwell lighting with a colour switcher (red, green, blue, yellow, pink, white, teal and colour changing) Blue looks best in my opinion though.
The current front end look of my car! And I love it!:
Carbon Fibre Eyelids were definitely a solid purchase!
Took my 3 from the back of my car and moved it inside, plasti dipped white of course:
The setup I'll be running next summer:
XXR 522 17x8 +48 in Black Chrome with Neo-Chrome Lugnuts (might powder coat them teal... we'll see)
And a shot from behind to show concavity on my car! Thumbs up from me!
New shift boot compliments of my sewing skills hahaha Turned out really good though
Did another one in yellow as my first trial and now as shown above it is made from "liquid metal" fabric
Winter Mode: