So I've been a member on here for about 3 years or so and never got around to making one of these. Here it goes.
2010 Crystal White Pearl Mazda 3 Sport with 6MT. Purchased in early June of 2010. I was actually pretty lucky because my dealership swapped cars to get me this one, so for that I am grateful :yes:. Got it with a couple hundred miles on it due to the drive from the other dealership and other possible test drives.
This is my first car ever that I can call my own. I learned stick on an NB Miata and mostly drove a 2000 F-150 in high school and on occasion the NB. All of the work minus the paint matching(eyelids excluded) I have done on my own and with friends helping but no shops, etc. It's been a great learning experience!
More recent updates later in this thread.
Mods List
Engine
MSDS Header
Simota Intake
Custom 2.5" Catless Exhaust from header-back, all Vibrant parts, single exit
Dynotronics Tune
Advanced Timing
James Barone Racing 80 Durometer Rear Motor Mount
Exterior
Factory Paint-matched:

Corksport Eyelids
Front Bar
Fog Light Bezels
Front Mazda Emblem
Rear Mazda Emblem
Rear "Mazda"
VG Sharkfin

Yakima Roof Rack (Landing Pads, Control Towers, 58" Crossbars, Old School Fairing, Two Fork-mount bike carriers, Ski/Snowboard Carrier)
Plasti-dipped Rear Valence
DDM 35W 5000k HID Lows
DDM 35W 5000k HID Fogs
V-LEDs 5000k License Plate LEDs
BaysonR Window Visors
Madico Charcool in VA Legal Tint (50% Fronts, 35% Rears, 5% Windshield Strip)
OEM Rear Bumper Guards
Various Stickers
Mazda Pin striping: If anyone else has this, I'm curious to know if you paid for it. I'm the only one I know of that has this pin striping just below the window line, beginning with a Mazda logo. Came on the car when I picked it up, no extra charge.
Wheels and Suspension
Summers: 17x8 +48 OZ Ultraleggera Wheels wrapped with 225/45R17 Hankook Ventus V12's, Dipped Blaze Purple with Pearlizer
Winters: Stock Wheels wrapped with 205/50R17 Continental DWS's
Blue Gorilla Lugs
BC Racing Coilovers, non Extreme Drop: 8k front, 6k rear spring rates.
James Barone Racing Adjustable Rear Camber Arms
James Barone Racing Rear Sway Bar
Interior
Ultragauge for monitoring engine parameters and CELs
TWM Type R Shift Knob with Engraved Shift Pattern
Blue LED Front Footwell Lighting
Stealth Hatch Dual LED Bar Lighting
CD Player Phone Mount
Headrest Camera Mount
In-Progress Mods
Front Splitter
Ride Height/Suspension Tuning
Future Mods
GT Taillights
Cluster and center console LED swap
Audio Upgrade
Roof and Rear Valence Gloss Black Vinyl Wrapped
Single Exit Bumper swap
Upgrade front and rear endlinks
Front Lip of some sort
Supercharger and/or the next Mazdaspeed vehicle/RX
Bags and new wheels?
Dyno
(I know it says Mazdaspeed3 on the sheet but pretty much every other car was Speed3 and I was the last of the day so I can see how the dyno guys were confused. Done on a mobile DynoJet at EpisodeM)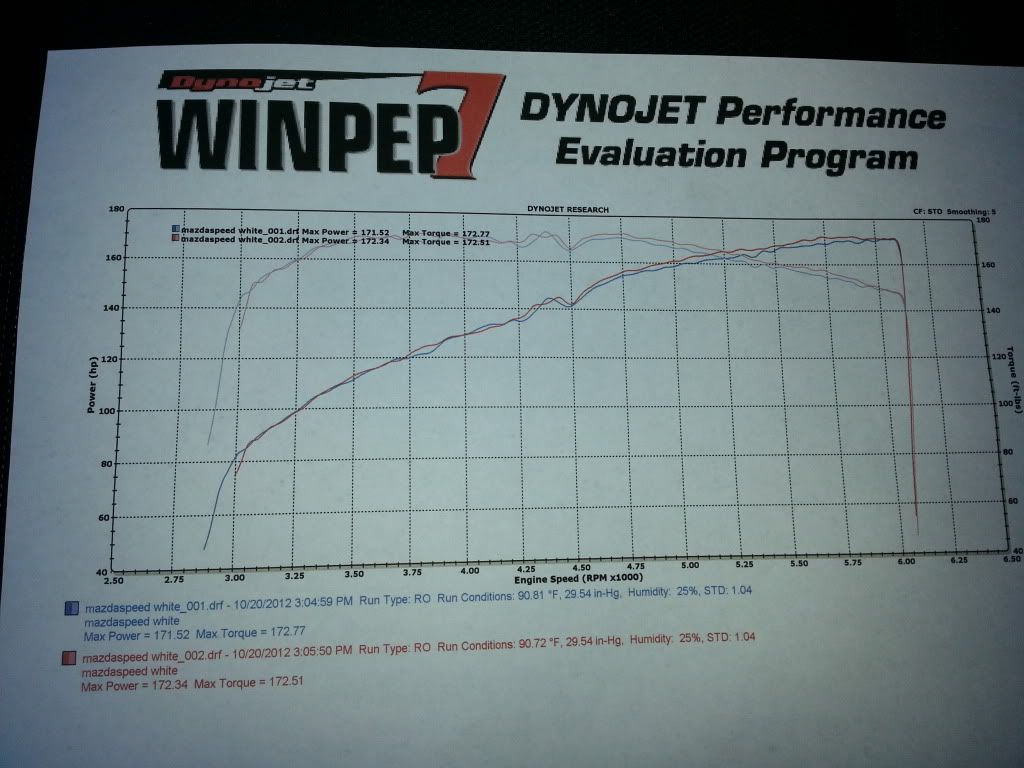 Now for the pics. Semi-short/summed up and close to chronological. There were intermediate mods and I'm pretty sure I included them.
Day of/few days after purchase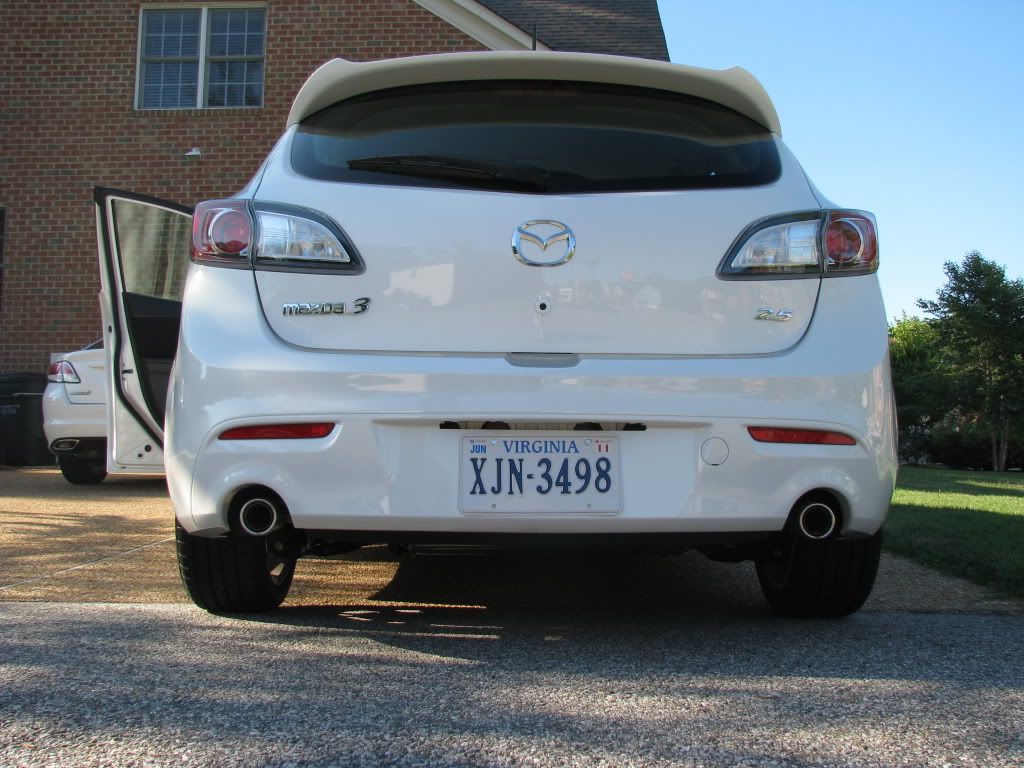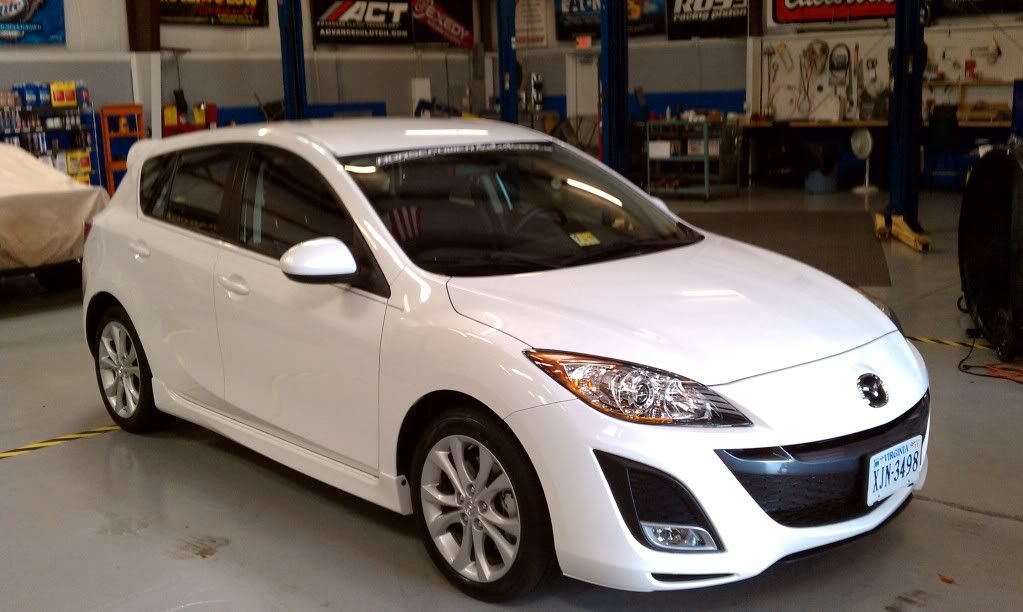 First mod: Simota Intake
Next mod: License plate change and photoshoot up at school
Next mod: Painted emblems black
Next mod: HIDs and 1st attempt at Hatch lighting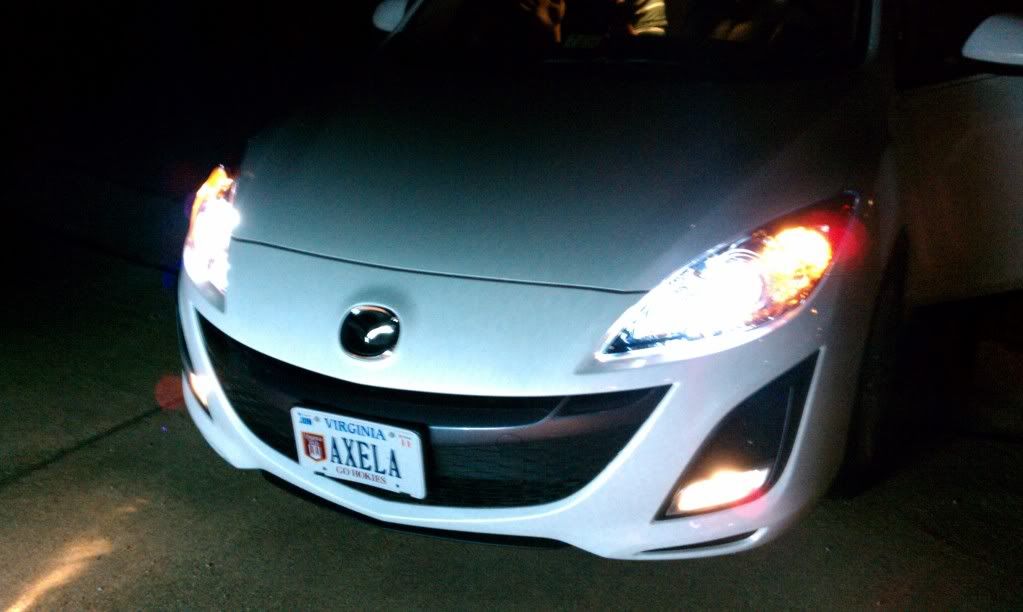 Next mod: Tint and MS3 Exhaust
Next mod: License plate LEDs, VG Sharkfin, Window Visors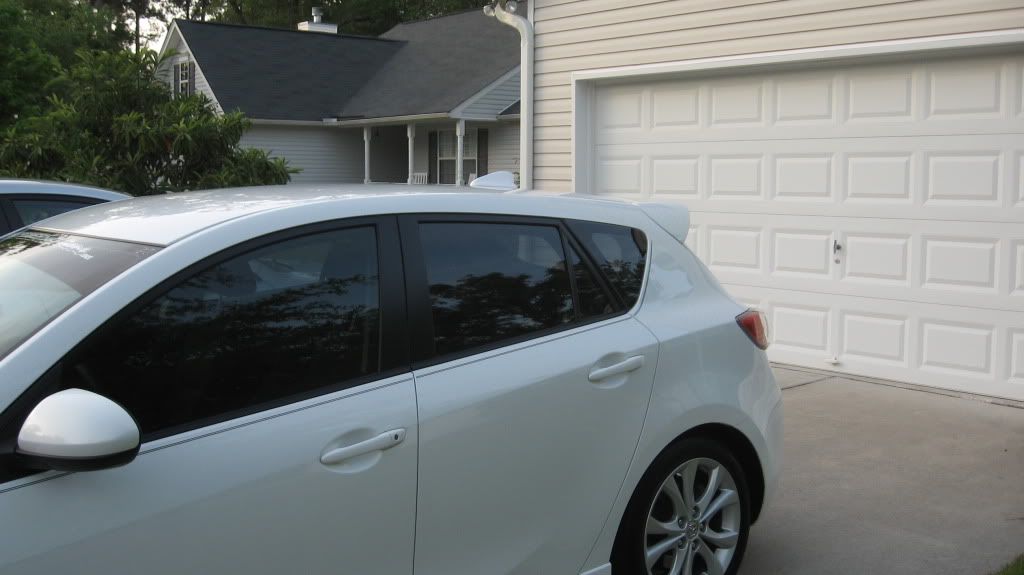 Next mod: Springs
Next mod: Summer of 2011 was RSB, newly self-painted emblems and evil "m", hatch and footwell lighting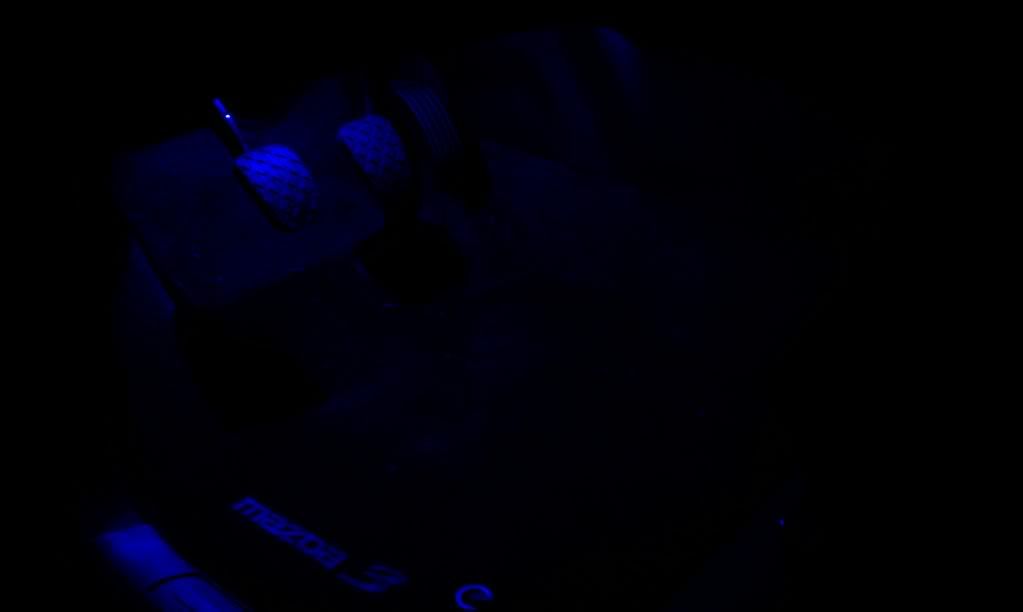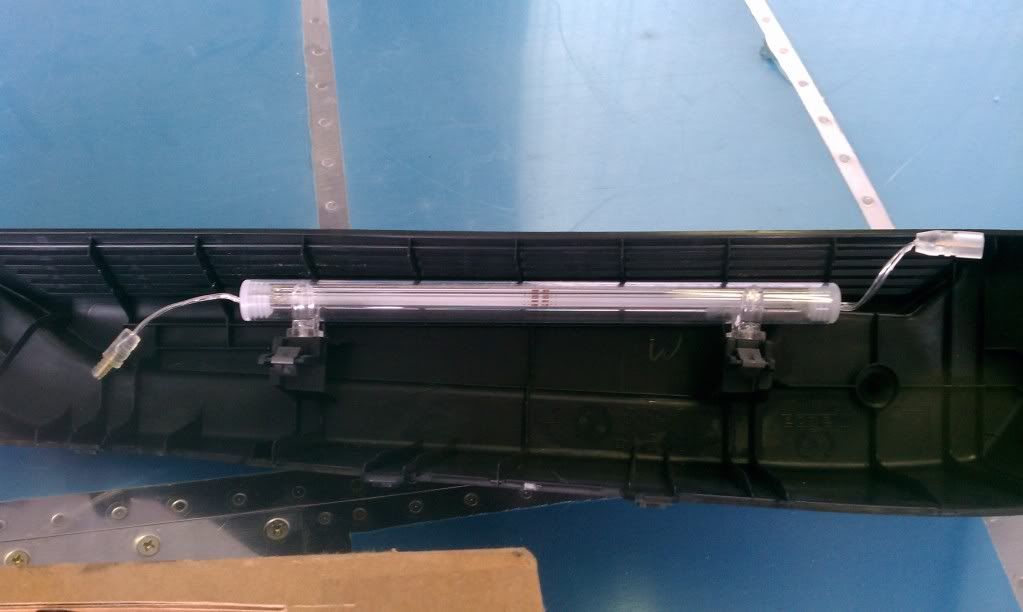 Next mod: August 2011 Paint-matched everything(except eyelids)
Next mod: Fall 2011 Header, RMM, and pedals
Next mod: Spring 2012 Rear Valence, Wheels, Self-painted Eyelids. Got a new set of DWS's for the stockers in January. Burned through the stock/shitty Yokos auto-xing and from them being terrible.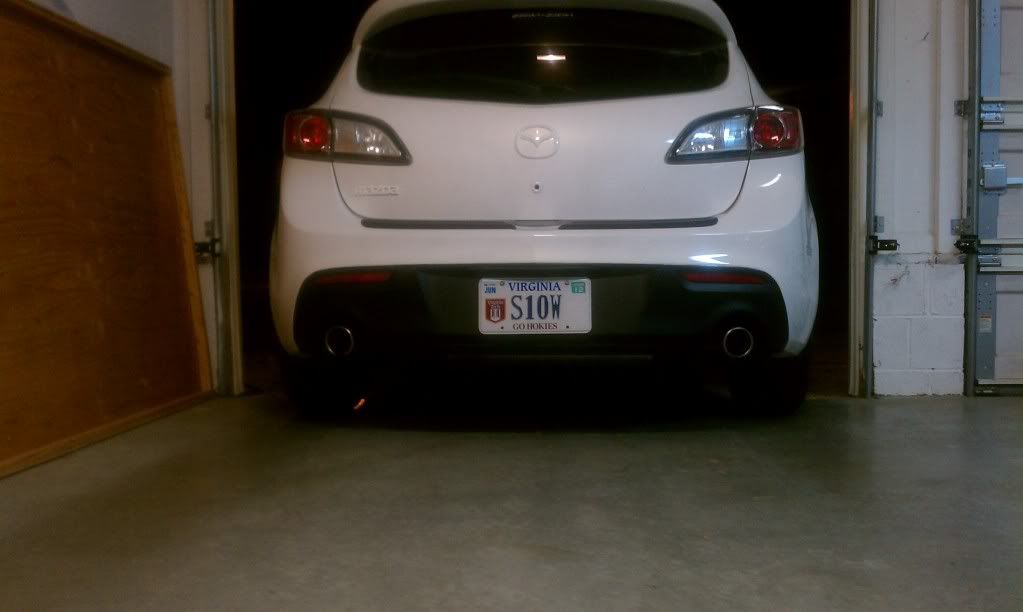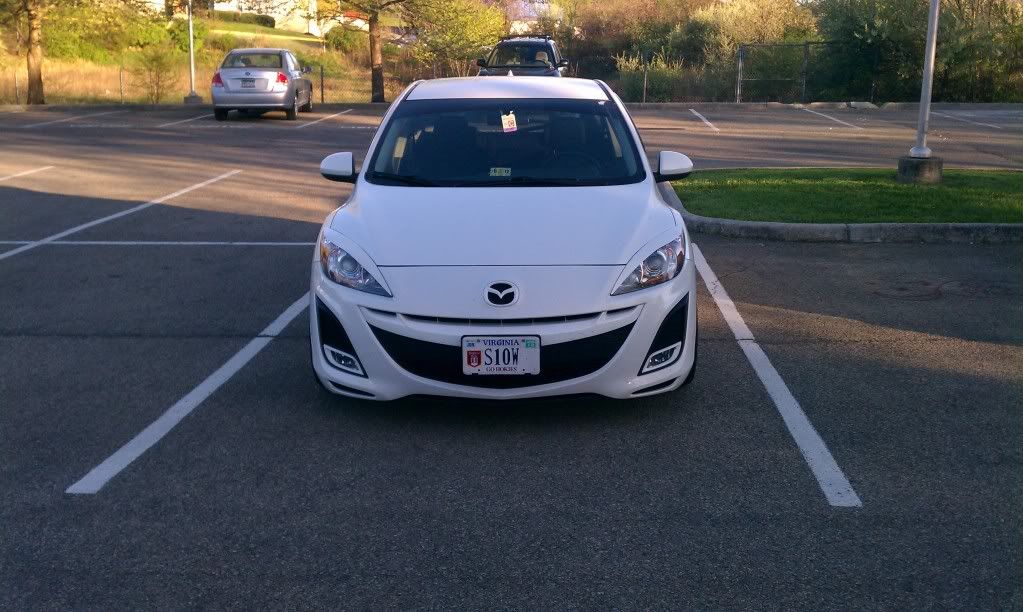 Next mod: Bought and Ultragauge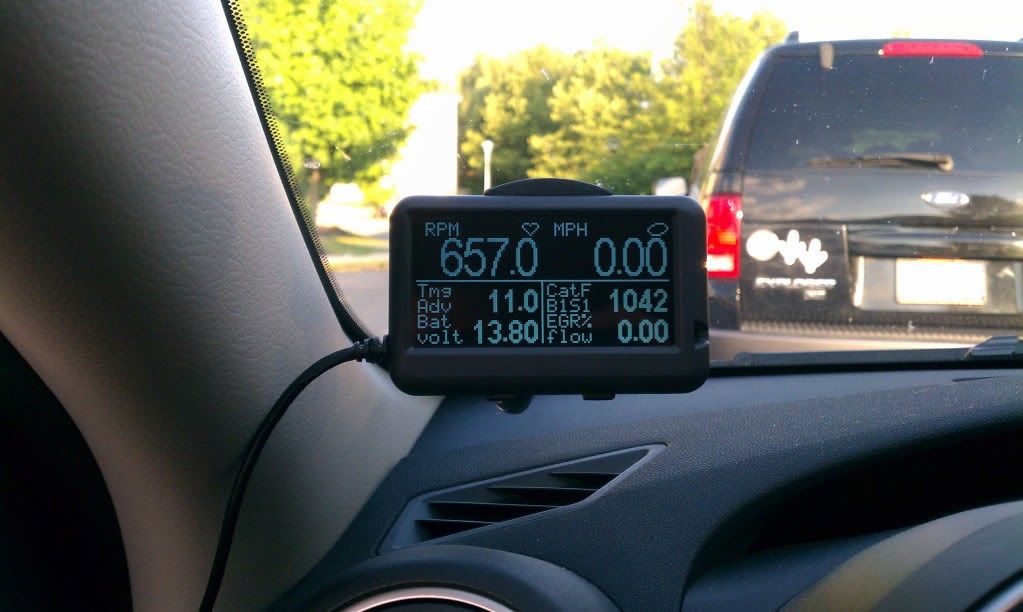 Coilovers and Shift Knob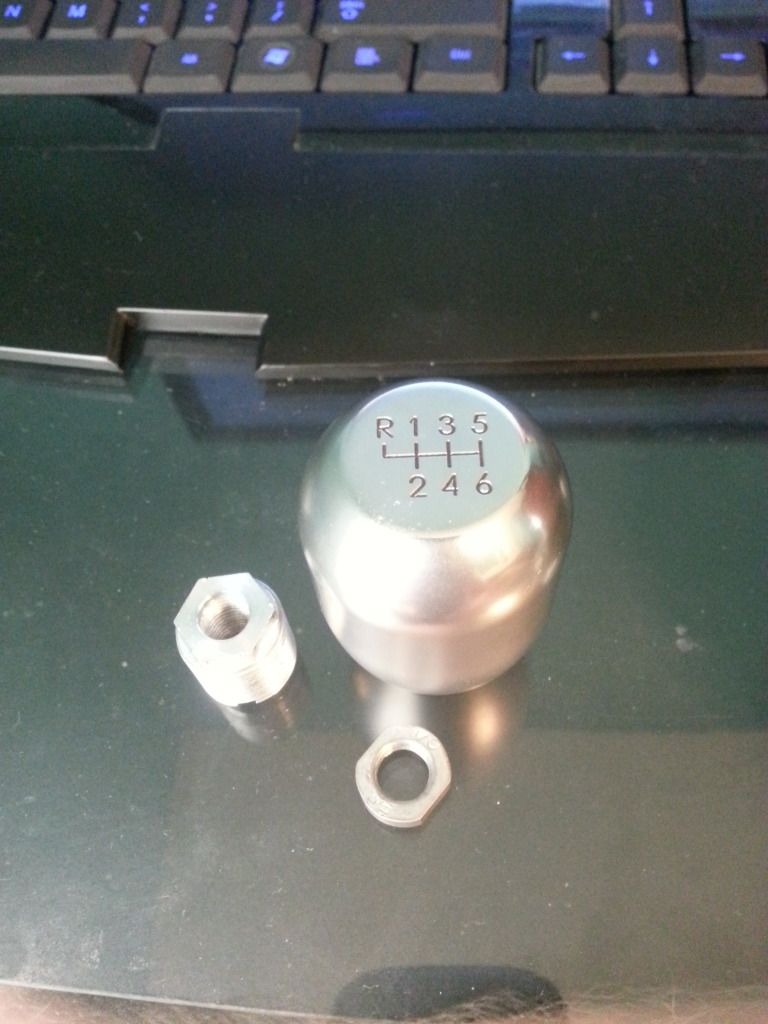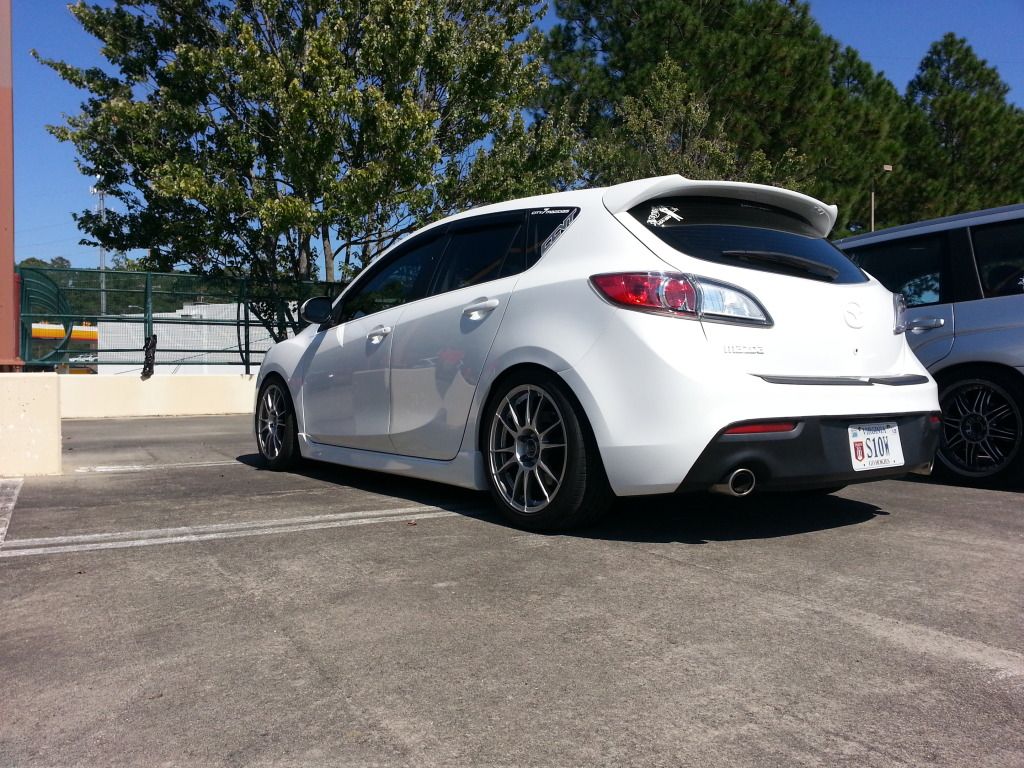 Auto-X
I started autocrossing when I was at my co-op in South Carolina in Feb. 2011. After my first run I was hooked! Was not that great when I first started and my intake immediately put me in the ST class where suspension, exhaust, etc. upgrades were legal. I sucked it up and just did various events and I got to know the car better, especially but adding on things one at a time. I recently got first in the new STF class last month in an autocross in Salem, VA so I have vastly improved as a driver and my car has as well. I don't do it competitively for nationals and such but just for some fun on weekends. Just a few random pics that I have managed to find...
I have some videos on my youtube channel of my autocrosses from Salem here as well as some other random car videos >>>
Crespo79 - YouTube
My log of the 2012 season >>>
http://mazda3revolution.com/forums/auto-x/10461-2012-season.html
CCVT
My local car club, Car Club at Virginia Tech, goes to the local 1/8 mile drag strip about once or twice a month for fun. Ran my car a couple times and got low 10s. It is a test and tune event with some bracket racing at the end. I ended up winning $50 one time by placing second. I would have won $100 but I red-lighted in the final round :argh 1:. Don't really have many pics from there since most of us all drive or people forget to take photos but here are a couple from a recent outting...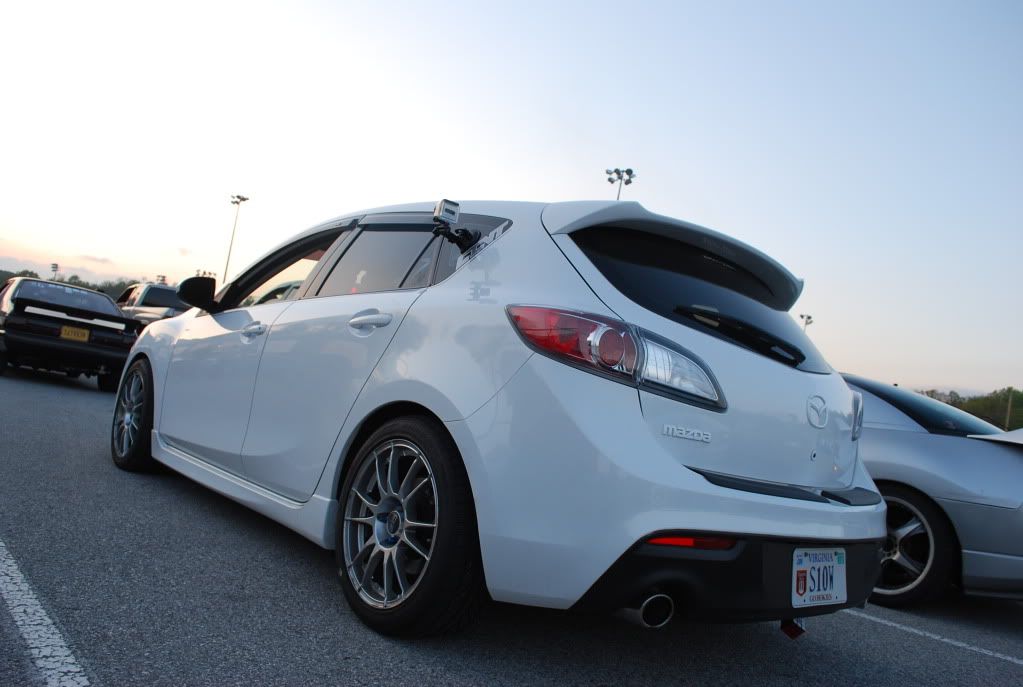 We also go on mountain cruises and have a car show every semester. Lots of alumni bring there nice vettes, GTRs, Vipers, Audis, etc. down and party for the weekend. Its a blast!
Springfest 2012
The local Mazda club and I rolled down to Springfest 3 in VA Beach back in May. Was a sick show with tons of cars from every scene. Click on the pic below for my full album. The sticker was actually your ticket in to the judging area, pretty unique idea.
EpisodeM
I drove down to Orlando with my friend Carl from my co-op and had a blast! Great turnout of the Mazda crowd with a bunch of Speed3's, multiple Speed6's, a few Miatas, a few Regular 3's, some RX7's and 8's, and a few other random Mazdas. I even got to dyno and made numbers I'm very happy with!
If you have any questions on how I did any of my mods or have any comments, feel free to leave them below or PM me.