Thanks to a few threads on the forum and this video of a guy who did it on his Mazda 6
I decided upgraded my factory BOSE dash speakers to some aftermarket 3.5" PowerBass coaxial speakers that I snagged for $24 on ebay
I haven't seen any thread on the forum showing any pictures of the install so I decided to post what I did
First here are some pictures of the BOSE dash speakers compared to the 3.5" PowerBass replacements
To my surprise they were actually speakers and not tweeters like I initially thought, but they are smaller than a standard 3.5" speaker
The factory BOSE dash speakers definitely have some nice power and sound to them, but the PowerBass having an actual tweeter on the new speakers make them sound 'crisp'
The magnet is definitely bigger on the PowerBass and they are much heavier than the BOSE units
Those BOSE speakers are made out of paper material
The driver on the BOSE speakers is about 6.2cm and about 7.4cm on the PowerBass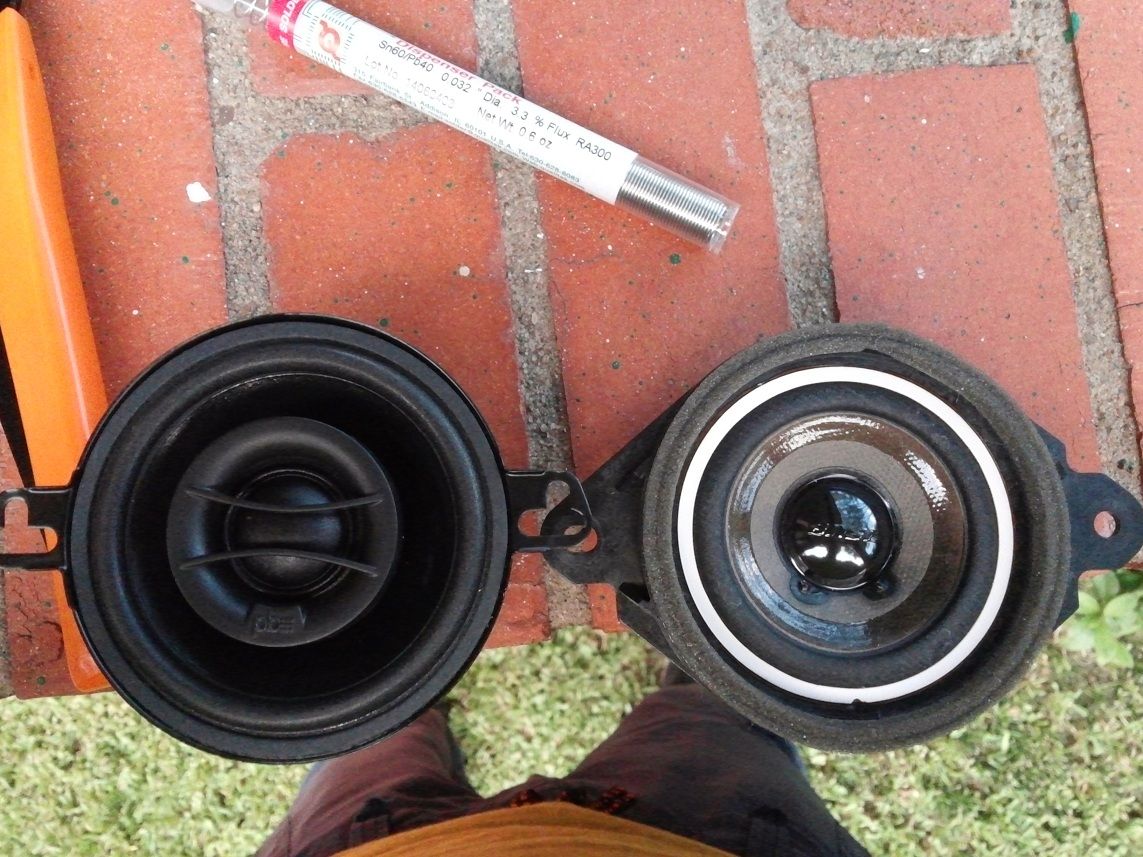 I don't know why these came out in the wrong orientation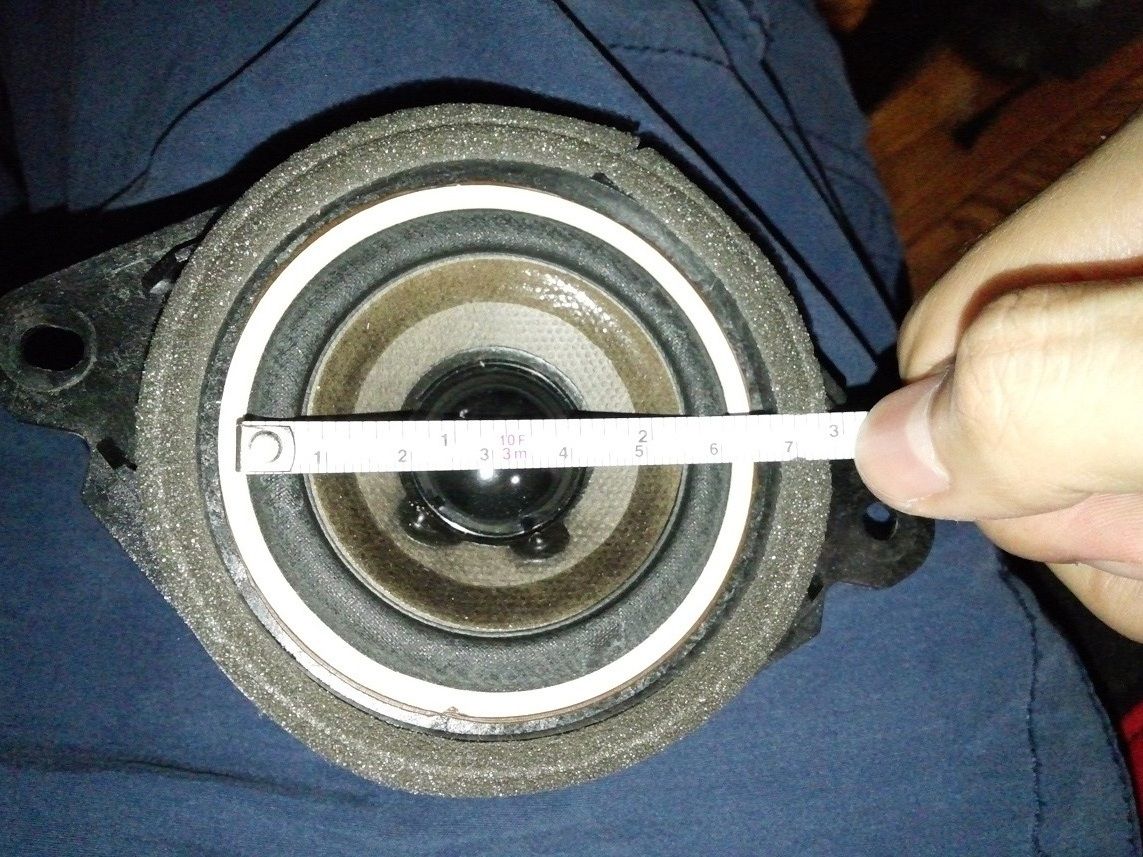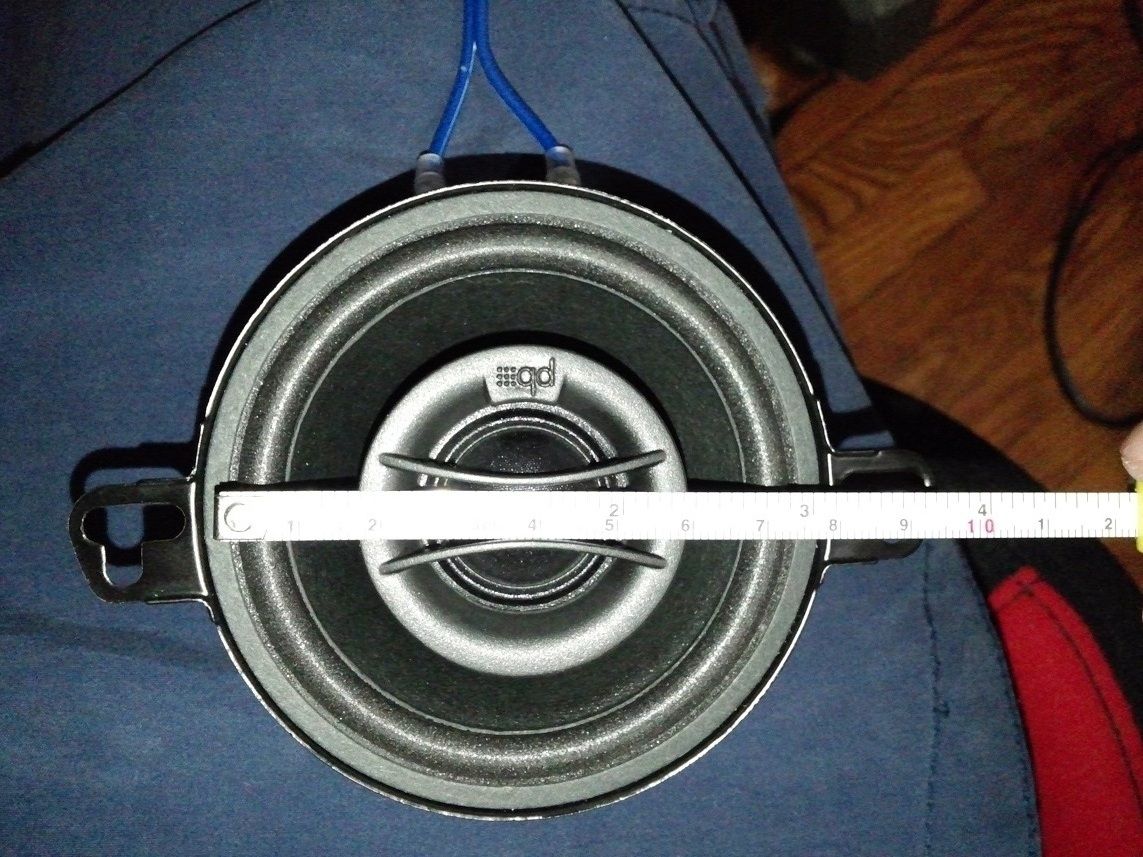 On to the install
Simply use a panel pry bar to remove the plastic cover on the dash, they unclip easy and pop right off
Using an angled ratcheting screwdriver I bought at harbor freight for $3 I was able to remove the 2 screws holding the speakers on - they pop right out and are only held on by the harness clip
http://www.harborfreight.com/8-piece-right-angle-screwdriver-92630.html
Now there are two things you have to do on both sides in order to get these aftermarket speakers to fit in all the way
PASSENGER SIDE
On the passenger side there is a plastic piece sticking out that makes contact, you simply need to cut part of it off and the speaker will fit in perfectly
It is alot easier than it sounds, the plastic is very soft, I used a precision knife and it sliced through it like butter
DRIVER SIDE
The driver side was more of a pain in the ass.. but very do-able
There is a big fat bundle of wires that is held together by a bunch of electrical tape
This stops an aftermarket speaker from dropping straight in
You have to carefully cut/remove the electrical tape holding them together so you can spread them out
once you do so it will give enough clearance for the speaker to fit in place
The picture shown below is what it should look like after you do this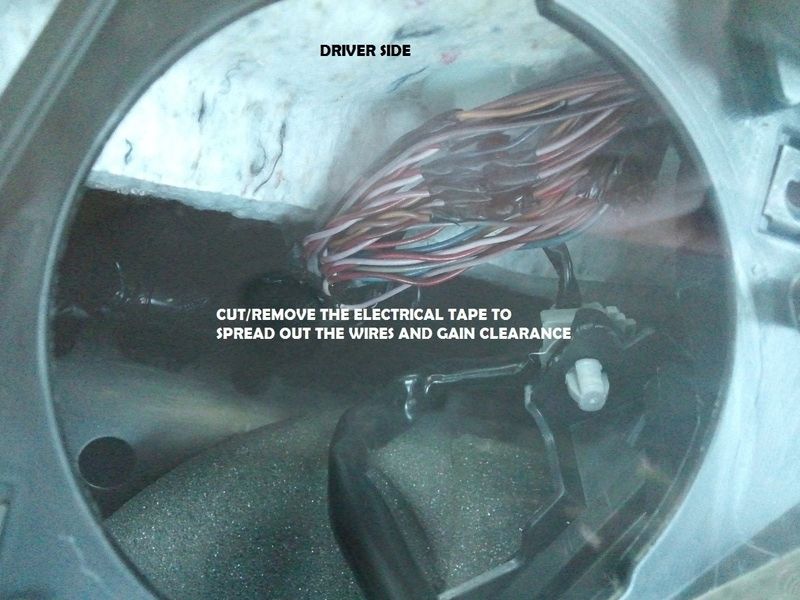 Now for the actual speaker install
I didn't want to damage/cut any of the stock wires and connectors that way I do a fast plug and play swap back to stock anytime
(so you may not agree with my method and may want to do a more direct install by splicing the wires directly)
The BOSE speakers have a built in male plug, leaving a female connector on the dash
This gave me an idea to simply add solder to the wires and stick them in the connector to make a connection - this worked out better than I anticipated
By adding a little solder to the wires, they wedged into the connectors perfectly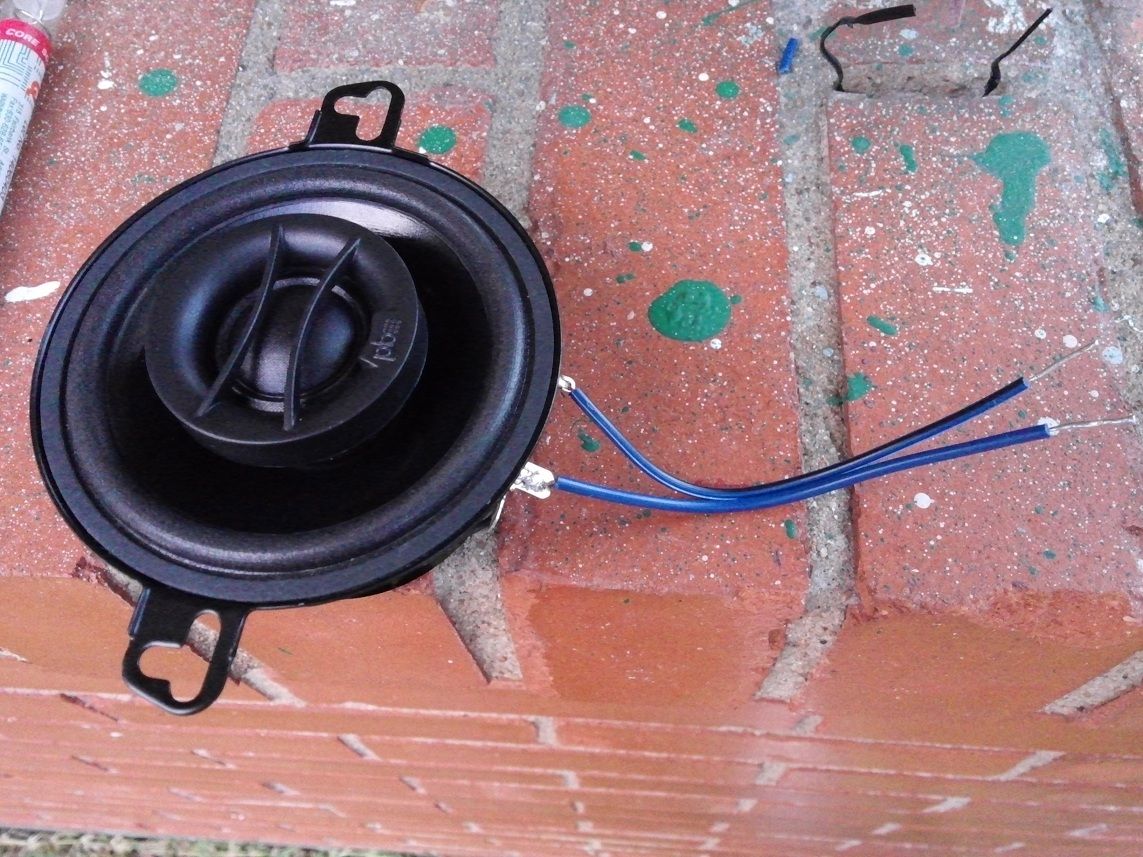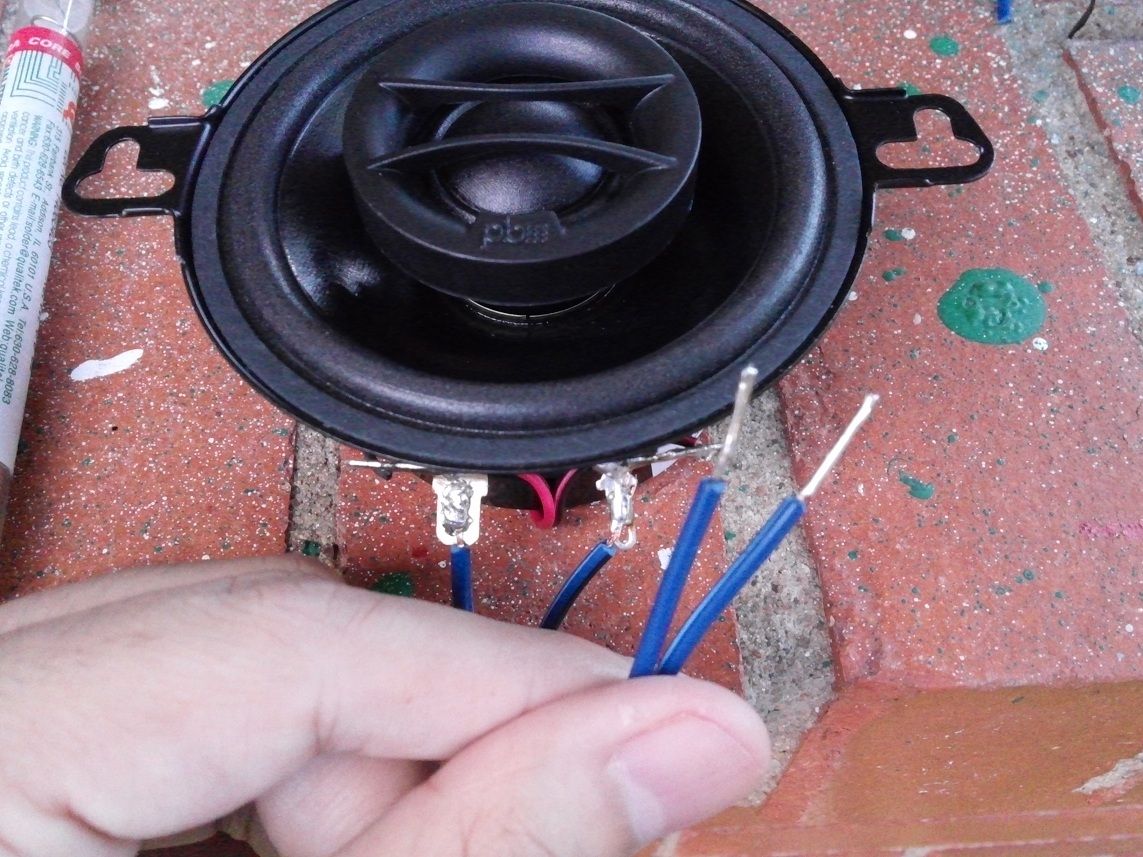 Thanks to this thread I was able to get the correct polarity of the wires
http://mazda3revolution.com/forums/2014-2016-mazda-3-skyactiv-audio-electronics/113290-2014-3s-gt-bose-upgrade.html#post1485122
Driver Side
***Purple wire is positive*** ***Red wire is negative***
Passenger Side
***Light Blue wire is positive*** ***Dark Blue wire is negative***
Now the polarity is INVERTED on both sides
Meaning, if you look at the stock connectors in the same orientation, the positive and negatives are swapped between each other
This boggled my mind because if you look at the connectors the exact same way, you would think the positive and negative would be on the same side on each connector, but this is not the case.
I QUADRUPLE checked the polarity with my multimeter, I even went BACK to check 2 days later.
The stock speakers are identical and have nothing to distinguish them between left or right, does this mean they are out of phase stock??? Is it designed this way? Who knows..
By playing around with the amount of solder on the wires I was able to get them perfectly wedged in there with no play, they weren't going anywhere but I added electrical tape just for safe measure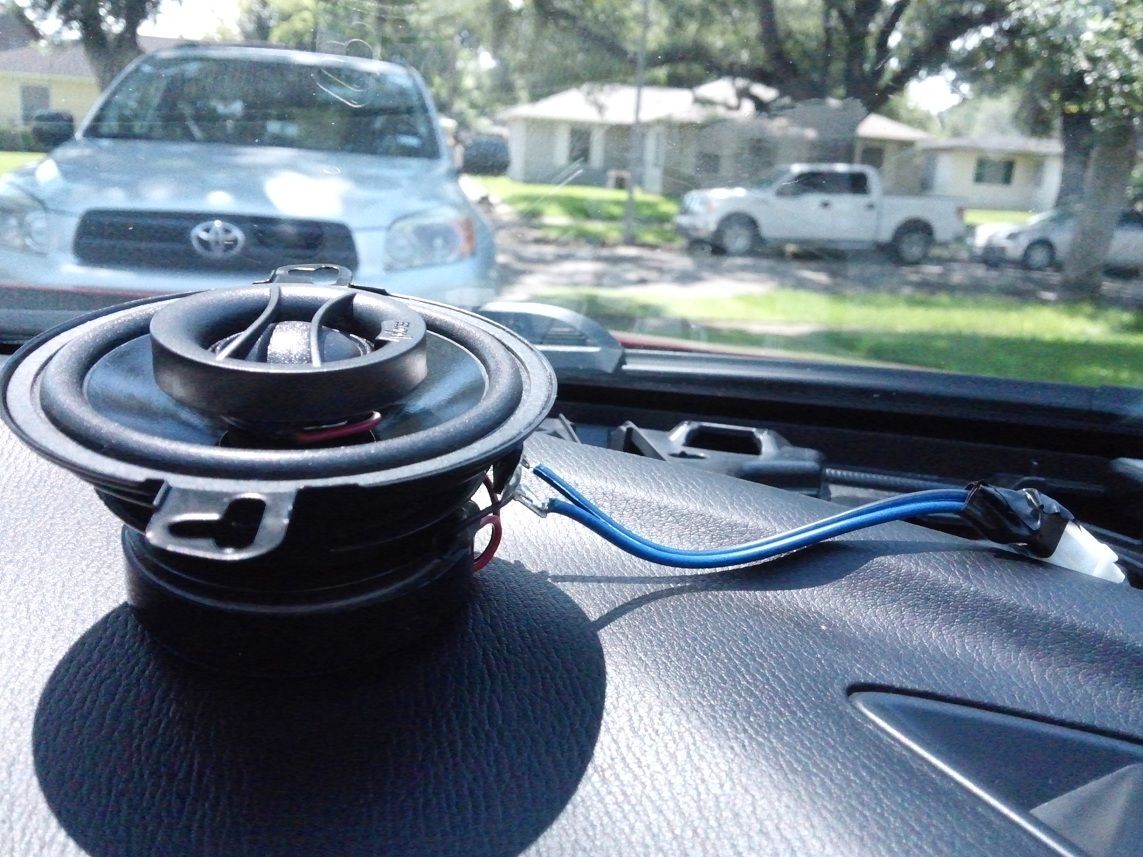 And that's pretty much it, they go right in and the screw holes line up perfectly
Also, even though the tweeter on the new speakers protrudes higher, there were no clearance issues with the plastic cover on the reinstall
Sorry I forgot to take pictures of the installed product I was too excited after getting it all done and listening to some music :laugh2:
EDIT: OK, I went back and got pictures (I got OCD and wanted to verify I got the polarity correct)
these speakers are definitely more 'crisp' in a really good way.
You can really hear the cymbals clearly in music, I listen to a lot of heavy metal.
Which makes sense since the OEM Bose don't have a dedicated tweeter and these do. (But I'm also not saying the Bose units sounded bad, they are good for what they are)
They have excellent highs and mids with no distortion at high volume.
Very impressed and happy for $24 speakers.
Hope this helps you guys