I always thought it was cheap-o of Mazda to not add the LED door pull lighting to the rear doors and felt that would have really made the car a bit more complete in respect to the interior lighting..
So I added LED's to the door pull and door cup holders and here's how I went about it.
I used 3mm blue LEDs and wired them myself with 1K ohm ( instead of 470 Ohm, to keep things dimmer) resistors in series but pre-wired ready to go +12 volt LED's are available. I saw a 4 pack at Advance Auto for $9.99
Use anything you want here, but to keep things on the dimmer side I used the single 3mm types.
Here's a step by step guide with pics so let's jump right in…
First remove the door panels
Pop the cover behind the door lever and remove the screw behind it
Next remove the silver handle trims starting at the bottom and work your way up.
Remove the 2 screws you now see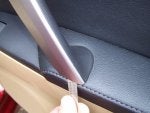 Next remove the window switch plate, and disconnect the wire harness going to the window switch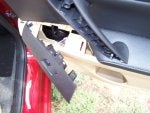 Now, starting at the lower side, closest to the door jamb, beneath the window switch, pop the cover going around the perimeter of the panel then lift upwards but do not pull it fully away yet.
The door lever housing pops out the front of the panel, rotate the lever housing and you can fully remove the door panel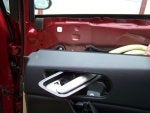 Let's make some LED holes and here's where I put them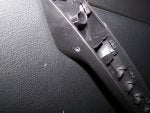 This is looking at the upper handle from the rear of the panel, where you see my hand at the top of the pic is where the door lever goes. There is a hole to the right and a bit lower to the screw you see here. ( sorry for the blurry pic) Drill a hole to the front side from this hole, and you'll come out here. This is to pass the led wires through to the back of the panel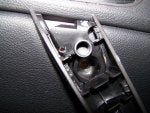 LED assembly/ I used about 8-10 inches of wire per lead and made 4 units total
Let's install these LED's.
Although the LED's fit snugly I used a little hot glue to secure them to be safe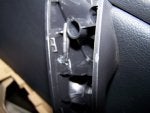 The biggest challenge I felt was passing wires through the door jamb connectors and hence I decided to obtain ground from inside the door and run only one wire, 12V, through the connectors.
I must ammend this threaad as the ground i used was not a true ground. Either find a bolt inside the door that is ground or run a second wire through the connector to get grounnd from inside the car
I tied the neg side of each LED together and the pos side of each LED together to a single connector each. I then connected the ground side of the LED's to the ground wire from the window switch and used large shrink tubing to insulate the connector. I did the neg side only for now; the pos side will get shrink tubing right before the panel gets put back on
See part 2 below