Discussion Starter
·
#1
·
I'm adding two 12" subs to my 2011 Mazda 3 i Touring without the Bose sound system. I also have a single channel, class D, monoblock amplifier. I'm new to audio equipment so naturally I have a few questions:
Are my subs and amp compatible?
Each sub requires 470W RMS power (CEA 2031) at 4Ω rated impedance. My amplifier puts out 900W RMS power at 4Ω and 1400W RMS power at 2Ω.
Which wiring diagram should I use, or should I do something completely differnet?
Diagram 1: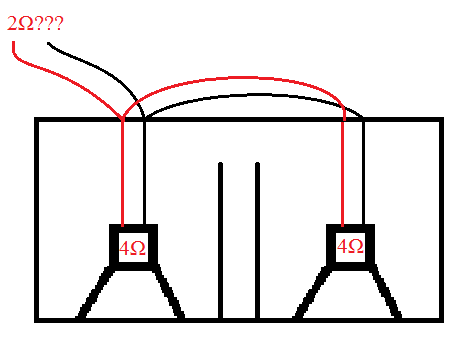 Diagram 2:
I did the best I could to illustrate my design in paint
. I have an enclosure with clips in the back that hold wires in place. I was wondering if having the wires inside the box would interfere with the port or something like that. Does it not matter? Both of these would require 940W at 2Ω, and not cause a fire, short, or anything crazy, right?
What gauge wire should I use for my amps power, ground, and remote wires?
Should I use the High Level input connections or purchase an LOC?
I popped out my head unit to take a quick peak and I could not see any RCA outputs - just the standard harnesses. My amp came with a port and a connector that has five small wires coming from it. There's two for a right channel, two for a left channel, and a ground wire. However, my amp also has RCA inputs. Would I be able to purchase smaller wire to run each of the five wires from the High Level input to my head unit and splice them to appropriate wires? Or should I go the LOC route?
Thanks for taking the time to read this. Any help is appreciated.
~Peace Love Ganja