Discussion Starter
·
#1
·
Ok, here is the deal. I've been driving my Mazda 3 for over a year and during all this time I have tried different seat positions in order to get a better line of vision of the ADD.
I know that some people uses and loves ADD, some other don't, but for those who uses ADD, what's the setup you like to use?
I personally like the information is just over the hood but I have found two cons to that setup:
1- At night, if you are behind a clear color car, the light reflection make the ADD almost useless.
2- On a hill, since the hood is long you don't have a clear view for what is just after the hill. This has happened to me a couple of times in a parking lot where the entrance has a very high angle.
This might be the way it looks from my seat position:
The other setup I've tried is put the seat in a higher position so the line of vision to the information from the ADD is located beneath the edge of the hood. Something like this: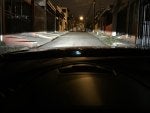 At the end, this is a matter of comfort but I would like to know what are your thoughts or your experience while you were setting up your seat.