Discussion Starter
•
#1
•
Last weekend, my Mazda3 passed its 30k km mark, suitably, while climbing the Appalachian range. Seems like I do this on weekly basis.
Just 10 months into ownership, it's already been up to Montréal and Tremblant, to the beautiful ridges of West Virginia, and spent remaining majority across NC. Not a bad ride; by the numbers it's been good. Cheap to run, 2 trips to the dealer for warranty issues, and just the right size for every situation. Fair warning, I'm very demanding for some of the things in my life, and automobiles is right up at there at the top of my list for stringent expectations.
I some complaints with the 2,5 litre petrol, which seems to make all its power in one big lump between 3000-5000rpm. The output itself is fine, more than enough for overtaking. But below 3k, nothing happens- it's like turbo lag but modern small turbos spool up by 2000-2500rpm. Under moderate load the transmission shifts right as the surge of power happens and falls out of the peak torque zone; not the smoothest thing. Speaking of smoothness, it's fine at idle but I don't really appreciate feeling the vibrations thru the controls/pedals as the revs get higher. Not asking for inline-6 smoothness, but other 4 cylinders I've driven aren't this thrashy. Fuel consumption is quite good in suburban/urban driving but out on the autoroutes this thing gets thirsty. Maybe its the aerodynamics of this vehicle, but stick with the 2 litre version. Or better yet, go with a turbocharger, Mazda.
Quality
: It's better than average, and certainly better than the BL. However, I can't help feel the cheapness and corners cut. The doors feel like they're made out of cardboard. The paint on my vehicle has orange peel everywhere and is thin. The precision of the switchgear, MZD controller excepted, isn't where I expect. The actual assembly is good; no rattles or buzzes at all over rough surfaces. It's just the material and attention to detail. For example, the manual shifting gate on the automatic gearbox- there should be more resistance in the shift lever when pulling/pushing +/-; put a stronger spring for a more positive shift action! The cargo floor is made out of a cardboard-like backing so it collapses under moderate weight if the spare tire is removed. There's more out there, but I will keep it short.
Suspension
: Great for those who live in areas where roads are poor. Great for those who live in the suburbs and drive up to 8/10ths. I don't fall into either of these; roads here are good, lots of wonderful curves, and open autobahn segments between cities. The suspension damping isn't stiff enough, me thinks the rebound and the spring rates are bit soft. Go over an undulating section of autoroute at 140km/h and the car takes an extra moment before setting in completely. Not unstable, just not as "road hugging" as I would like. There's also too much body roll and pitching fore/aft; the weight shifts aren't handled as well as needed to be as sporty as the marketing people claim.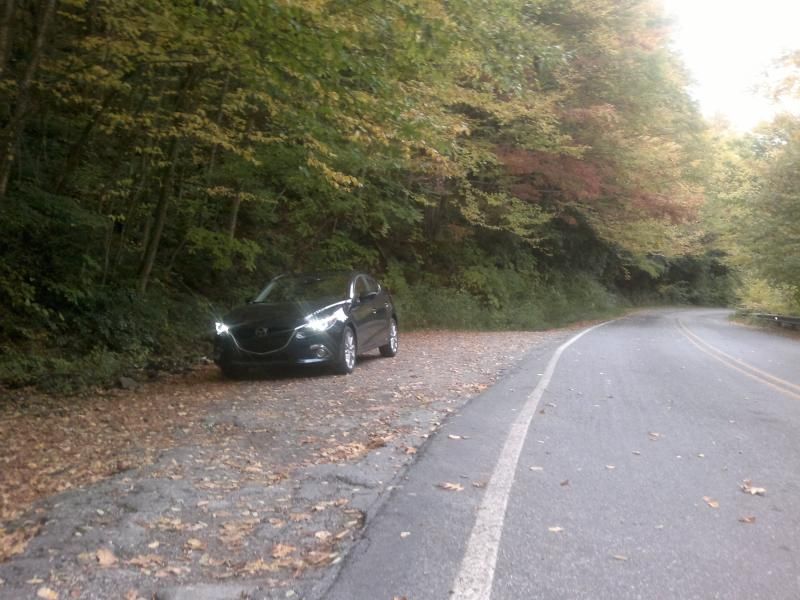 Technology
: The Driver assist features work well, and I like them. I never have had a false activation of the City Braking function. ACC is a surprisingly good stress reliever- I use it all the time, even on my 10km commute. Forward Collision Warning has aided me in quicker reaction times a couple times. I really like the extra safety net these features provide and will order them on future cars. Kind of a "in case the driver messes up" insurance.
This feels like a "80% done" car.
Maybe 85%. Nearly everything about this car is 80-85% there. Which means very, very good, but short of excellent. The level of engineering isn't quite there with the Germans. The little gripes I thought I'd get used to, still grate on me everyday. The lack of rear visibility. The switchgear. The road noise. The weak sauce bi-xenons and half-arsed adaptive function. The sat nav that works 50% of the time and reboots randomly. And more. It adds up. :cursing:
Coincidentally, with the 30k km anniversary last weekend I also ended up driving a particularly fun mountain road. This is a favourite of motorcyclists and car enthusiasts alike (think "drag your knees/MotoGP" kind of mountain road). I opened the Mazda3 up, asked 100% of it and took at an aggressive pace. The confidence-shaking body roll was expected, but the small-ish disc brakes were unable to cope with the heat demands. Toasted the brakes after just 7km (admittedly, a 7% gradient driven at speeds up to 125km/h); no fade, but that wonderful burnt smell permeated the cabin. It also made the pre-existing brake judder worse. I also hope that burnt smell coming from the engine after going up same 7% gradient @ full throttle was just engine oil and nothing else. :001_unsure:
That experience pretty much sealed the deal. The Mazda3 BM is very good for a car company with a R&D budget much smaller than the major automakers. But the nail in coffin for me is that I never bonded with the car. It never made me smile. I never wanted to go out of the way for a fun drive with it (partly because of the drivetrain and handling complaints mentioned above). I did what I could; I loved the ContiSportContact 5 SSR summer tires I put on the car. The tires shouldered the burden of braking and handling even when I pushed it and clung on even after the chassis had me thinking "too fast". Perhaps too much tire for the car though.
Work has me going overseas for 6 months. I've decided this is a good time for me to hit the restart button. I will say farewell to the Mazda3 in a few weeks after just 10 months. Disappointing considering I thought this really was the one for me after 8 months of research and test drives prior to ordering it. I just cannot love the vehicle; may as well save on the car payments and insurance (quite expensive to insure) while I'm out of the country. And if/when I come back, there will likely be a VW GTI to pick up.