After a few laps at a track (thread here:
http://mazda3revolution.com/forums/auto-x/34738-4-laps-buttonwillow.html
) it became clear that the 3i needed bigger rotors. Modding the 3 is difficult since it mostly functions as a daily driver, with the occasional mountain road scouting run and possible few laps at the track when I'm there as a support car. Also, I don't want to spend much money on the 3 as car money generally goes towards feeding my ever growing Lotus addiction.
Though the Mazdaspeed 3 front rotor swap is a popular mod, it wasn't for me since the MS3 setup would require more money and effort. I ended up deciding on swapping to 3s (2.5) rotors to gain 0.9 inches of rotor diameter in front and about a half inch of rotor diameter in the rear. With the lesser power of the SkyActiv compared to the 2.5, hopefully the increased sizes will help cure brake issues.
In order to do this swap, you'll need a set of 2.5 rotors. I purchased a set of Centric Premiums, though cheaper blanks are available. You'll also need rotor brackets from a 2.3-2.5, any year 3s model between 2004 to 2013 will do. I got mine from a junkyard. In my opinion, here are the pros and cons of the 2.5 setup as compared to the Mazdaspeed 3 setup:
Pros:
1. Cheaper. The 2.5 only requires new rotors and brackets, versus requiring a new caliper and rotors. Also, the 2.5 rotors are generally cheaper. I got my setup for about $250. If you hunt around, I think you can go cheaper. Since I upgraded the brakes on my Lotus and ended up selling the stock Lotus parts for around that amount, this is the ultimate hand me down brake upgrade.
2. Easier to install. The Mazdaspeed 3 install requires installing a caliper and the attendant mess of brake fluid while this just needs some brackets to be swapped and so is a total bolt on.
3. Can fit inside 16" wheels. Since I've been procrastinating on installing my NC wheels, this is a big deal.
4. No master cylinder sizing issues. This is a debatable pro, but we know that at least there is no master cylinder misplace as compared to factory specs.
5. Less unsprung weight.
Cons:
1. Less mass so less heat capacity. I don't think a SkyActiv with Mazdaspeed 3 front brakes will ever fade the front brakes. Interestingly though, my fade on track was from the rear rotors.
2. Less leverage. Of course there's the debate about tire grip versus braking power, but I won't get into that here.
3. Less cool. Quite simply, huge Mazdaspeed 3 brakes are cool. This is sort of a dorky old school 90s Honda mod.
The process:
If you've ever done a rotor change, then this is easy. I won't get into details here since there are plenty of good tutorials on this forum. The only additional item is that the brackets of each rotor needs to be swapped to the 2.5 brackets. This is easily done and only requires undoing four bolts per corner. A helpful hint is to be sure to remove the safety wires so that bracket removal is easier.
So on to the pictures!
Front rotors stock and new (an easy way to compare sizes is to look at the dust shield):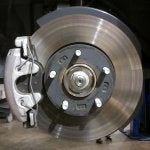 Rear rotors stock and new: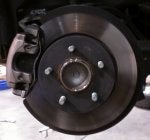 Pictures of new rotors installed. Note how close to the front is to the inner barrel of the wheel: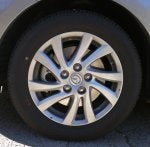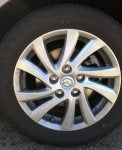 Bonus picture from the shakedown run: