I'm close to 40K miles on my 2016 3s, and was starting to get some pulsing feeling in the brake pedal. Since i'm out of non-powertrain warranty i decided to go ahead and replace the rotors and pads up front. Pads were about due anyway and hoping the rotors were causing the pulsing. Sprung an extra $50 or so for the drilled/slotted rotors. They feel excellent at least during the bedding procedure - much better than where i was at before doing the brakes, but can't compare to when the car was new - i'd expect these will just fade less, and frankly I don't do any driving with the car where brake fade is an issue save maybe an odd trip to the mountains to ski or camp - it's flat here. Anyway...some pics - apologies for the rotation of some pics - they were right side up before uploading and it's late!
Remove entire caliper to get rotor off - 2 17mm bolts to remove the caliper mount bracket - needed breaker bar to break them initially. Old rotors and the stock caliper...
New rotor - if nothing else they look sexy!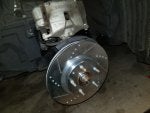 Here's what the caliper looks like...
Caliper bracket back on - reinstalled 2x17mm bracket bolts, install new side clips - the caliper bolts themselves were 13mm if recall correctly.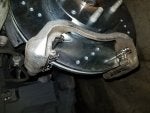 I'm all ears if i used too much brake lube....I started doing my own car repairs later in life, so only done a few brake jobs myself so far....
Everything put back together...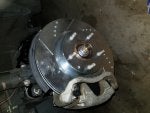 with wheel (Enkeis, same size and offset as stock 18's) -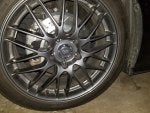 Bedding instructions straight from the manufacturer...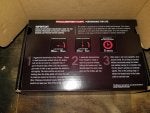 So i followed the instructions on a late night drive, and everything went according to plan - started smelling brakes after the aggressive stops, then did the moderate ones and was able to let 'em cool and get back home with downshifting. Will see tomorrow how everything turns out post break in.
Here's the
kit i purchased
from Rock Auto