Discussion Starter
·
#1
·
Hi everyone!
I need some help... I just got my 2012 Mazda3 SA Grand Touring, and although I'm in love with the car (more bells and whistles than I would've ever needed...cool!), I'm struggling with the gas milage on the car.
By specs, the car should be getting 28mpg city, just like my previous Mazda2. I used to get exactly that milage out of my Mazda2, 28mpg in the city. I'm a bit on the heavy foot side, but still got very good milage with the Mazda2, so my driving behaviour has not changed. I drive the same segments as well, low to mid traffic areas.
I'm getting 22mpg from the Mazda3 SA. My friends 2008 2.3L Mazda3 gets that. Another pals 2011 Mazda 3 2.5L gets 19-20mpg. A couple of other 2012-2013 Mazda 3 SkyActiv owners living nearby are getting between 29 and 33 mpg in average.
I'm just puzzled. I can accept that a car won't meet it's EPA by a margin, but that's almost 30% more consumption than what it's rated for.
So far, I've swapped air (K&N now) and oil filters, oil, sea foamed it and cleaned the MAF sensor. I'm looking to change the sparkplugs since per my mechanic, they seemed worn and were the original ones (50k+ miles on them) and clean the throttle body. Using the rated 86 octane regular fuel, tire pressure correctly at 36lbs (R17).
I'm looking for a bit of guidance. Anything I should be checking or cleaning or doing to rule out? The margin is so big, that I'm thinking something is just downright failing.
Below is the general info from my OBDII reader. I don't have much knowledge on using these, so I'm not sure what to look at and what is right and what is not. I was told to check the Short and Long Fuel Trim reads, but can't find them in the Torque app, or don't know what they're called. Car was Parked with Hand brake on. Speed at 4 km/h, Load at 31% and throttle at 12.9% catch my attention, since it's parked and not moving.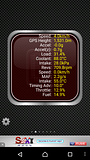 Thank you.