So I took my 2010 Mazda 3 (6mt hatch) purchased 12/19/2009 (now has 34k miles) for service like a week ago due to a noise I was hearing when I started my car, when I went to move and/or switch gears and if the car surged while in 1st or 2nd. One of the noises they told me was wheel hop (which I still think is the engine hitting the ends of its travel on the mounts) but the other noise I couldn't get it to recreate but I argued that if they kept my car overnight (it happened when it was hot outside too) that because it was cold, upon startup and then initial driving + random times you'll hear a sound.
They gave me a rental car (crappy Toyota Corolla which btw is NOT equivalent to our cars) for 2 days. They heard the noise (probably not what I'm talking about) and said it was the A/C Compressor Clutch and it was not disengaging properly. They ordered the part but let me take my car back (thank god) until it came in. It came in yesterday but was the old part so they overnighted the new one and I got it today. The redesigned part is apparently going to be a TSB but it isn't out yet.
I haven't yet been able to test if it stopped the noise but I thought I'd let you know that there is a problem with a part in our cars.
I also was checking for a problem with rattling in the back of the car. I noticed there is this piece of plastic underneath the car on the passenger side back where the back seat door is. It is held on by 2 bolts and one of the bolts was missing a nut. I had them put one on and a lot of the noise has gone away. I'm still trying to pinpoint the rest. Here is a pic of the loose plastic part... check yours as well.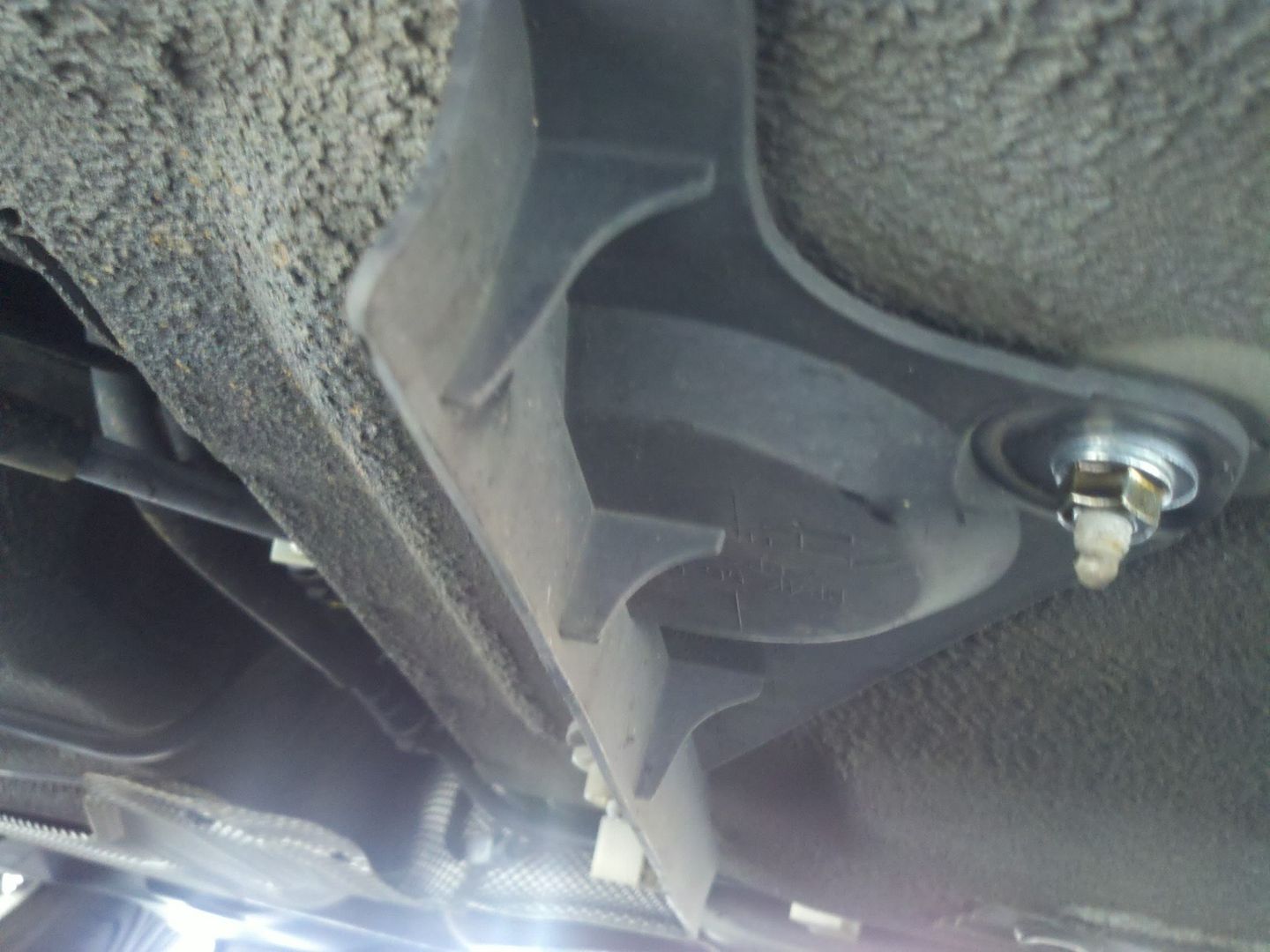 There was also an issue with the front passenger seat weight sensor. I've had it looked at twice now and they say it has been zeroed out but it still won't recognize my 110lb friend as >65lbs