Hey guys,
I'm in process of upgrading my front brakes with 2-pot front calipers. I will try to give you as much information as I can, cause it's a simple and cheap upgrade. So let me start
1. What is the goal and why I'm doing it?
The stock brakes don't give me confidence while braking. My daily drive is an Evo X, which brakes have completely different feel compared to Mazda's brakes. The Mazda is mostly used by my wife and by the family when going on trips.
I've been looking for upgrade options. There is very limited choice of brake pads for stock brakes and most of them use ordinary compounds. So I've been looking for front calipers which are used on performance vehicles. That will guarantee that there will be wide range of brake pads to choose from.
One of the requirements is to fit the brakes in 16" wheels, as I want to keep them for the winter.
Will start first with the fronts. For the rears there is a swap with CX-5 setup.
2. Test fitting radial mounted Brembo calipers
First tried a Brembo radial mounter caliper. The main benefit with radial mounted calipers is that they give you freedom to mount them with whatever brake disc you want with the use of bracket support. However the test fitting didn't went well. There is not enough space between the caliper and mounting holes of the knuckle. That's in case I want to fit them in 16" wheels. There will not be a problem if want to use bigger front discs around 320-325 mm, which will require 17" wheels, as the caliper will move outwards the knuckle and will have enough space for a bracket. My summer wheels setup is using 17" BBS wheels from Evo IX, but don't want to drive them in winter, that's why will stick to the initial requirement for 16" winter wheels.
3. Test fitting 2-pot Akebono calipers
My main experience is with Mitsu cars, that's why I reverted back to finding suitable caliper from Mitsubishi.
Some specs:
Caliper used in: Evo IV, Galant VR4, Lancer Ralliart, Outlander
Make: Akebono
Pistons size: 2 x 43 mm bore
Pad dimensions: 149.8mm x 58.6mm, thickness 15.7mm, radial height of brake compound 46.5mm
Original brake disc: 294 x 24 mm
As you can see the caliper is used in several performance vehicles, so won't have problems with choosing brake pads for whatever purpose you want. Also the original brake disc used is with very close dimensions to OEM Mazda specs. That's a bonus as I will use the stock brake discs.
Here are the pics from the test fitting.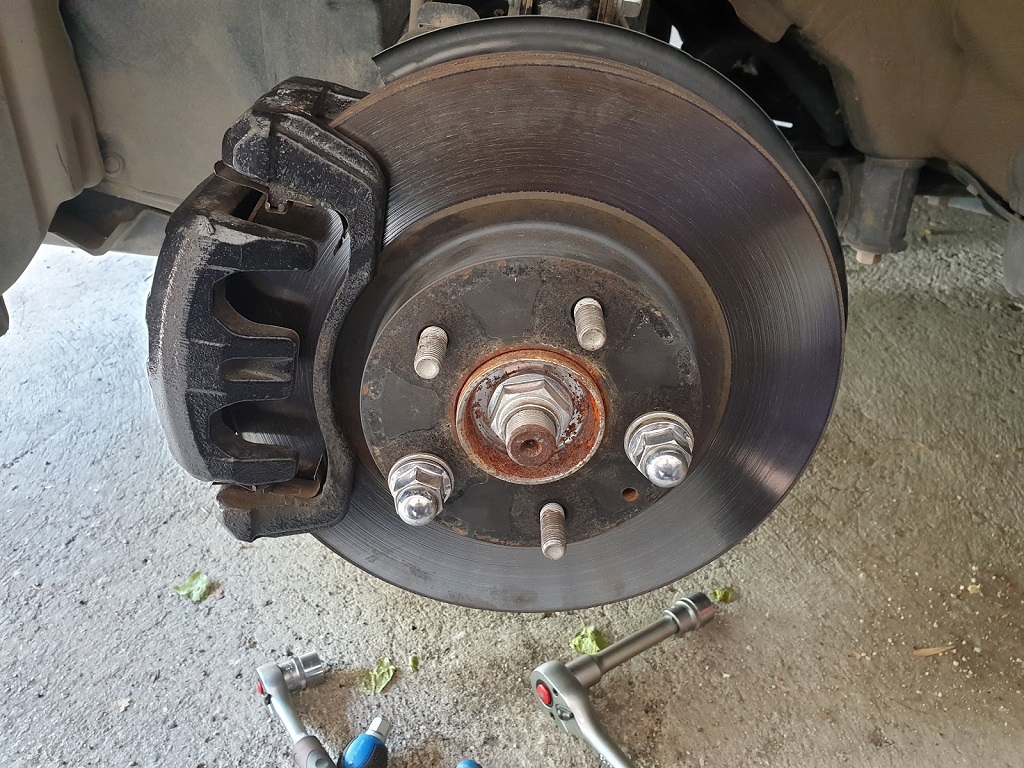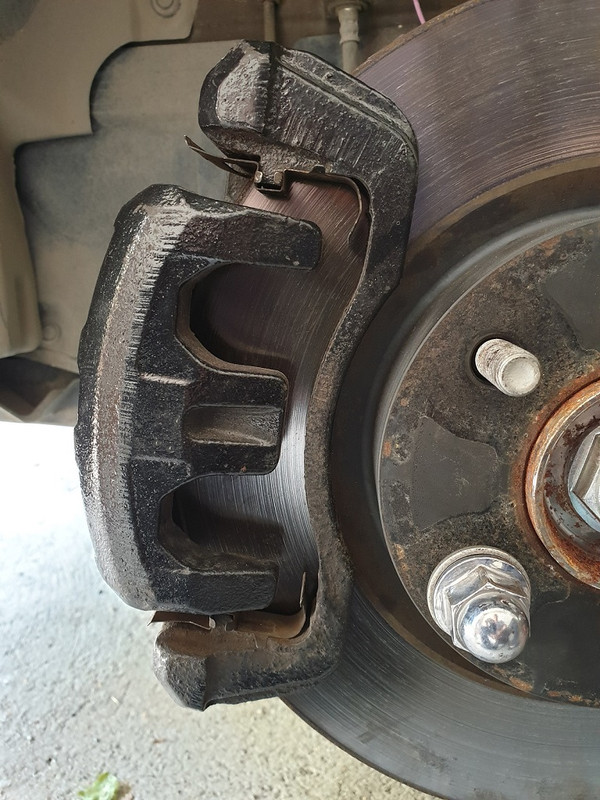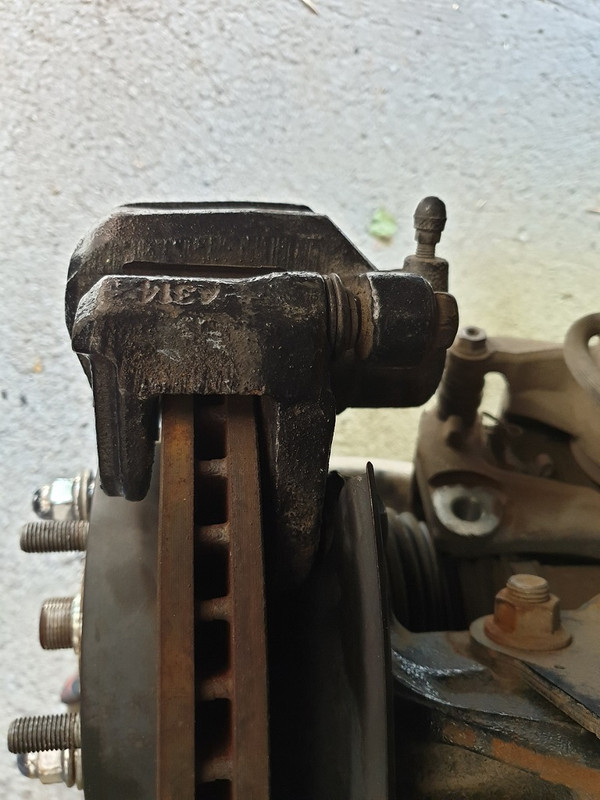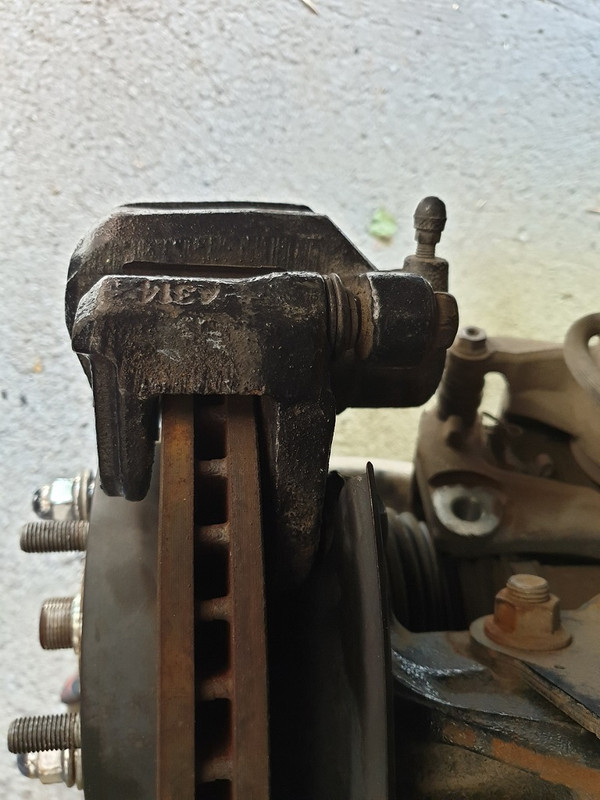 Of course it was not direct plug and play
Otherwise where would be the fun :laugh2:
From the last pic you can see that pad sits a little bit higher, 2.5 mm actually. This means that 300 mm disc can be fitted on this caliper.
Distance between mounting holes of the knuckle is 160 mm. Caliper holes are about 2 mm shorter! Knuckle holes are M14, caliper holes are for M12 bolts. Now when it's mounted it moves a little bit, I can tighten it, but under heavy braking it can move. Can be fixed with mounting a sleeve with M12 inner and M14 outer diameter in one of the knuckle holes. That way the bolt won't move and the other bolt is on the edge of the knuckle hole because of the little shorter mounting distance, so it's not moving. Probably the sleeve will have to be machined on a lathe, but should not be a problem.
One important remark: The caliper support with 158 mm mounting diameter is fitted only on Evo IV and some Galant VR4. The caliper and brake pads are the same for all noted models, however the Lancer, Outlander and some Galant VR4 models are using caliper support with 130 mm mounting diameter!!!
Now about the stock Mazda brake disc. The offset have to be corrected with about 2.3 mm washer between knuckle and caliper mounting holes. That's mainly because of the slightly thicker Mazda disc 24 vs. 25 mm. On the 3rd pic you can see how it fits with the washer.
4. Wheel fitments
There is enough space between caliper and stock 16" Mazda wheel. See for yourself.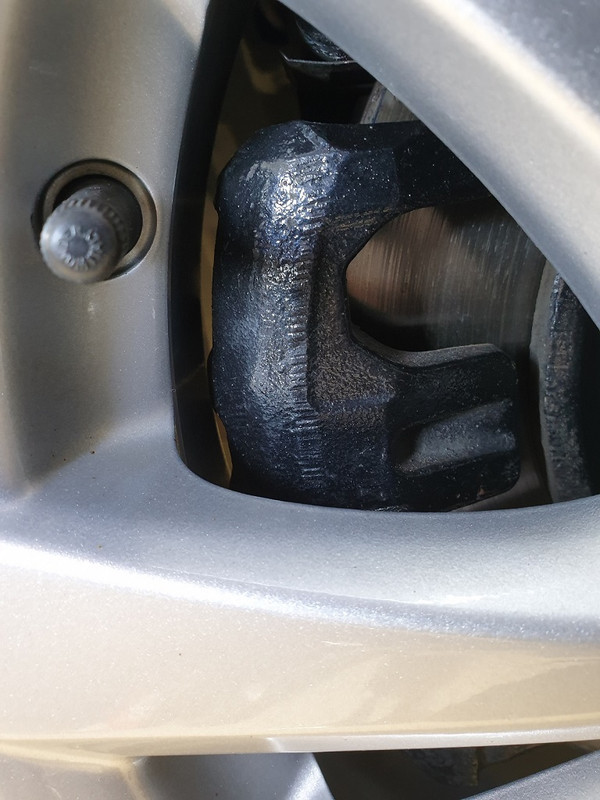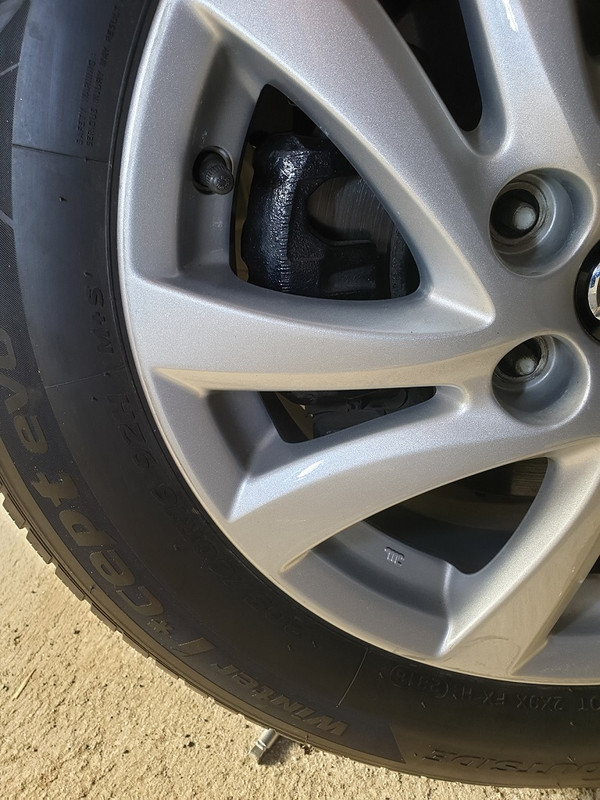 Will keep you posted how the progress goes.
Next steps will be find/machine a suitable metal sleeve, order rebuild kits for the calipers (new pistons, seals, floating pins), cleaning and painting the calipers.